Robert Griffin III signs contract with Browns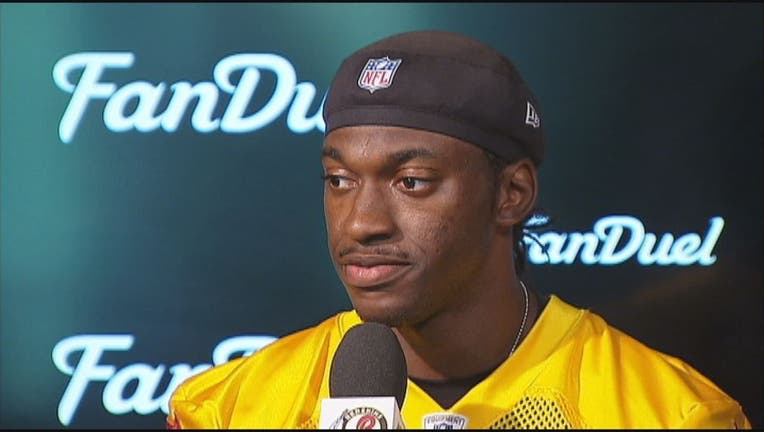 article
CLEVELAND (AP) -- Back before he rocketed into the NFL as a freakish touchdown-maker, before the knee injury and his downfall in Washington, Robert Griffin III was convinced he'd play for the Browns.
During pre-draft workouts in Arizona, Griffin and his agent were set for Cleveland to be his home.
"We were ready then," Griffin said, "and we are more than ready now."
Four long, trying years later, Griffin has a chance to revive a career that once seemed unstoppable.
No longer viewed as one of football's brightest and flashiest players but rather a reclamation project, Griffin signed a two-year, $15 million contract Thursday with the Browns, a team on a perpetual mission to find a franchise quarterback.
RG3 is beginning his second act.
Griffin hasn't been the same since his dazzling rookie season in Washington in 2012, when the former Heisman Trophy winner -- possessed with a rocket arm, a tailback's speed and endless swagger -- took the league by storm. However, his next three seasons were curtailed by injury and clouded by controversy and the 26-year-old found himself without a team when the Redskins released him March 7.
The Browns, who tried unsuccessfully to trade so they could draft him in 2012, are giving him another shot.
"I'm just excited to come in and compete," Griffin said. "Nothing's ever been given to me in my life, so I just want to go out and compete with the guys and grow with this team. I feel like that's all I'm really focused on. I cherish the opportunity to get another chance to play this beautiful game."
He's been given no promises by the Browns, who have the No. 2 overall pick in this year's draft and are expected to take a quarterback -- presumably California's Jared Goff or North Dakota State's Carson Wentz. As the team was completing its deal with Griffin, new coach Hue Jackson attended Wentz's pro day workout in North Dakota along with offensive assistant Pep Hamilton.
Griffin, who didn't play a single snap and was demoted to third-string last season, isn't opposed to the Browns drafting another quarterback.
"I'll take the guy under my wing," he said during a conference call. "I'm real excited about that. I'm considered a vet now after four years in the league, and I've been through a lot more than a lot of guys go through their entire career. ... I can help a young guy. But that's not my focus. I don't pick players."
Jackson has spent much of his coaching career grooming quarterbacks. He met with Griffin last week and was impressed by his candor and humility.
"He brings starting experience to our team and organization," Jackson said. "He's a young, athletic, talented passer and he's really just starting out in this league. Just like every player on our team, Robert will have to earn every opportunity he gets."
If he can win the starting job, Griffin could be reunited with former college teammate Josh Gordon, who has applied for reinstatement with the league following a one-year drug suspension. The thought of playing with Gordon excites Griffin.
"Josh is family," Griffin said. "I love the guy. I don't know what's going to happen with him and the league or with the team, but he always knows he has a brother in me, so if the opportunity comes that he can get reinstated and play for the Browns then I won't be upset with that. He is family and at Baylor we believe that no matter what happens we've always got your back."
Cleveland has started 24 quarterbacks since 1999, but few of them have the resume -- or talent -- to match Griffin.
The Browns recently released troubled quarterback Johnny Manziel, once considered the team's savior. They also have quarterbacks Josh McCown and Austin Davis under contract. But, as is always the case with that position in Cleveland, nothing stands still.
After leading the Redskins to the NFC East title as a rookie, Griffin, who had become one of America's most celebrated athletes, began a striking fall from grace. He seriously injured to his right knee in the playoffs and needed reconstructive surgery. His next two seasons were filled with squabbles with coaches and little else.
Griffin spent last season watching from the sideline, where he learned more about life than anything he could find in a playbook. He set out to restore his name -- and image -- with the hope there would be a next chance.
It's now in his hands.
"What I learned most was just the love that's inside of me for this game of football," he said. "What happened down there (in Washington) would break a lot of people. This is my calling. I'm real excited to have another opportunity to grow with a coach who believes in me. That's big. Now I've just got to go out and prove it."
___
AP NFL website: www.pro32.ap.org and www.twitter.com/AP_NFL