Redskins place franchise tag on QB Kirk Cousins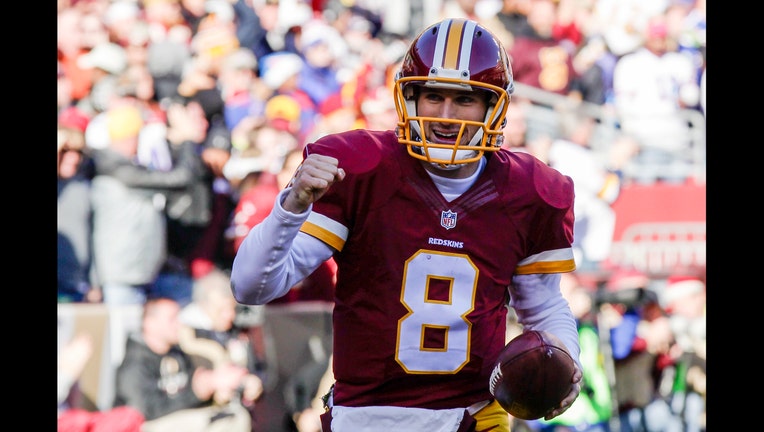 article
ASHBURN, Va. - WASHINGTON (AP) -- A year ago at this time, Kirk Cousins was relegated to backup status with the Washington Redskins, owned a resume that included only nine NFL starts and more interceptions than touchdowns, and was playing under a four-year rookie contract barely worth a total of more than $2.5 million.
Oh, how things have changed.
Coming off a breakthrough season for their quarterback, the Redskins announced Tuesday they placed the non-exclusive franchise tag on Cousins, setting him up to earn about $20 million next season and making sure he doesn't become an unrestricted free agent next week.
Tuesday was the deadline for teams to use a franchise or transition tag. By choosing the non-exclusive franchise tag, the Redskins allow Cousins to talk to other clubs, but Washington would be allowed to match any offer -- or receive a pair of first-round draft picks as compensation should he leave.
The franchise tag for a quarterback in 2016 is $19.953 million. The Redskins now have until July 15 to negotiate with Cousins on a longer contract.
Cousins' fourth year in the league was his first as a full-time starter, taking the job from Robert Griffin III late in preseason and never letting go, while leading Washington to an NFC East title after six last-place finishes in the previous seven seasons.
Cousins led the NFL with a 69.8 percent completion rate, set a league record with a home completion mark of 74.7 percent, and finished with 29 touchdowns, 11 interceptions, a franchise-record 4,166 yards and a passer rating of 101.6. He helped the Redskins close the regular season with four consecutive wins for a 9-7 mark; they lost to the Green Bay Packers in the wild-card round.
He played his best football in the second half of the regular season, throwing for 23 TDs with only three interceptions over the final 10 games. And Cousins was one of only two NFL QBs who had at least one scoring pass in all 16 games, along with Seattle's Russell Wilson.
Cousins was a fourth-round draft choice in 2012, the same year Griffin arrived in Washington as the No. 2 overall selection after a massive trade with the St. Louis Rams cost the Redskins a bevy of high draft picks.
After second-year head coach Jay Gruden opted to make the change from Griffin, Cousins wound up starting all 17 games, including the postseason.
Now Washington plans to release 2012 NFL Offensive Rookie of the Year Griffin -- unless it can trade him -- by March 9, the start of the new league year, in order to jettison his contract worth about $16 million for next season but guaranteed only for injury.
Griffin did not play at all this season and was in uniform once -- and that was only because Washington didn't have enough healthy bodies at other positions to fill out a game-day active roster.
General manager Scot McCloughan made clear shortly after the season ended he hoped to come to an agreement on a multiyear deal with Cousins, saying: "Going forward, of course we'd like to have him around."
Gruden also has talked about the team having decided it wants to make Cousins its QB of the future, which would be quite a change for a franchise that has been in flux at that position for years.
"Having some stability there is important -- and something we look forward to having," Gruden said in January.
"To watch (Cousins) get better throughout the course of the season, stay humble, continue to work and prepare was fun to be a part of," Gruden said, "and moving forward, we're excited about the thought of him being our quarterback."
___
Online:
AP NFL website: www.pro32.ap.org and AP NFL Twitter feed: www.twitter.com/AP_NFL
___
Follow Howard Fendrich on Twitter at http://twitter.com/HowardFendrich