PREVIEW: France vs Croatia 2018 FIFA World Cup final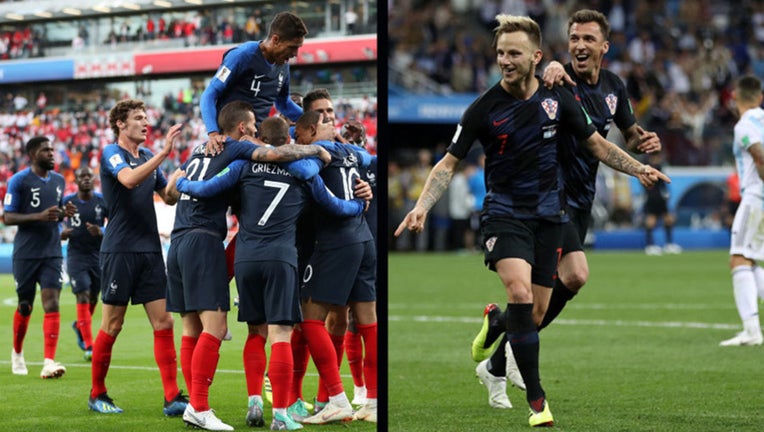 article
A capsule look at Sunday's World Cup final between France and Croatia in Moscow:
WHY FRANCE WILL WIN
Les Bleus have an average age of just over 26, one of the youngest in the tournament, and an exciting, speedy spark in 19-year-old Kylian Mbappe, who will be difficult for Croatia to contain. Goalkeeper Hugo Lloris provides the ability to come up with big saves. France will have four days of rest, one more that Croatia, which also is coming off three straight extra-time matches.
WHY CROATIA WILL WIN
Luka Modric, still in his prime at 32, remains one of the world's dynamic playmakers. He feeds Ivan Perisic and Mario Mandzukic, who have provided important goals in the knockout matches.
PROJECTED LINEUPS
France: 4-2-3-1 Lloris; Pavard, Varane, Umtiti, Hernandez; Kante, Pogba; Mbappe, Griezmann, Matuidi; Giroud.
Croatia: 4-2-3-1 Subasic; Vrsaljko, Lovren, Vida, Strinic; Rakitic, Modric; Rebic, Kramaric, Perisic; Mandzukic.
MAN IN THE MIDDLE
Nestor Pitana of Argentina will referee the final after working Russia's 5-0 win over Saudi Arabia in the opener. The 43-year-old Pitana also officiated Sweden's 3-0 group-stage victory over Mexico, Croatia's penalty-kick win against Denmark in the round of 16 and France's 2-0 quarterfinal triumph over Uruguay. He worked four games at the 2014 World Cup, including Germany's 1-0 win over France in the quarterfinals and the United States' 2-2 draw with Portugal in the group stage.
WORLD CUP HISTORY
France won its only World Cup title at home in 1998, beating Brazil 3-0. Zinedine Zidane scored two goals and Emmanuel Petit added the other. Les Blues lost the 2006 final to Italy 5-3 on penalty kicks after a 1-1 draw. Zidane was given a red card in the 110th minute by Argentine referee Horacio Elizondo for head-butting Marco Materazzi in response to a verbal provocation. David Trezeguet hit the crossbar with France's second penalty kick in the shootout, and Italy won when Fabio Grosso converted the Azzurri's fifth kick.
France beat Croatia 2-1 in the 1998 semifinals. Lilian Thuram scored two goals for France.
FRANCE GOALS
vs. Australia (2-1): Griezmann (58-penalty), own-goal (81)
vs. Peru (1-0): Mbappe (34)
vs. Denmark (0-0)
vs. Argentina (4-2): Griezmann (13-penalty), Pavard (57), Mbappe (64, 68)
vs. Uruguay (2-0): Varane (40), Griezmann (61)
vs. Belgium (1-0): Umtiti (51)
CROATIA GOALS
vs. Nigeria (2-0): own-goal (32), Modric (71-penalty)
vs. Argentina (3-0): Rebic (53), Modric (80), Rakatic (90+1)
vs. Iceland (2-1): Badelj (53), Perisic (90)
vs. Denmark (1-1, 3-2 penalty shootout): Mandzukic (4)
vs. Russia (2-2, 4-3 penalty shootout): Kramaric (39), Vida (101)
vs. England (2-1): Perisic (68), Mandzukic (109)
HEAD TO HEAD
France has won three of five meetings, with two draws. The only competitive match in addition to the 1998 World Cup semifinals was a 2-2 group draw at the 2004 European Championship.
FASHION FILE
Croatia will wear its iconic red-and-white checkerboard jerseys for the first time since its opening match, and its shorts and socks will be white. France will wear all dark blue for the second straight match rather than its traditional tricolor of blue shirts, white shorts and red socks, which it wore only for the quarterfinal match against Argentina.
SUSPENSIONS
None
JUST SAYING
France: "The trophy is so close that we want to touch it. But before touching it there is still 90 or 120 minutes, and we will have to put everything on the line. I think that this is the game of our life." - French midfielder Blaise Matuidi
Croatia: "We love to be the underdogs." - defender Dejan Lovren
STATS
Goals: France 10, Croatia 12
Assists: 4/10
Shots: 5/8
Shots on goal: 24/26
Shots off target: 35/50
Shots blocked: 16/24
Yellow cards: 10/14
Red cards: 0/0
Corner kicks: 19/34
Offsides: 2/8
Fouls committed: 79/101
Fouls suffered: 91/93
Ball possession: 49 percent/55 percent
Passes attempted/completed: 2,773/2,331 (84 percent), 3,358/2,755 (82 percent)
Distance covered: 377.5 miles (607.5 kilometers)/449.8 miles (723.95 kilometers)
___
More AP World Cup coverage: https://apnews.com/tag/WorldCup