LSU gymnastics adding extra security for road meets after Olivia Dunne fans cause issue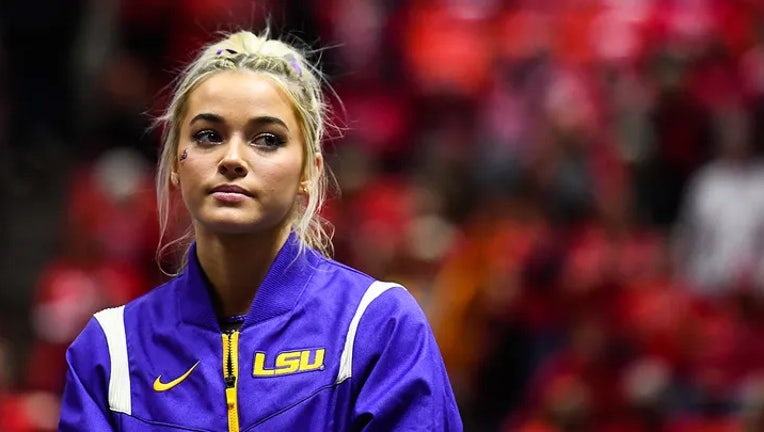 article
The LSU gymnastics team is getting an extra layer of security for the rest of the season, coach Jeff Clark said Tuesday after a raucous situation involving fans in Salt Lake City interested in seeing Olivia Dunne.
Dunne has created a massive following on TikTok since she joined the LSU program, boasting nearly seven million followers on TikTok alone and parlaying the massive following into lucrative name, image and likeness deals. But she had to tamp down her fan base and urge them to be "respectful" after multiple claims of incidents surfaced after their meet against Utah.
Clark told The Advocate/Times-Picayune that a security officer will travel with the team to competitions for the rest of the season.
"That person will be in our hotel and outside our locker room and getting us to and from the bus at the venue," Clark told the outlet. "(The officer) will be there to create a perimeter that keeps everybody safe."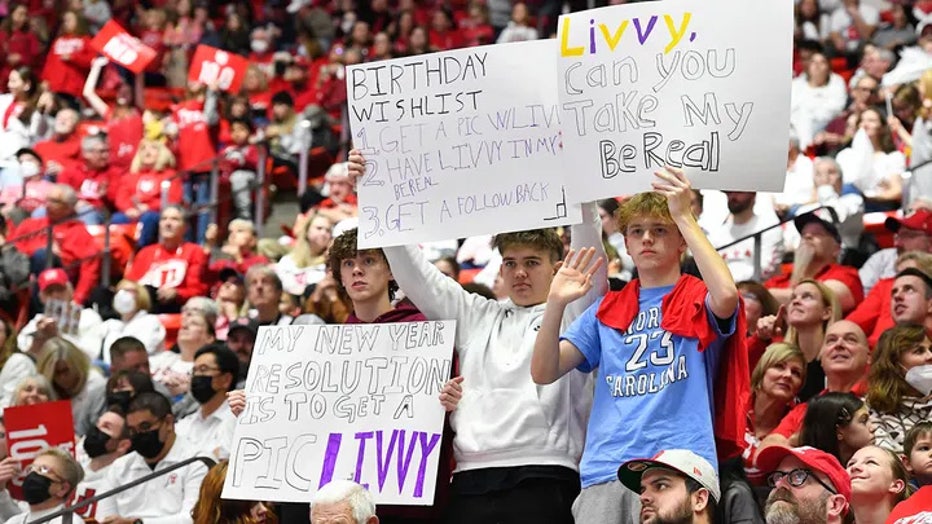 Fans hold signs for Olivia Dunne of LSU during a PAC-12 meet against Utah at Jon M. Huntsman Center on January 6, 2023, in Salt Lake City, Utah. (Alex Goodlett/Getty Images)
Clark said he wanted to make sure that fans can seek autographs of the gymnasts but also keep the athletes' safety on top of mind. Gymnasts have been known to go into the stands and fraternize with their family and friends in between routines.
"Things have to change. We just can't expose them," Clark added. "We're looking at some policy changes that will give parents access at a different location to their daughters."
LSU'S OLIVIA DUNNE CLAPS BACK AT CRITICS OVER NIL DEALS: 'IS THIS TOO MUCH?'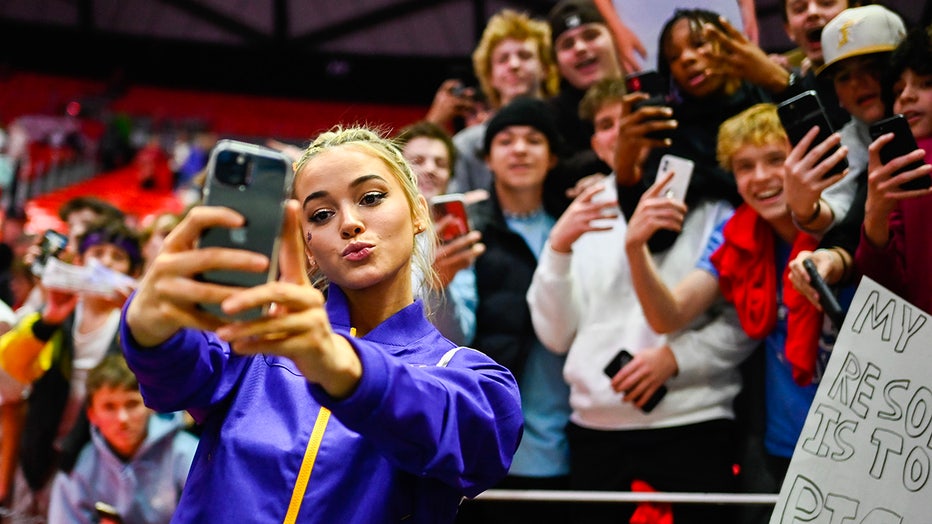 Olivia Dunne of LSU takes a 'selfie' with fans after a PAC-12 meet against Utah at Jon M. Huntsman Center on January 06, 2023 in Salt Lake City, Utah. (Photo by Alex Goodlett/Getty Images)
Olympic gold medalist Kathy Johnson Clarke revealed that she had been asked several times by fans whether she was Dunne's mother while the mother of a Utah athlete took to Facebook to claim that Tigers fans were "so rude and disrespectful," according to OutKick.
On Sunday, Dunne tweeted  that she appreciated the support but asked fans to be more respectful.
"I will always appreciate and love the support from you guys, but if you come to a meet, I want to ask you to please be respectful of the other gymnasts and the gymnastics community as we are just doing our job," she wrote.
LSU lost to Utah 197.275-196.725. Utah entered the meet as the No. 3 team in the nation. The Tigers were ranked No. 6.
Dunne is one of the most followed collegiate athletes on social media. According to On3 Sports, Dunne has an NIL valuation of $2.3 million. She reportedly earns around $2 million with various sponsorships, including the activewear brand Vuori, American Eagle and Planet Fuel. Dunne is also signed to one of the biggest agencies in WME Sports.
Dunne is a junior at LSU. When Dunne first started at LSU in 2021, she made the SEC's First-Year Academic Honor Roll and was a WCGA Academic All-American as well. She was a WCGA All-American in the uneven bars and, in 2022, was named to the SEC Academic Honor Roll.