Living on a prayer: Southeast DC priest celebrates faith and baseball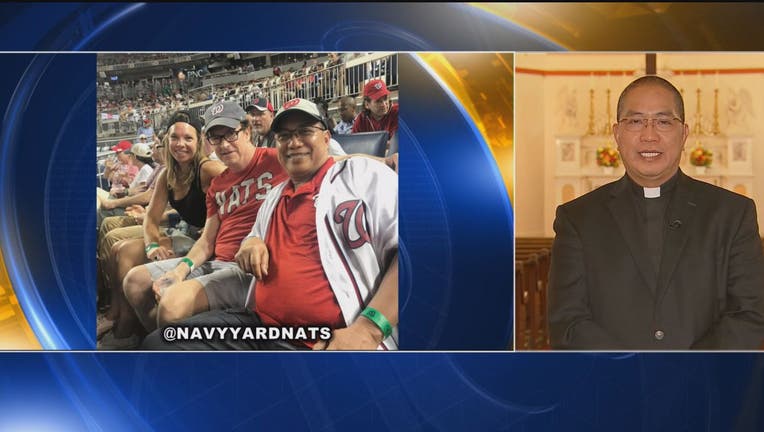 WASHINGTON - For some fans who've watched the Washington Nationals during the 2019 season, their historic success in the postseason may seem like a miracle.
After a 12-16 start to the campaign, it may not have seemed like the Nats had a prayer of reaching Major League Baseball's premier event.
Now, the Nats have reached the National League Championship Series for the first time since 1981 when, as the Montreal Expos, they lost to the Los Angeles Dodgers.
And now, they're one win away from an appearance in the World Series.
"In the beginning, they were kind of, you know, we were losing, but then we came that far, and we were here, said Father Andy Gonzalo – the pastor at St. Vincent de Paul in Southeast D.C.
Father Gonzalo's parish is just a couple of blocks away, and he's maintained a tradition of celebrating the Nationals along with the Catholic faith since arriving at St. Vincent de Paul in 2016.
He inherited the tradition from the previous pastor, Father Drew Royals.
"When I came here, I continued the tradition because it was so good. It's to unite people, bring people together, and break bread at the altar of the Lord, and then we go to the games," Father Gonzalo said.For Nats Mass, the parish celebrates a brief Mass that starts at noon, and then heads over to the Knights of Columbus parking, where they enjoy some pre-game dining.
The first Nats Mass of the season was March 31, when the team defeated the Mets.
After a roller coaster season, the Nationals are on the verge of an appearance in the World Series, and the parish is praying to support the team.
"We hope and pray that they continue to do their best because, as we say, God is great, and he will reward all good deeds. And so, that is our prayer that they will continue to do their best, play their best, and continue to work as a team, and hopefully they will go to the World Series, and we are kind of sure of that," he said.