Alex Ovechkin, Capitals celebrate Nationals' World Series victory, offer fountain recommendations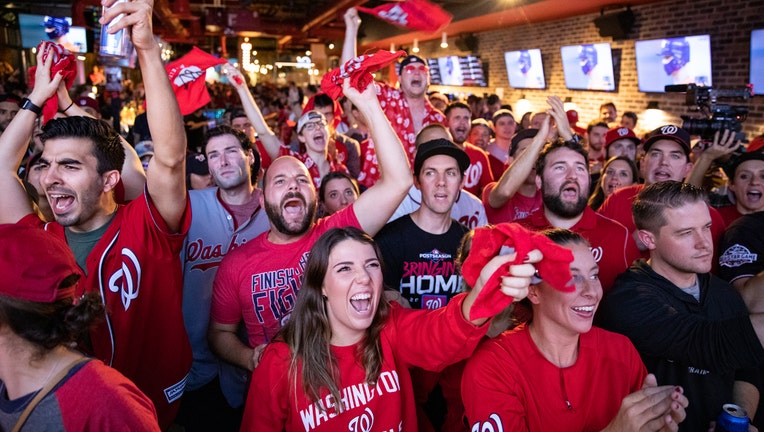 WASHINGTON - It really is the District of Champions: In the past two years, the Washington Capitals and Washington Mystics have claimed titles for DC, and now, the Washington Nationals have bestowed another championship honor on the city.
The District recalls the Capitals' 2018 Stanley Cup celebrations vividly as the team took over the fountain at the Georgetown Waterfront and partied with the Stanley Cup throughout the city.
DOWNLOAD: The FOX 5 DC News app for local breaking news and weather
Well, they're at it again, but this time to celebrate the Nationals' World Series victory. Capitals legend Alex Ovechkin and his teammates were spotted in Arlington spraying champagne and rejoicing the newest DC championship.
Capitals star TJ Oshie even offered the Nationals some recommendations on fountains in the District for if the Nats would like to keep the tradition alive:
And the Capitals tweeted a photo of the fountain at the Georgetown Waterfront with the caption, "Come on in boys. The water's (probably) still warm."
Praise from other local teams and DC natives began to poor in as celebrations continued late into the night:
Celebrity chef Jose Andres tweeted video of him celebrating the championship win and later tweeted, "Ok @Nationals can we celebrate with a giant Paella of Arroz con pollo for all the team! And some great Dominican food?"
President Donald Trump also tweeted his congratulations to the Nationals following their victory:
The city announced it will hold a parade for the Nationals to honor their World Series victory on Saturday at 2 p.m. You can find complete details about the parade here.