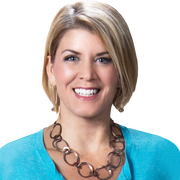 The question I am asked most frequently is, "How do you do it?!" Usually, this happens after I tell someone that I get up for work every day at 2 a.m. 
The answer is simple: I do it because it makes sense for my family. I've done just about every assignment there is here at FOX 5 -- nightside reporter, investigative reporter, money and consumer reporter, anchor-- and when the opportunity came around to do the early morning shift, I took it.
Now I am able to continue a career that I love, and be home in the afternoons to do my second job as a mom and household executive. I started my first newspaper when I was 8. OK, it was just a handwritten rag on notebook paper, complete with my own illustrations of neighborhood happenings -- but I clearly had the bug.
I've always been the kid with a million questions. My parents get huge credit for teaching me not to be afraid to ask. I was encouraged to pick up the phone and call someone if I wanted information.
As an Air Force family, we also moved around a lot. Seeing so many different cultures helped expand my vision of the world. I still remember the Buddhist kids I knew in Thailand who wouldn't allow their photographs to be taken. They believed it would steal their soul. I keep that memory with me every day when I interview people on camera. I firmly believe that we, as journalists, are being entrusted with their persona and it's our duty to present them accurately and fairly.
I studied at the University of Florida and James Madison University. My first job in TV was the news director's secretary at WUSA-9 here in DC. It may have been a minor role, but it was invaluable. I got so much inside knowledge of how a TV station works and was able to learn from journalists who were at the top of their game.
Did I mention I've done weather also? That was my first on-air job in Harrisburg, Pennsylvania. I still know my way around an NWS forecast map! :)
At NBC-17 in Raleigh, North Carolina, I learned how to shoot a gun, found out what a hog waste lagoon is, and got to witness one of the last live tobacco auctions in the state. I also engineered a fantastic trip with the U.S. Air Force to Bosnia, Albania, Germany and Italy during the Kosovo conflict -- and had the privilege of flying in the cockpit of a C-17 across the Atlantic.
Coming back to DC to work for FOX 5 was an honor. I'd have to say my proudest moment was winning a National Emmy for my series of investigative reports on Spring Valley. After the dinner, Jane Pauley came up to me and said, "Great dress... and an even better speech!" I don't ask for a lot of affirmation in this business, but that little exchange made me feel as if I'd finally taken a seat at the Journalists' Table.
I volunteer at local hospitals with Musicians on Call, and I also teach art history to elementary school students. It's such a treat when I meet viewers who are also early risers: baristas, delivery guys, police officers, mad joggers... there is a whole different city out there in the wee hours of the morning.
I tell my kids I'm lucky to be able to take in the sunrise every day. So if you're an early riser, please join us every day starting at 4 a.m… we're up, too!
The latest from Melanie Alnwick
A security guard is dead, and two others are injured after suspects opened fire on a Hyattsville gentlemen's club overnight Tuesday.
A controversial vote is happening Wednesday in Arlington were County leaders are expected to take up the 'Missing Middle' proposal.
More questions remain after a 17-year-old was killed over the weekend in a Park Police-involved shooting. 
A new pilot program will use metal detectors in Alexandria schools in an effort to try and make schools safer for students and teachers.
The Lexus SUV involved in Wednesday's deadly crash on Rock Creek Parkway has a long history of outstanding tickets and fines.
Authorities say three people are dead after an early Wednesday morning crash on Rock Creek Parkway near the intersection of P Street in Northwest D.C.
The Loudoun County School Board discussed a plan Tuesday to increase safety in bathrooms and locker rooms amid growing concerns over violence, sexual assaults, and drug use in local schools.
Parents with children in Arlington County Public Schools are meeting to demand more action from the school system following a rise in student drug use and overdoses, and a proposed idea that would allow pupils to carry their own Narcan.
Developer Accelerate Maryland Partners is bowing out from the express lanes project on I-270 and I-495.