'ALL IN VA': Youngkin announces new plan to combat learning loss, chronic absenteeism
DUMFRIES, Va. - Virginia Gov. Glenn Youngkin announced a bold plan to address alarming learning loss and absenteeism across the Commonwealth, saying the state is at a crossroads and education leaders must jolt the system by acting now.
It's called the ALL IN VA plan and Youngkin says his administration will be sending out a playbook focusing on attendance, literacy and learning.
"ALL IN VA focuses on the foundational elements of education, attendance, literacy and learning, and provides a playbook to school divisions to meet the needs of our students," Youngkin said in a statement. "I challenge all of us to work together with urgency to create a brighter future and deliver the education our students in the Commonwealth were robbed of for far too long." 
The actions the governor announced Thursday include high-intensity tutors for students at risk of failing or who have failed and truancy officers to combat chronic absenteeism. Youngkin said 3rd through 8th graders have reportedly been impacted the most.
State leaders are calling this an all-hands-on-deck moment, saying attendance and achievement data indicate that the state has a lot of work to do. 
Youngkin says the tutoring will be for students at no cost to families. Those students will receive three hours of high-intensity tutoring a week in math and reading — 18 weeks of tutoring for students at risk of failing and 36 weeks for those who have failed.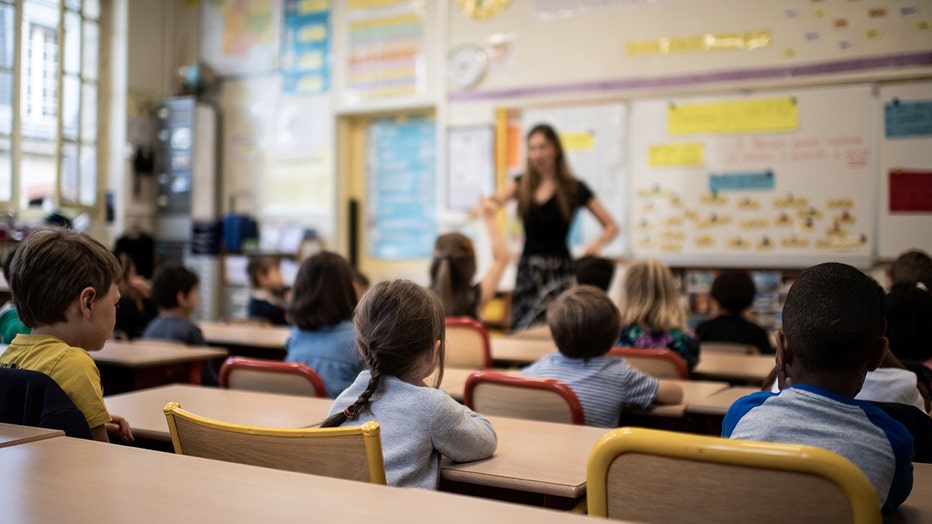 Children listen to teacher in classroom. (MARTIN BUREAU/AFP via Getty Images)
"We know what works. We know that high-intensity tutoring works. We know that the science of reading works. And we know that being in the classroom for in-person learning — as opposed to being absent in a chronic fashion — works," Youngkin said. 
The Youngkin administration has accused the previous administration of reducing the number of questions that you have to get right to determine if you are proficient or not — ultimately leading to misleading data.
Only one in three students is reportedly proficient in reading and mathematics across Virginia. Black and Latino students were reportedly impacted the most and are struggling the most to get back on track.
FOX 5 is told students were behind before the pandemic and are further behind now. Post-pandemic test data shows a dramatic drop in grades 3-8 reading and math scores and a doubling in chronic absenteeism — that's missing 18 or more days a year.
The governor says the state is launching a chronic absenteeism and transportation task force they will convene the community to ensure students are in the classroom.
Youngkin says he is turning to the community for help including parents, pastors, retired teachers and families to carry out his plan.