Yet another cold blast looks likely for DC region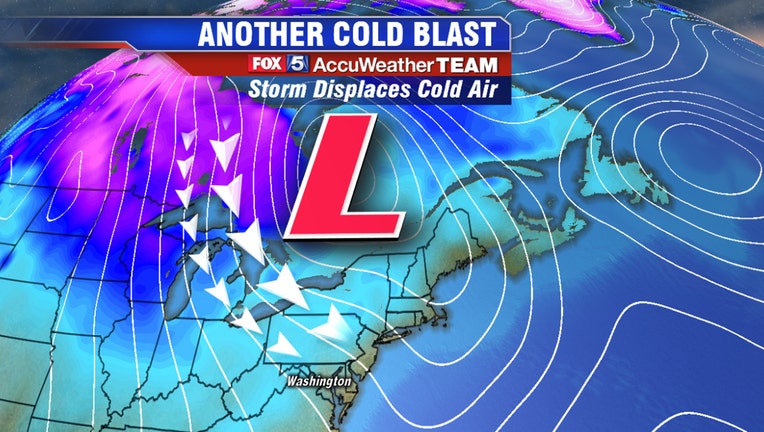 article
WASHINGTON - November has gotten off to quite the chilly start around the Washington, D.C. region. Just about half way through this month, average temperatures at Reagan National Airport are running a full degree below normal. Washington, D.C. has not seen a month close out a degree or more below normal since May of 2016. In fact, eight of the ten completed months of 2017 here in the District have finished with above normal temperatures. So from a meteorologist's perspective, the early cold is a welcome change.
This past weekend saw the coldest November air since 2014 strike the region and featured the first record tying low temperature for Washington, D.C. in the month of November in over 40 years. Now a new batch of cold air is gathering strength across southwest Canada, and looks poised to make a run at our region this coming weekend.
Weather models currently agree on a strong storm system pushing up through the Great Lakes region sometime between Saturday and Sunday morning this coming weekend. This storm system will bring a period of showers and light rain to the region this weekend but there are differencing in the timing. For example, the current run of the European weather model is favoring a showers holding off until the evening and overnight hours into Sunday while its counterpart, the American model, has a wetter look to Saturday afternoon.
Regardless of which model ends up being correct, there is agreement that colder air will start to spill into the region once again throughout the day on Sunday. Much like Friday of last week, Sunday could end up being a day where gusty winds usher in the cold throughout the day, causing temperatures to drop through the afternoon hours. Monday morning looks to be the coldest point in the upcoming cold air outbreak, with many starting the new workweek off in the 20s and lower 30s during the morning commute hours, with high temperatures only peaking in the 30s and 40s in the afternoon.
Of course all eyes are already on the second half of next week with the Thanksgiving holiday fast approaching. Over the past several days, extended range guidance has been consistently showing chilly conditions for the latter half of next week, including Turkey Day itself, with the various weather models ranging from the upper 40s to lower 50s for afternoon highs next Thursday. What models are currently struggling with is whether or not Thanksgiving will be wet or dry. Several weather models are showing the potential for a rain system late next week, potential impacting the holiday travel. Of course more time will be needed to hammer out the details of the forecast, and we will continue to update you on the risks to the holiday forecast in the days to come.
Stay with FOX 5 on the app and online for weather updates:
Get the latest FOX 5 forecast here.
Check the latest Closings and Delays
Download the FOX 5 Weather App
Check the latest weather radars
Check for power outages in DC region
Stay up to date with the FOX 5 Weather Team on Twitter: @fox5weather , @suepalkafox5dc, @garyfox5dc, @TuckerFox5, @gwenfox5dc , @MikeTFox5, @caitlinrothfox5