Woodbridge man wins $7 million on scratch-off ticket
FAIRFAX COUNTY, Va. (FOX 5 DC) - A Woodbridge man has won $7 million on a scratch-off ticket in Fairfax.
READ MORE: Maryland residents can win cash prizes from lottery in exchange for vaccinations
"It took me a while to make sure I wasn't dreaming," Yibeltal Belachew told Lottery officials. "You don't believe that kind of stuff right away!"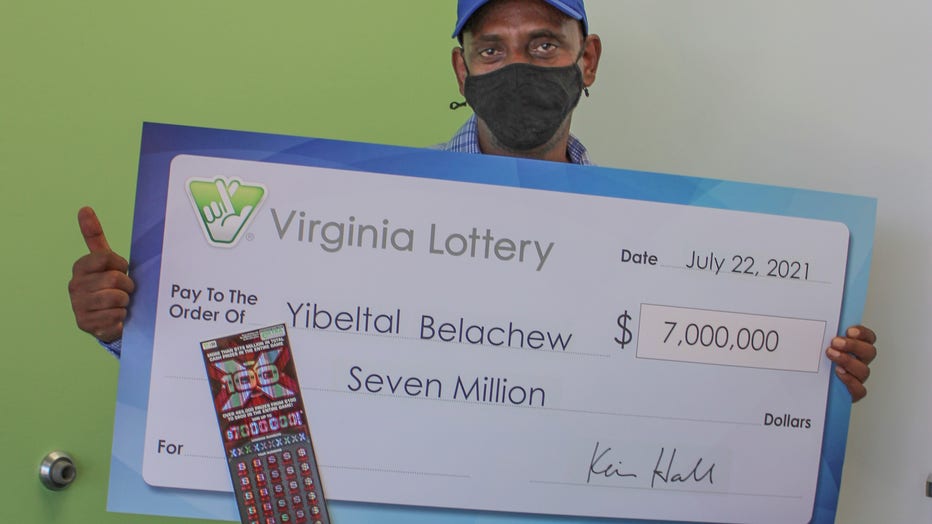 He bought his winning ticket at the Safeway at 10350 Willard Way in Fairfax.
The 100X The Money game features prizes ranging from $30 to the $7 million top prize. This is the first top prize claimed in this game, which means two $7 million top prizes remain unclaimed.
READ MORE: Sports betting up and running in Virginia
The odds of winning the top prize are 1 in 2,611,200. The odds of winning any prize in this game are 1 in 2.77.
Belachew had the choice of taking the full $7 million prize in annual payments over 30 years, or a one-time cash-option of $4.2 million before taxes. He chose the cash option.
Download the FOX 5 DC News App for Local Breaking News and Weather
The Virginia Lottery reminds players in all gaming, remember to play responsibly.