With ground still soaked, Sweetwater works toward recovery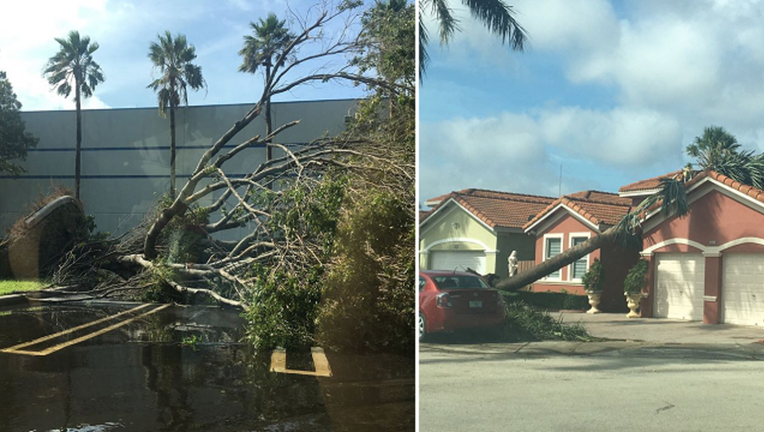 article
SWEETWATER, Fla. (AP) -- A grinding chorus of chain saws and generators kicked in quickly after Hurricane Irma's roar left Sweetwater, a small, mostly Spanish-speaking town west of Miami where streets were swamped, fences and trees fell, cars got stuck in floodwater and shed roofs bent like tin foil.
Adrian Ortiz, 28, was philosophical as he sat in his BMW on Monday, waiting rather ambitiously for a tow truck. He had tried to make a run home from his girlfriend's house during the storm, but his sports car stalled after a few blocks as 6th street turned into a wind-whipped canal. He touched the carpet -- still soggy.
"I decided to come to Sweetwater, and my car got full of sweet water," he said with a shrug.
Electricity was out across the city, but the people were powered by coffee and little sandwiches, handed through "cafecito" windows that opened early. Residents with weary eyes struggled to clear tree branches and debris. City trucks with giant metal claws were handling the big stuff.
Sweetwater's name echoes the "river of grass" whose banks were rained for development nearly a century ago: Miami is a Seminole Indian word meaning "sweet water." The carving up of the Everglades has never slowed. Newer suburbs now stretch for miles between Sweetwater and the swamp, where water levels are now carefully controlled.
This community was spared from the storm surge, but the ground will likely remain saturated for a while. Ahead of the hurricane, the South Florida Water Management District fully opened flood gates to drain water from recent rainstorms into the oceans. Now the trillions of gallons of ocean water Irma dumped on its northward march is also flowing south.
Irma isn't Sweetwater's first hurricane by far: The town was being planned when the 1926 Miami Hurricane devastated the area, and development was put on hold during a post-storm real estate bust. In a peculiarly Floridian twist, Russian dwarves revived it the late 1930s, looking for a place to retire.
Now it's the heart of Miami-Dade County's Nicaraguan community, and over 90 percent of the Miami suburb is Hispanic.
Jesus Castillo, 50, and his family who have lived in the neighborhood for about nine years. They were cleaning up flood muck and plant debris.
"My entire patio was underwater, and in the street it was 2- to 3-feet high," Castillo said in Spanish.
Around the corner, a group of friends helped a woman clear a large tree that had splintered like a toothpick in her backyard, while her neighbor, Bayardo Perez, wrestled with a mangled tin shed roof
Perez, 62, has lived in the house for decades, through Hurricane Andrew in 1992, and now, Irma
"This one was worse than Andrew for me," he said, finally freeing the mangled roof and throwing it on a pile of debris.