Wise High School student killed in Prince George's County crash identified
UPPER MARLBORO, Md. - Authorities say an 18-year-old female student is dead after a crash in Prince George's County that happened about a mile away from her Upper Marlboro high school. 
A mangled white BMW sedan remained on the scene. Ritchie Marlboro Road was closed for at least six hours for the fatal crash investigation.  
The crash was reported shortly before 9 a.m. along Ritchie Marlboro Road near Marlboro Pointe Drive.
Authorities say two 18-year-old Dr. Henry A. Wise Jr. High School students were involved in the crash. The teen passenger is the person who killed in this crash. An 18-year-old male driver is in stable condition at a local hospital.
On Wednesday, investigators identified the victim who died as Cayliy Haygood of Upper Marlboro.
Acting Deputy Chief Anthony Cline said a single vehicle driven by the 18-year-old male driver struck a landscaping truck and trailer parked in a right lane on Ritchie Marlboro Road.
Police believe speeding was a factor and ruled out the original information shared, that this was an incident of possible drag racing.
FOX 5's Bob Barnard spoke with a person at the scene who said his brother was the driver of the vehicle involved in the crash. The person told Barnard his brother and the female passenger were headed to school when the crash happened.
FOX 5 was also told the two were boyfriend and girlfriend.
In a neighbor's home surveillance video first shared with FOX 5, you see the victims' white vehicle driving in the right lane, going faster than a car driving to its left. Both vehicles are approaching the parked landscaping trailer. It appears the victims' car was trying to quickly get into the left lane but ended up striking the trailer on the passenger side.
Dr. Henry A. Jr. Wise High School's Principal, Taryn Washington, sent a letter to families on Tuesday regarding the fatal crash as well as the death of another senior, Michael Nwaulu, on March 2. FOX 5 is told Nwaulu was shot and killed a few days ago.
"Tragically, a car accident this morning claimed the life of another 12th-grade student and left another student hospitalized. Please join me in extending sympathies to all families involved," said Washington in the letter. "We will do our best to comfort our Wise community during this challenging time. A support team of school psychologists and professional school counselors will be here to help students and staff work through their feelings. Counseling will be available as long as necessary."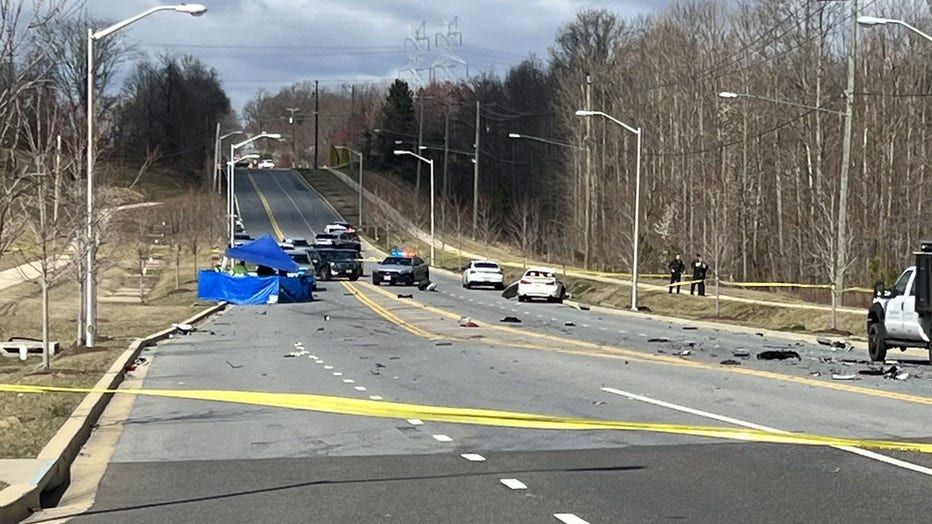 Several neighbors tell FOX 5 speeding in this stretch of Ritchie Marlboro Road is a serious issue that has been raised before. PGPD confirmed there was a head-on collision a little up the road, earlier in the morning the very same day.
County Executive Angela Alsobrooks released the following statement Tuesday evening: 
We are heartbroken to hear about the death of a teenager after an accident this morning along Ritchie Marlboro Road. We are uplifting her family and our whole PGCPS community in our prayers, and we also pray for a speedy recovery for the other teen who was also injured.
This is a developing story. Stay with us for updates.