Widow of slain Microsoft exec relieved by ex-wife's arrest: 'Salt in the wounds'
JACKSONVILLE BEACH, Fla. - The widow of slain Microsoft executive Jared Bridegan said watching the woman she believes orchestrated her husband's murder live free for the past year was like "salt in the wounds."
That abruptly changed Thursday morning when Jared's ex-wife, Shanna Gardner-Fernandez, was finally arrested for his merciless slaying. 
Gardner-Fernandez, who shares twins, now 12, with Jared is accused of plotting his murder with her new husband, Mario Fernandez, and his former tenant Henry Tenon, who admitted he was the shooter.
"It has been like salt in the wounds," Kirsten Bridegan, 32, told Fox News Digital in her first sit-down interview since Gardner-Fernandez's indictment on first-degree murder and other charges.
EX-WIFE OF JARED BRIDEGAN ARRESTED IN MICROSOFT EXEC MURDER
"She's taking the twins on vacations immediately after with Mario, with her parents, with people that we felt very strongly were involved in this. It's sick."
Jared was shot to death Feb. 16, 2022, in front of his 2-year-old daughter Bexley, after dropping off the twins at his ex-wife's house in Jacksonville Beach, Florida. 
A tire placed in the middle of the road lured him from his car. 
Kirsten, with whom he shares Bexley, and their then-infant daughter London, were at home at the time.
That night, Kirsten said she knew Gardner-Fernandez and her husband were behind the killing and told detectives, "These two people need to be looked at." 
Gardner-Fernandez and Jared divorced in 2015 but continued to battle over custody of the twins and finances up until his death.
One month after the shocking murder, Gardner-Fernandez, her husband, the twins and her parents, Shelli and Sterling Gardner, celebrated Spring Break at Club Med Sandpiper Bay. 
MAJOR BREAK IN JARED BRIDEGAN MURDER MYSTERY AFTER EX-WIFE MOVES CROSS-COUNTRY
On March 24, days after Jared was buried, Shelli posted photos of the vacation on her blog of them paddleboarding, kayaking and building sand castles.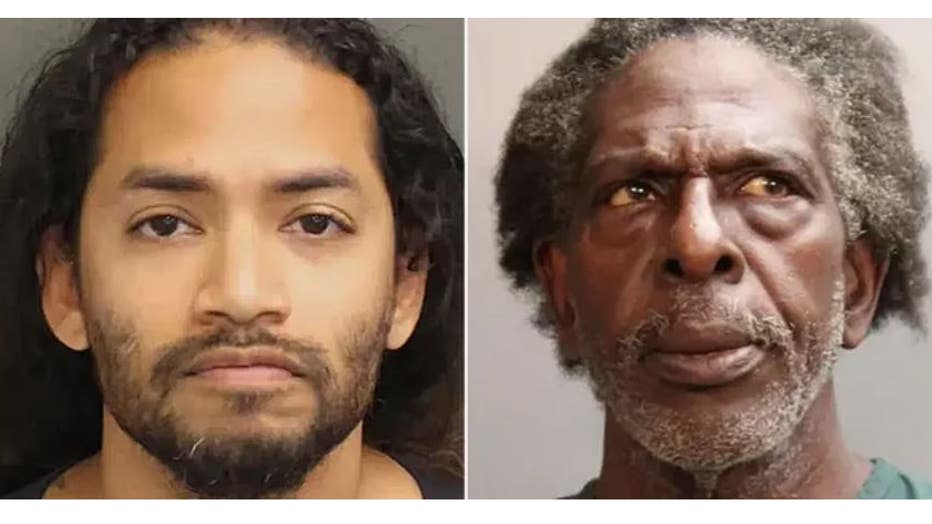 Mario Fernandez and Henry Tenon are accused of murdering Microsoft executvie Jared Bridegan in north Florida. (Orange County Jail/ Jacksonville State Attorney's Office)
Weeks later, Gardner-Fernandez cut off all contact between the twins and their half-siblings. 
"You just hurt more for the children knowing that one day they're going to realize those memories and those vacations were made with people that were part of their father's death," Kirsten told Fox News Digital as Jared's brothers, Adam and Justin Bridegan, sat beside her.
FLORIDA EX-WIFE OF SLAIN MICROSOFT EXECUTIVE HIRES CRIMINAL DEFENSE LAWYER
Although Kirsten is deeply grateful that Gardner-Fernandez and her alleged accomplices have been indicted and jailed, it's bittersweet.
"My heart just breaks for them," she said of the twins, her eyes welling with tears. "You lost your dad. You're maybe just barely coming out of that fog, and now you're faced with the reality that your mom was arrested in relation to that horrific nightmare and now both of your parents are gone."
FLORIDA MAN MYSTERIOUSLY MURDERED IN FRONT OF HIS TODDLER DAUGHTER, NOW HIS WIDOW WANTS ANSWERS
After Melissa Nelson, state attorney for Jacksonville's Fourth Judicial District, announced the arrest of Gardner-Fernandez at a news conference Thursday, Kirsten read a brief statement pleading with the Gardner family to let them see the twins.
Melissa Nelson, the state attorney for Jacksonville's Fourth Judicial District, announces Aug. 17, 2023, the arrest of Shanna Gardner-Fernandez for the 2022 murder of her ex-husband Jared Bridegan. 
"We are their family. We love them. We have prayed for them every single day for the last 547 days since they were ripped away and isolated from us," Kirsten tearfully told reporters. 
FLORIDA PERSONAL TRAINER CONFIRMS ALLEGED AFFAIR WITH EX-WIFE OF SLAIN MICROSOFT EXEC
Shelli and Sterling, who own the lucrative papercraft company Stampin' Up!, have stood by their daughter since the murder. 
They helped Gardner-Fernandez relocate from Jacksonville Beach to West Richland, Washington, buying her a $1 million home, where she was arrested early Thursday.
"I've made direct pleas to Shanna, to Sterling Gardner and to Shelli Gardner, and I have been denied or ignored every single time," said Kirsten. "It's excruciating. You know, I was a parent to them for nearly five years." 
Justin added that the twins will "never get this time back." They're missing birthdays and family gatherings with their cousins and siblings and, more importantly, support to help them heal from their staggering loss.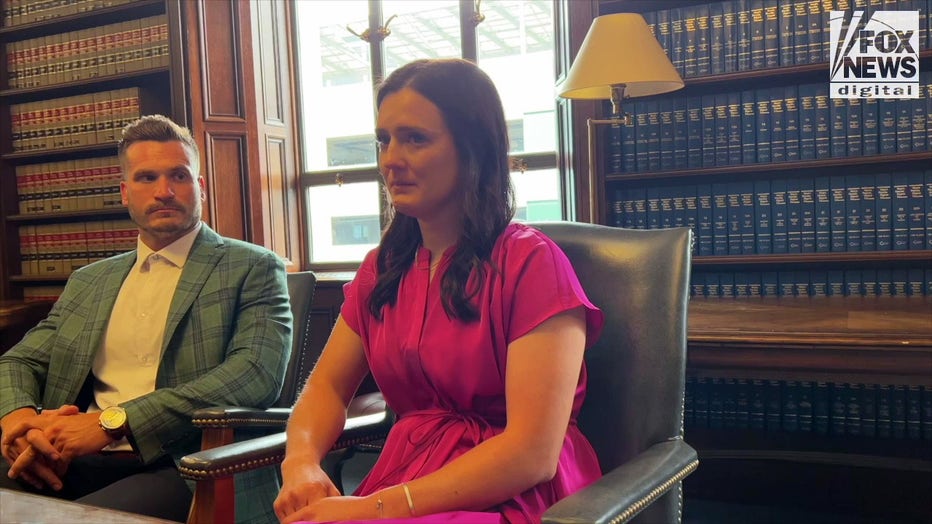 Jared's widow Kirsten speaks about getting justice. (Larry Paci for Fox News Digital)
Kirsten told Fox News Digital that, even though Jared is gone, she still feels his presence.
"I just feel like he's trying to help out even though he's not here," she said of Jared reminding her to check on their girls. "So it's sweet, but it also doesn't numb the pain."
Jared missed Bexley's first day of school this week, London's first birthday and her taking her first steps.
"All of that was taken away from us," she said.
Gardner-Fernandez's criminal defense attorney declined to comment. Shelli and Sterling released a statement through their attorney Timothy Burton Anderson. 
"Words cannot accurately express the depth of our sadness," they wrote."Family is our top priority. We love our daughter and are focused on supporting her and our entire family as we help our grandchildren navigate this difficult and very confusing time. For their sake and all involved, we caution against further speculation."
Rebecca Rosenberg is a veteran journalist and book author with a focus on crime and criminal justice. Email tips to rebecca.rosenberg@fox.com and @ReRosenberg.