Why was Trump indicted? What to expect in New York hush money case
A grand jury in New York announced last week an indictment against Donald Trump, the first criminal case ever brought against a former U.S. president. 
The indictment is an extraordinary development after years of investigations into Trump's business, political and personal dealings. Trump is currently ramping up to regain the White House in 2024 while simultaneously battling other legal problems. 
Here is a look at why he was indicted in New York and what's going to happen next in that legal process. 
RELATED: Trump arraigned: Former president pleads not guilty to 34 felony counts
Why was Trump indicted?
Trump's indictment in New York has to do with a so-called "hush money" payment made during the height of his 2016 presidential campaign. 
While making a hush-money payment isn't itself an illegal act, the way Trump funneled the money might have made it one. 
A $130,000 payment was made to porn star Stormy Daniels to keep her from going public during Trump's presidential campaign about a sexual encounter she claims she had with the Republican years ago. 
The money was paid out of the personal funds of Trump's now-estranged lawyer, Michael Cohen, who then said he was reimbursed by the Trump Organization and also paid extra bonuses for a total that eventually rose to $420,000. 
RELATED: Trump indicted: Charged in New York over hush money paid during 2016 campaign
Manhattan prosecutors had been examining whether any state laws were broken in connection with the payment or the way Trump's company compensated Cohen for his work to keep the allegations quiet. 
The grand jury heard evidence and from a number of witnesses in secret since January.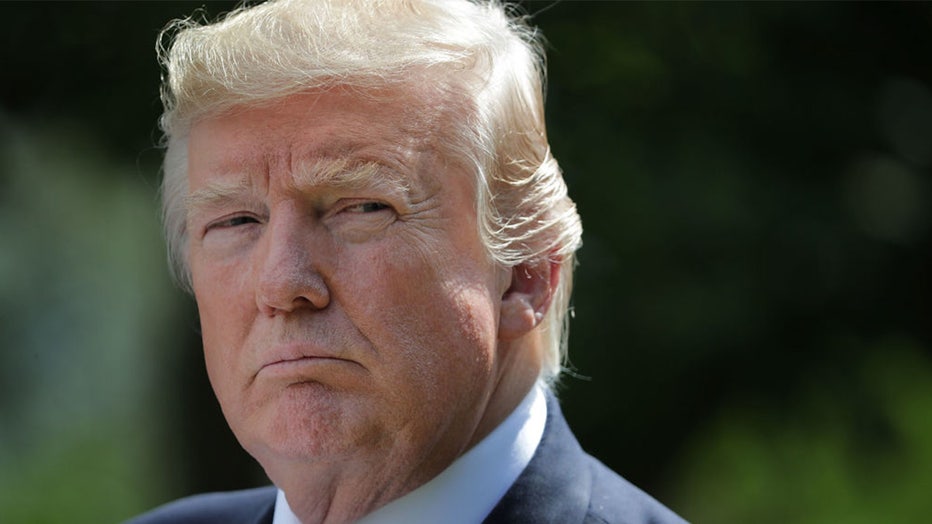 FILE - U.S. President Donald Trump holds a joint news conference with Lebanese Prime Minister Saad Hariri in the Rose Garden at the White House July 25, 2017, in Washington, DC.  (Chip Somodevilla/Getty Images)
The hearings ended and the grand jury determined enough evidence existed to indict Trump – which, in New York, is the equivalent to issuing a formal felony charge. 
When a person is indicted, they are given formal notice that it's believed that they committed a crime, and the indictment contains the basic information that informs the person of the charges against them, according to the U.S. Department of Justice.  
RELATED: Indictment vs arrest: What's the difference?
What is Trump charged with?
Trump pleaded not guilty on April 4 to 34 felony charges of falsifying business records in the first degree, stemming from hush money payments.
Will Trump be arrested?
Trump previously claimed in a social media post that his arrest was imminent, though that was before the grand jury investigation concluded. 
Technically, while Trump goes through the booking process ahead of the arraignment, he's considered "under arrest" and in custody. 
But he won't be handcuffed and he won't sit in a jail cell, in part because parts of the courthouse will be cleared out for his arraignment — and because Trump, 76, is a former president with Secret Service protection.
Trump only faced "getting arrested" – like how it's portrayed in the movies – if he didn't voluntarily turn himself into the court ahead of his arraignment, which he did.
The logistics and security of Trump's surrender were worked on for several days, according to sources, and included collaboration from the U.S. Secret Service, New York Police Department, FBI, New York State court officers and the DA's office.
Trump's lawyers have previously said he would follow normal procedure, according to the Associated Press, meaning he will likely agree to turn himself in at a New York Police Department precinct or directly to the district attorney's office.
Trump was asked to surrender on Friday, but his lawyers said the Secret Service needed additional time as they made security preparations, two people familiar with the matter told The Associated Press. The people spoke on condition of anonymity because they couldn't publicly discuss security details.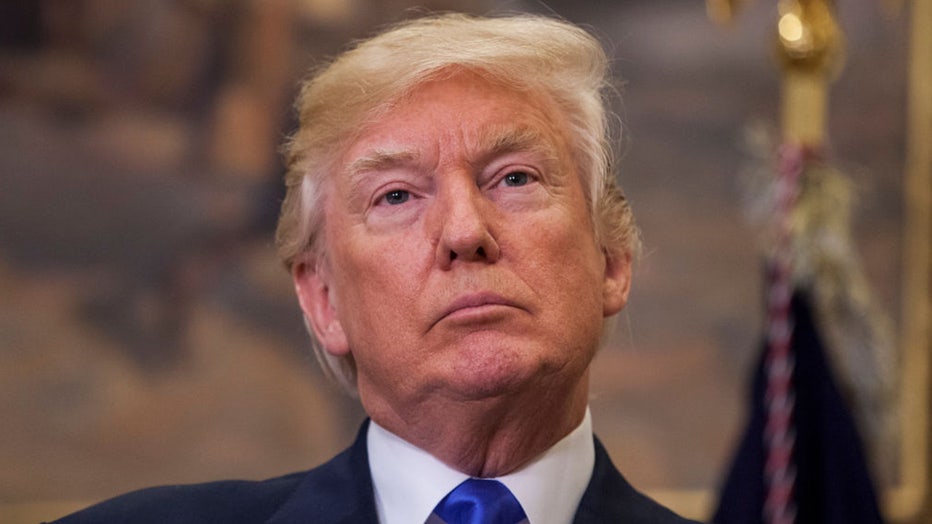 FILE - U.S. President Donald Trump attends the announcement of the introduction of the Reforming American Immigration for a Strong Economy (RAISE) Act in the Roosevelt Room at the White House on August 2, 2017, in Washington, DC. (Zach Gibson - Pool/Getty Images)
Will Trump take a mugshot?
Cohen told MSNBC that he expects Trump will "absolutely" be fingerprinted and photographed if he's arrested. 
Criminal defense attorney and former prosecutor Arthur Aidala agreed during a conversation with FOX 5 NY. 
"He won't do a 'perp walk' where he's going to be in handcuffs, but he's got to go into the building, he's got to go somewhere in the D.A.'s office, he's got to be fingerprinted, there'll be a mugshot of him, he's got to stand in front of a Supreme Court judge, plead 'not guilty' to an indictment, and then walk out," Aidala predicted. 
This is a developing news story. Check back for updates.