Ukranian President Zelenskyy asks Putin to meet: 'I don't bite'
Ukraine's President Volodymyr Zelenskyy has challenged Russian President Vladimir Putin to sit down for talks while urging the West to offer a stronger military assistance to Ukraine to fight the Russian invasion.
In a sarcastic reference to a long table Putin used for his recent meetings with foreign leaders and Russian officials, Zelenskyy said: "Sit down with me to negotiate, just not at 30 meters," adding, "I don't bite. What are you afraid of?"
During Thursday's news conference, Zelenskyy said that prospects for another round of talks between Russian and Ukrainian negotiations don't seem promising, but emphasized the need to negotiate, adding that "any words are more important than shots."
RELATED: Who is Volodymyr Zelenskyy?: How this comedian became a wartime president
He said the world was too slow to offer support for Ukraine and prodded Western leaders to enforce a no-fly zone over Ukraine to deny access to the Russian warplanes. The U.S. and NATO allies have ruled out the move that would directly pit Russian and Western militaries.
Zelenskyy charged that if the West remains reluctant to declare a no-fly zone over Ukraine, it should at least provide Kyiv with warplanes.
Number of victims grows
Meanwhile, Ukraine's state emergencies agency says that at least 22 civilians have been killed in a Russian strike on a residential area in the city of Chernihiv, a city of 280,000 in Ukraine's north.
It said the casualties could be higher as rescuers are continuing to look through debris for more bodies.
RELATED: Chechen hit squad sent to murder Zelenskyy 'eliminated,' top Ukrainian defense official says
The U.N. human rights office says its latest count of casualties in Ukraine since Russia's invasion last week has risen to 249 civilians killed and 553 injured.
That was only a small increase from its previous tally a day earlier, when it counted 227 civilian deaths and 525 people injured, likely a testament to the difficulty it has had in confirming deaths amid the continued fighting and bloodshed. Seventeen of those killed were children, and 27 were women, the latest count found.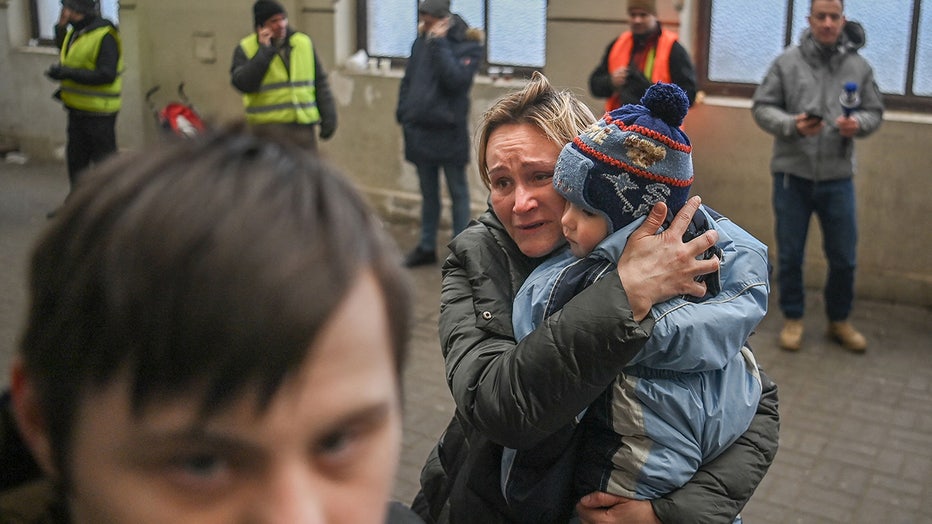 A woman holds her child as she tries to board into a free train to Poland at a train station in Lviv, western Ukraine, on March 3, 2022. (Photo by DANIEL LEAL/AFP via Getty Images)
The rights office admits that its figures so far are a vast undercount. It uses a strict methodology and counts only confirmed casualties. The latest count is as of midnight local time from Tuesday to Wednesday. Ukrainian officials have presented far higher numbers.
The U.N. office acknowledged that many reports are pending corroboration, such as in the town of Volnovakha in the government-controlled part of eastern Ukraine, "where mass civilian casualties have been alleged."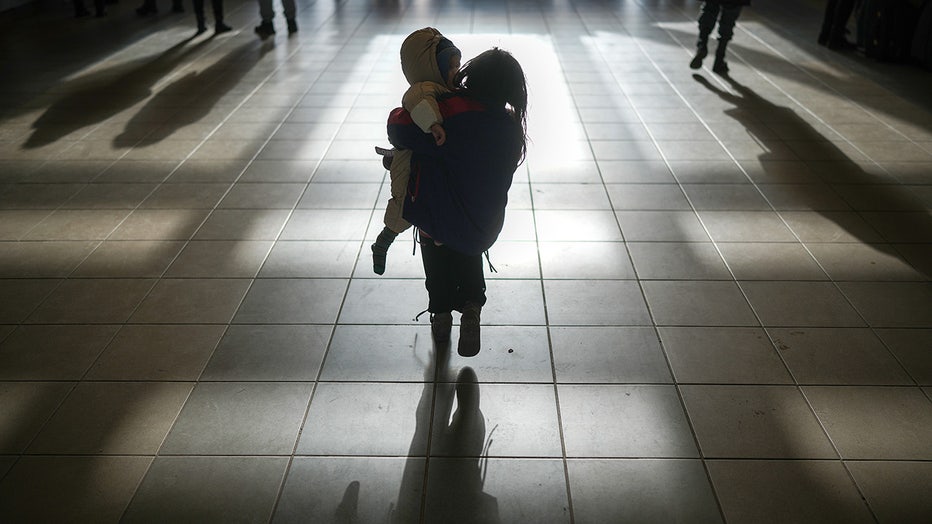 A refugee girl carries a sibling after arriving at the Hungarian border town of Zahony on a train that has come from Ukraine on March 3, 2022 in Zahony, Hungary. (Photo by Christopher Furlong/Getty Images)
LATEST: Peace talks expected to resume as forces seize key Ukrainian port