Watch: Beloved nurse, who worked at hospital for over 33 years, clocks out for last time
A veteran nurse got quite the goodbye after she clocked out for the last time after working in the same unit for over 33 years. 
Agnes Reyes worked as a charge nurse at the Chesapeake Regional Medical Center in Virginia. In July, she finally said goodbye to what she called her second home for the final time. 
"I really felt happy. I'm elated because after 33½ years, it feels like, 'Oh my gosh, I hit a home-run,'" Reyes told FOX TV Stations. "Because, all I wanted is to finish my commitment, my job in a graceful way and I think I did it." 
Video recorded by another registered nurse at the hospital captured the moment Reyes clocked out on July 27, surrounded by her colleagues. 
The video, which was posted to TikTok, garnered hundreds of thousands of views and the comments were flooded with well-wishes and noted Reyes' cheerful demeanor, but more notably, commenters noticed how her coworkers reacted. 
Nurses hugging Agnes after she clocks out for the last time.  (Pauline Jaworski via Storyful)
"This reaction shows how wonderful she is," one person wrote. 
"That's when you know, you did it right," another person wrote. 
"And that's how you know she was an amazing nurse and amazing coworker and just simply an amazing human," another wrote. 
Reyes' compassionate and spritely personality was clearly felt through the video and her coworkers' affection for their now-retired charge nurse was proudly displayed for all.
Reyes' nurse manager, with whom she had been working with for years, said it felt like the unit lost a mom. 
And while Reyes has trained many of the nurses who are still with the hospital, Stephanie Bustillos, who was Reyes' nurse manager, said there is no one like her. 
"They're not Agnes. She's got the nurse's heart and she's very special," Bustillos told FOX. "Of course, I was elated for her next chapter but at the same time, very sad because we are losing a very, very, very, very important asset to our unit." 
Reyes said that she was typically the last one to leave during her shift but on her last night, all of her colleagues stayed behind because they told her they wanted to watch her clock out for the final time. 
"I said, 'Oh, what are you guys waiting for?'" Reyes said she asked the nurses that night, to which they replied, "'Agnes, it's your last day, I want to see you clock out for the last time.'" 
"I said, 'Oh really, come on let's go!' So I was running to the time clock, and Stephanie was there, and we were hugging, and then I did," Reyes said.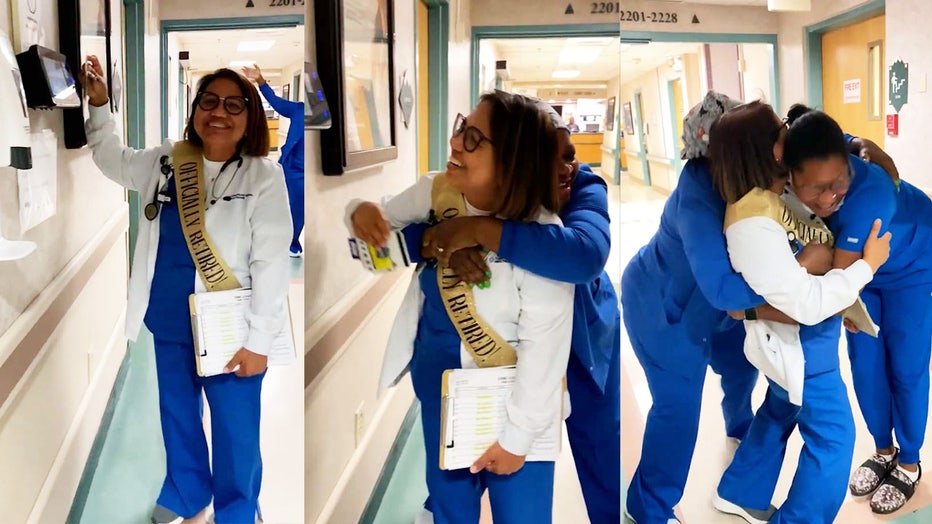 FILE - Still images from video taken of Agnes Reyes, a former nurse at Chesapeake Regional Medical Center in Virginia, clocking out for the very last time. (Pauline Jaworski via Storyful)
And while Reyes said she was happy to retire after decades of working at the hospital, she could not help but shed a tear speaking about her fond memories at her second home. 
"They all came and hugged me and we were all laughing. I was happy," Reyes said. "I enjoyed being at Chesapeake. 2 East was my second home." 
Reyes stayed dedicated to the hospital and the community it served and noted that even during the height of the COVID-19 pandemic, many nurses left the hospital, but she decided to stay. 
"I just want to serve the community first, before I go somewhere else. I know money is good, but I'll stick here, with you (Stephanie)," Reyes said through tears. 
Even though Reyes is officially retired, she has another job waiting for her and that's the job of being grandma. 
Her daughter is expecting baby No. 2 in November and she plans to be there to help with her newest grandchild. 
"That means it's a happy retirement," Reyes said. 
Storyful contributed to this report. This story was reported from Los Angeles.