Washington Commanders RB Brian Robinson returns to practice weeks after being shot in DC
WASHINGTON - Washington Commanders running back Brian Robinson Jr. returned to the practice field on Wednesday five weeks after being shot during a robbery attempt in D.C. back in August.
The team posted a video of Robinson back on the practice field Wednesday, and he later spoke with the media about what it was like practicing again.
Robinson Jr. suffered multiple gunshot wounds on August 28 during what police believe was an attempted robbery on H Street in southwest D.C.
The rookie was drafted in the third round of the 2022 NFL Draft. The team said he didn't suffer any significant damage to his ligaments in the shooting - but decided to place him on the Non-Football Injury list to allow him to focus on his recovery.
"It was beautiful, just getting back on the field, having fun being around my coaches and team again, you know, it was just a beautiful day for me honestly," said Robinson of his return to the practice field. "My plan today was to just go out there and just see what I could do. And I did a little bit more than I thought I would be able to do today. So, that's positive."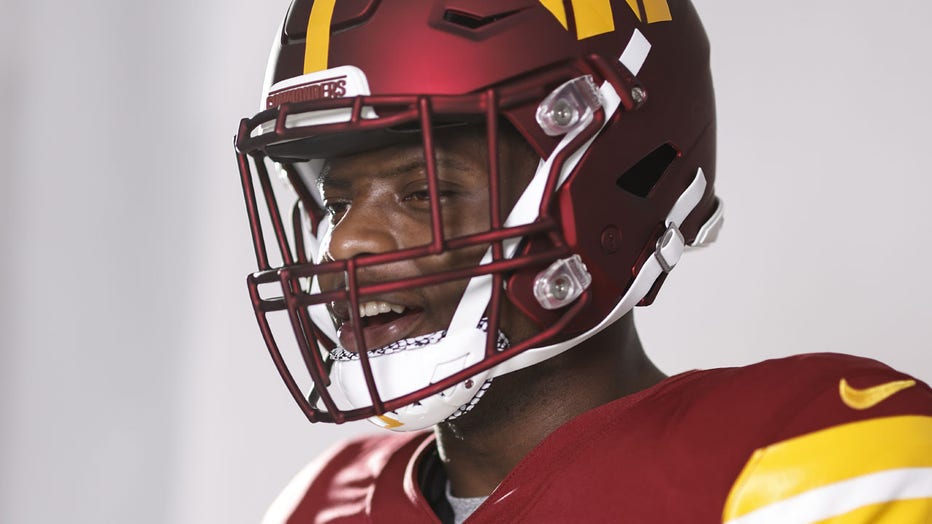 Brian Robinson Jr. #8 of the Washington Commanders poses for a portrait during the NFLPA Rookie Premiere on May 21, 2022 in Los Angeles, California (Photo by Michael Owens/Getty Images)
While speaking with the media, Robinson also weighed in on how his recovery process has helped him grow.
"Just when you're faced with new adversity, you already got the mindset to overcome, you know, just whatever it takes for you to overcome whatever you up against. And this was by far the worst, you know, I've ever dealt with," Robinson explained. "What I learned about myself is that I could pretty much fight anything I'm up against. It don't really matter. Just mentally just strong. Just have to be strong mentally, you know? I learned a lot about myself, honestly."
As for when Robinson could return to the playing field – he remains on the non-football injury list, meaning that the team now has 21 days to place him on the active roster, or keep him on NFI. But, Robinson is not getting ahead of himself, saying, he will be taking his return to the playing field "one day at a time."