Virginia Attorney General holds town hall on Asian discrimination in schools
ARLINGTON, Va. - Virginia Attorney General Jason Miyares and the Asian American community in Fairfax County held a town hall meeting to discuss discrimination against Asian people in Northern Virginia.

Miyares currently has two open investigations related to Fairfax County Public Schools. The first is alleged discrimination against Asian students applying for admission into the county's prestigious STEM school, Thomas Jefferson High School.

The second investigation has the AG looking into the failure of multiple schools in Fairfax County, including Thomas Jefferson, to timely notify students of their National Merit Award Recognitions.

"It breaks my heart that I'm hearing from so many Virginians that say my child is being denied some of their dreams because of who they are. That's not right," Miyares said.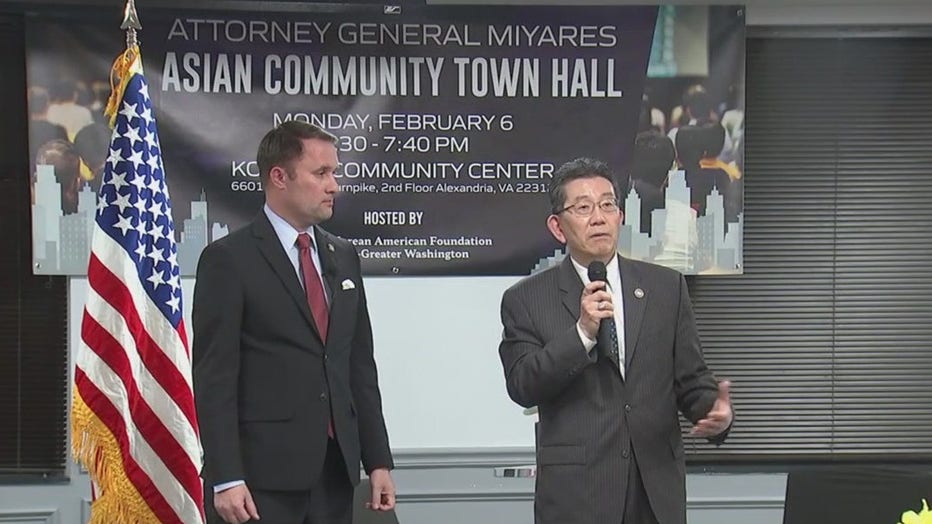 "If you mean equity is equal opportunity I believe in equal opportunity. If what you mean by equity is forced equal outcomes, that's the opposite of I think what a healthy pluralistic society should look for," he continued. 

At the town hall, Miyares said after Thomas Jefferson began policies of equity in their admissions process, the number of Asian students accepted went down by 20%.
READ MORE: Top-ranked Virginia high school accused of depriving students of merit awards

Miyares said out of about 1,000 students county-wide who were impacted by the National Merit reporting delay more than 70% of them were Asian.

At the town hall meeting, attendees also asked questions about Asian hate trends, hate crimes, public safety, and secure elections.

Several Fairfax County Public Schools students also participated. They raised their own experiences of issues like bullying and possible discrimination.
"My class's admissions exam was the second year that they changed it and I think that a lot of students could have been admitted to TJ but missed out on it because of the new equity-based system," said Shanna Chung, a freshman at Thomas Jefferson High School.

"There's like this thing – a prejudice against Asians but how do we actually know there's discrimination?" said Jihun Lee, a 10th grader at Centerville High School. "Being Asian could just be used as an excuse when you're really not good enough." 
According to Miyares, both investigations are currently in the thick of going through documents and interviewing administrators and families. He did not give a timeline for when both will be complete but said anyone who feels they have something to contribute should contact his office.