Employee beaten, several keys stolen from valet stands at 2 Northwest DC restaurants
WASHINGTON - A valet was left injured and some restaurant patrons are still without their car keys after two different incidents in Northwest D.C. where keys were stolen from valet stands. Police are continuing to investigate but right now, some customers are asking what the restaurants plan to do to prevent something like this from happening in the future. 
The first robbery happened on Thursday, July 20. Diners at Kitchen + Kocktails located at 1300 I Street were shocked to find that while they were eating, a valet had been beaten and keys were stolen. 
According to a police report, four suspects pulled up to the restaurant in a black Infiniti Q50S with a Maryland hard tag of 50033CJ. Detectives say while one man distracted the doorman, the others broke into the valet key box and stole the keys to several vehicles. 
The men hopped back into the Infiniti and fled the restaurant going west on I St NW before turning right onto K St NW. 
Police say one of the valets had chased the suspect vehicle on foot until coming to the 900 block of 13th St NW where a car matched to one of the stolen sets of keys was parked. As the suspects were trying to get into the car, the valet tried to pull them out and the suspects began to beat his face. The valet backed off and the suspects made off in the stolen car.
DC Fire and EMS responded and took the valet to Washington Hospital Center where he was treated for swelling to his forehead and lacerations on his nose.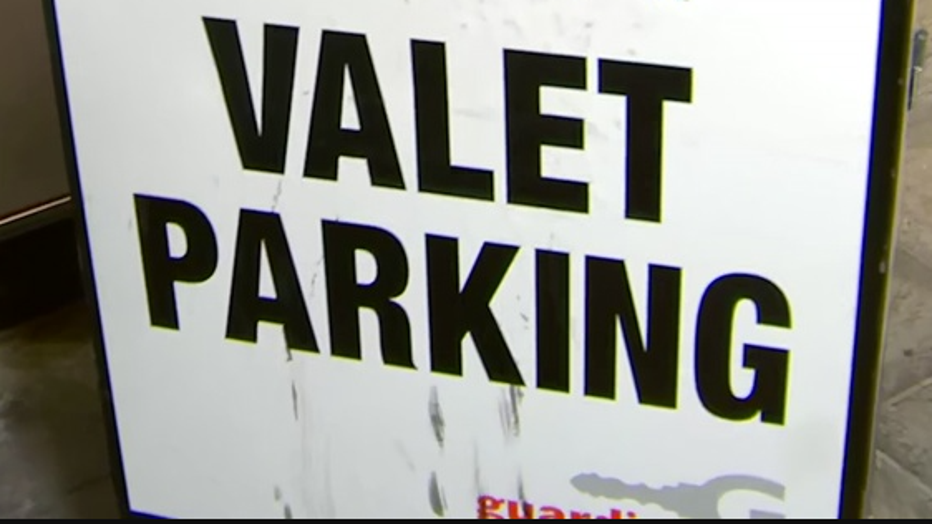 Detectives say the second robbery occurred just after 10 p.m. on Saturday. Multiple sets of keys were taken from the valet stand at Del Frisco's Double Eagle Steakhouse located at 950 I Street — just a couple minutes' drive from Kitchen + Kocktails. 
In this case, police say the valet called and told responding officers that while he was helping another customer, a suspect went up to the valet table and grabbed four sets of keys belonging to a Maserati, a 2021 Kia, a 2021 Honda and a 2021 Nissan before running away. 
"We gave our keys, we went upstairs, not thinking behind it," Andrea Ible says. "We heard, 'girl, ugh, no, all the keys?' The room scattered." 
Ible was one of those victims whose keys were taken. 
"It was extremely hectic, it was nerve-racking," Ible said. 
She says she wasn't able to get back into her car until Sunday afternoon and did not get her keys back. She says she's frustrated with how the restaurant is handling the incident. 
"Your job is to safeguard our keys, that's why we pay you," she said. "Have more people working by the box. You can not have three people working at a valet box at the busiest corner in DC."  
Another one of those victims was Jamie Tyler. He and his wife — well-known cast members of Love and Marriage D.C. — met up with Real Housewives of Atlanta star Kenya Moore for dinner on Saturday night expecting a full-service evening. Tyler had to spend hours waiting for his son to pick up the spare key in Maryland to drive it into D.C.
"I'm very frustrated and primarily because we picked that restaurant because of the location. You know, it's a safe area — should be anyway — and it's valet," Tyler said. "So I was like let's go to Del Frisco's and then lo and behold, look what happened."
This isn't the first time DC-area valets have been hit. 
In February, thieves stole a valet stand and some of the car keys inside it from outside RPM Italian D.C. at 6th and K Streets in the Mount Vernon neighborhood not far from the D.C. Convention Center.
Several vehicles were also stolen from a Ruth's Chris Steak House valet in northwest D.C. on Christmas Day 2022 and again on New Year's Day. The valet attendant in that case told police he was parking another vehicle when the keys were stolen from the valet's podium, which was reportedly locked. Police found a stolen Mercedes-Benz on Dec. 26 in an alley, where it had been set on fire.
"It deters me from using valet and just finding my own parking. At least I will take responsibility for what I've done, and I have my keys," said Ible. 
It's not yet clear if any arrests were made in those incidents. Police are continuing to investigate this weekend's robberies. Anyone with information should contact the Metropolitan Police Department. 
FOX 5 did reach out to the company that manages the valet at Kitchen + Kocktails, Guardian Parking Service, about Thursday's incident and they said "no comment." We also reached out to City Center and Del. Frisco's we are waiting to hear back. A
Ible is hoping CityCenter or Del Frisco's will call her back and reimburse her for the money she spent on her Uber to Baltimore and getting her car back. 
"They're not doing anything," Ible told FOX 5. "They were being very negligent."