'Unite the Right' rally street closures in DC announced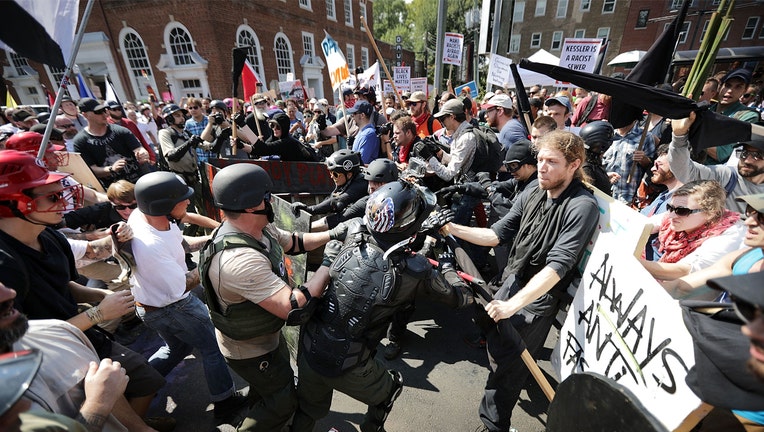 article
WASHINGTON - Authorities have announced street closures that will be in place for the "Unite the Right" rally set to be held in the District on Sunday.
The white nationalist rally comes on the heels of the anniversary of the deadly protest held in Charlottesville, Virginia. In preparations for this weekend's rally, D.C. police announced the streets would be impacted from 9 a.m. to 8 p.m. on Sunday:
Officials said to expect parking restrictions in the area and that motorist should expect delays in the surrounding areas during the rally.
Metro announced it will not provide private rail cars for the rally after reports that officials were considering using private trains to help white nationalist get to the event sparked outrage on social media.
This year's rally, spearheaded by white nationalist Jason Kessler, is being organized by the same group behind the deadly Unite the Right rally in Charlottesville.
In Aug. 2017, hundreds of people traveled to Charlottesville to participate in the Unite the Right rally and protest the city's plans to remove a statue of Robert E. Lee from a park that was named after the Confederate general. The list of scheduled speakers included several leading white nationalist figures, including Richard Spencer.
On the eve of the Aug. 12 rally, dozens of young white men wearing khakis and polo shirts marched through the University of Virginia's campus, carrying torches and chanting racist and anti-Semitic slogans. The next day, hundreds of white supremacists and counterprotesters clashed in the streets before a car plowed into a crowd, killing 32-year-old counterprotester Heather Heyer.
James Fields Jr., 21, of Maumee, Ohio, is charged with murder in Heyer's killing under Virginia state law. He is charged separately in federal court with hate crimes.
The Associated Press contributed to this report.