UK baby-killer Lucy Letby sentenced to life in prison: 'Malevolence bordering on sadism'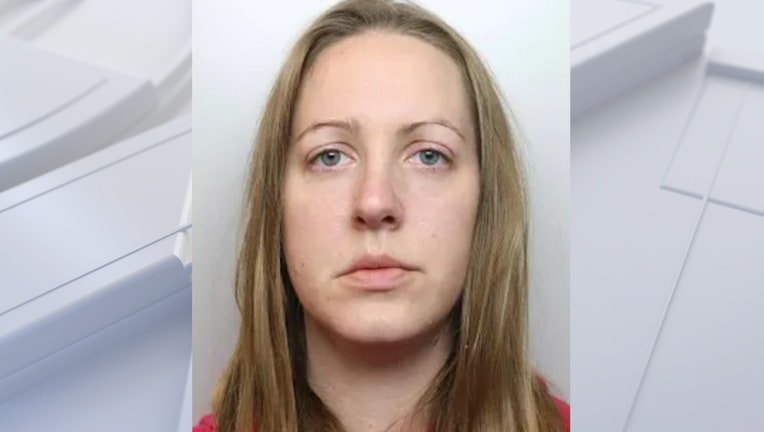 article
Lucy Letby, the UK's most murderous child serial killer, has been sentenced to life in prison.
Letby, a former neonatal nurse who was arrested in 2018 and later convicted of murdering seven babies in her care at a hospital in northern England and attempting to kill six others, was sentenced Monday to life in prison with no chance of release.
In the ruling, Justice James Goss did not mince words when highlighting the nature of what the 33-year-old nurse did.
"There was a malevolence bordering on sadism in your action," Goss said, addressing Letby, who was not present during the sentencing hearing. "During the course of this trial, you have coldly denied any responsibility for your wrongdoing. You have no remorse. There are no mitigating factors."
'COLD-BLOODED' NURSE LUCY LETBY FOUND GUILTY OF MURDERING 7 BABIES AT HOSPITAL NEONATAL UNIT
Letby was given the most severe punishment possible under British law, which does not allow the death penalty.
Goss said the "exceptional circumstances" warranted the rare "whole-life order."
The sentence comes after a Manchester Crown Court jury that deliberated for 22 days convicted Letby of murdering the seven babies over a yearlong period that included her preying on the vulnerabilities of sick newborns and the anxiousness of their parents.
"Trust me, I'm a nurse," she told a worried mother of two, who later testified that she noticed blood around her son's mouth and heard his "horrendous" screams when they were at the hospital on August 4, 2015.
The mother was sent away from the neonatal unit — telling the court she knew something was "very wrong."
She ultimately returned to find her son died, after Letby injected him with air.
The mother had unknowingly interrupted Letby's initial attempt to kill one of her newborn twin sons, according to the prosecution.
BABY ATTACKED BY ALLEGED 'KILLER NURSE' LUCY LETBY RECOVERED AFTER BEING MOVED TO NEW HOSPITAL
Letby, who was accused by prosecutors of "getting a thrill" out of murdering babies and "playing God" with those placed in her care, carried out her deadly spree in the neonatal unit at the Countess of Chester Hospital in northwest England between June 2015 and June 2016.
She nearly killed the same family's second son the following day by injecting insulin into a nutrition bag. He survived.
Prosecutors described Letby as an "opportunist" who had targeted sick children and accused her of killing one infant simply because she wanted to get the attention of a doctor she liked.
The murderous nurse also targeted a mother of twins, who was already grieving the loss of a son. While vigilant to watch over the second infant after the first one's death, the family's mother said they let their guard down, and Letby harmed the boy's sister, who survived.
"Little did we know you were waiting for us to leave so you could attack the one thing that gave us a reason to carry on in life," the mother testified.
In July 2016, doctors raised concerns about Letby's involvement in several baby deaths, and she was removed from front-line duties. She was arrested at her home two years later in July 2018.
Prosecutors said a "confession" note, written on a Post-It, was later found by police at her home.
It read, "I don't deserve to live. I killed them on purpose because I'm not good enough to care for them."
"I am a horrible evil person," the note added. And: "I AM EVIL I DID THIS."
DOCTORS 'CAN'T THINK OF A NATURAL CAUSE' FOR PROJECTILE VOMITING OF BABY ALLEGEDLY OVERFED BY NURSE LUCY LETBY
The parent of another child who was killed testified to the hopelessness she was experiencing, knowing her daughter was killed by someone who was entrusted to care for her.
"I don't think we will ever get over the fact that our daughter was tortured till she had no fight left in her and everything she went through over her short life was deliberately done by someone who was supposed to protect her and help her come home, where she belonged," the mother said in a statement read in court.
Prosecutor Nicholas Johnson argued that Letby's "sadistic conduct" in the premeditated crimes warranted a "whole-life tariff."
Defense lawyer Ben Myers said Letby maintained her innocence but said there was nothing to say to justify reducing her sentence.
Some families suffered multiple tragedies, as Letby targeted three sets of twins and a set of triplets.
"The anger and the hatred I have towards her will never go away," said the father who lost two of his three babies. "It has destroyed me as a man and as a father."
His third child survived and was transferred to a different hospital.
LUCY LETBY TRIAL: FATHER TESTIFIES BABY GIRL WAS LEFT SEVERELY DISABLED AFTER NURSE TRIED TO KILL HER
"There is no sentence that will ever compare to the excruciating agony that we have suffered as a consequence of your actions," another victim's mother said. "At least now, there is no debate that, in your own words, you killed them on purpose. You are evil. You did this."
Letby's absence from the sentencing, which is allowed in British courts, fueled anger from the families of the victims, as she did not have to listen to statements about the devastation she caused.
Prime Minister Rishi Sunak, who called the crimes "shocking and harrowing," said he would bring legislation forward in "due course" to require convicts to attend their sentencings.
"It's cowardly that people who commit such horrendous crimes do not face their victims and hear first-hand the impact that their crimes have had on them and their families and loved ones," he said.
Prosecutors claimed Letby's "campaign of violence" continued for as long as it did because her colleagues did not suspect a nurse would ever kill babies, and her methods did not leave behind evidence.
Senior doctors said over the weekend that they had raised concerns about Letby as early as October 2015 and filed an urgent meeting request in February 2016, but their concerns were not taken seriously.
CLICK HERE TO GET THE FOX NEWS APP
The British government has ordered an independent inquiry into the deaths, and U.K. Health Secretary Steve Barclay said the "inquiry will seek to ensure the parents and families impacted get the answers they need."
"I would like to send my deepest sympathy to all the parents and families impacted by this horrendous case," he added. 
Fox News' Ian Leonard and The Associated Press contributed to this report. Read more of this story from FOX News.