Trump arraigned: Former president pleads not guilty to 34 felony counts
NEW YORK - Former President Donald Trump pleaded not guilty Tuesday to 34 felony counts after a grand jury's indictment over hush money paid during his 2016 presidential campaign. 
Trump left the 100 Centre Street courthouse just before 3:30 p.m. local time. He is not due back until Dec. 4, 2023. 
Trump's arraignment inside the Lower Manhattan courtroom lasted about an hour. Trump sat before the judge at a table alongside his legal team. 
No video cameras were allowed inside the courtroom during the arraignment, though some media were allowed to take photographs in the brief moments before the proceedings began.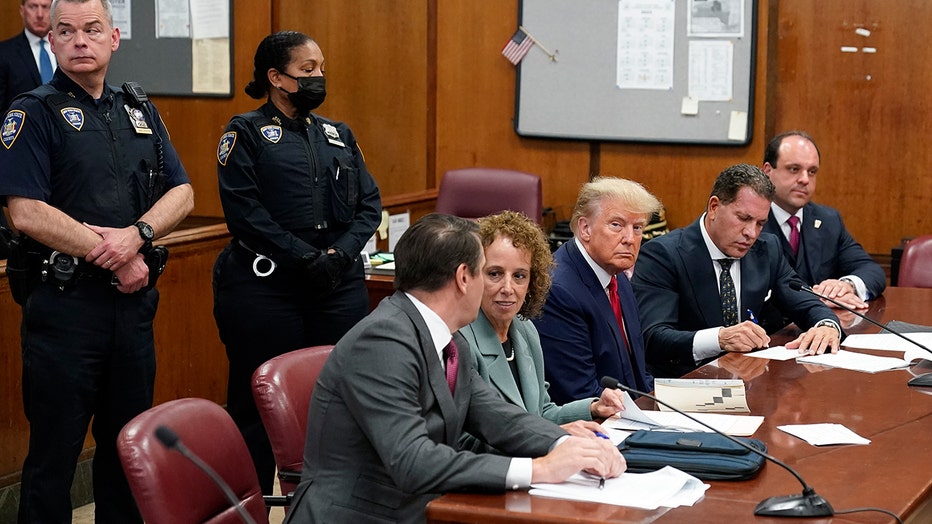 Former U.S. President Donald Trump sits at the defense table with his defense team in a Manhattan court during his arraignment on April 4, 2023, in New York City. (Photo by Seth Wenig-Pool/Getty Images)
Earlier, security and members of the media lined a hallway on the 15th floor where Trump was seen entering and exiting the courtroom. 
Trump arrived at the courthouse just before 1:30 p.m. local time, surrounded by Secret Service agents.
He pumped his fist and waved at a crowd as he left Trump Tower, where his motorcade departed for the courthouse about four miles away.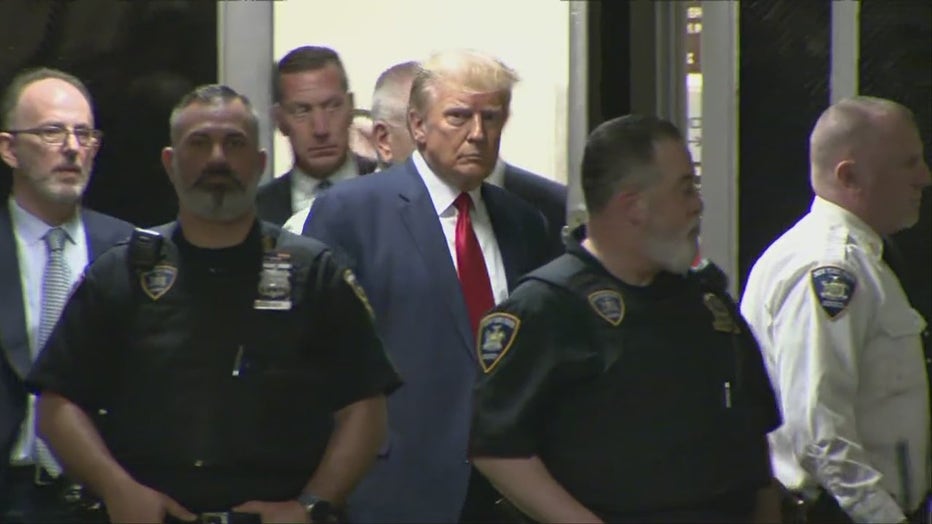 Donald Trump looks at media lining the hallway of a Manhattan courthouse as he enters the courtroom for his arraignment on charges related to hush money payments on April 4, 2023. Image: WNYW
Once the arraignment concluded, Trump was able to walk out of the building because the charges against him don't require that bail be set.
Trump then flew back to his Florida home, Mar-a-Lago, and appeared in front of several hundred supporters on Tuesday night. He repeated ongoing claims that the investigation was politically motivated, attacking Bragg and the judge in the New York case, the judge's family, and other prosecutors investigating him in other cases.
"The only crime that I have committed is to fearlessly defend our nation from those who seek to destroy it," Trump said.
RELATED: Trump to speak from Mar-a-Lago after arraignment Tuesday
Donald Trump "under arrest"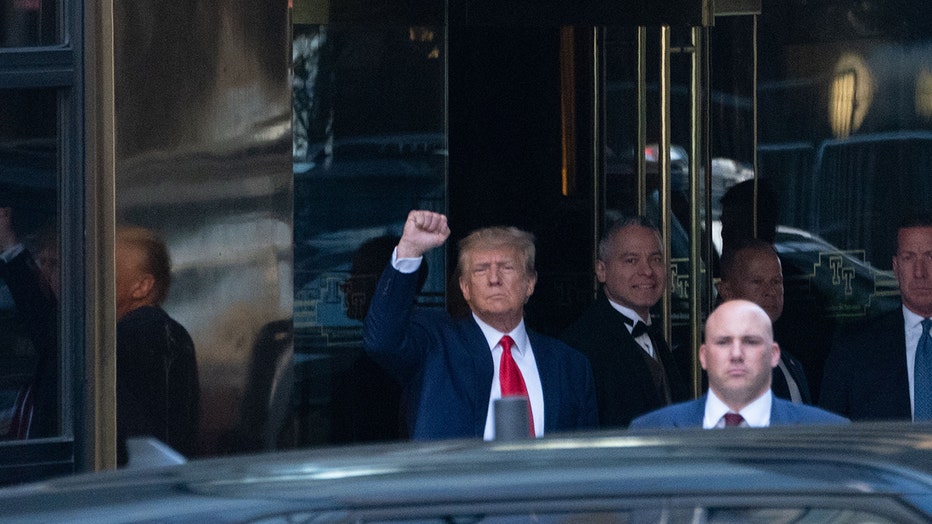 Former US president Donald Trump arrives ahead of his arraignment at the Manhattan Federal Court in New York City on April 4, 2023. (Photo by Bryan R. Smith/AFP via Getty Images)
Technically, while Trump went through the booking process ahead of the arraignment, he was considered to be "under arrest" and in custody. 
But he wasn't handcuffed and he didn't sit in a jail cell, in part because parts of the courthouse were cleared out for his arraignment — and because Trump is a former president with Secret Service protection.
Trump only faced "getting arrested" – like how it's portrayed in the movies – if he didn't voluntarily turn himself into the court ahead of his arraignment, which he did.
The logistics and security of Trump's surrender were worked on for several days, according to sources, and included collaboration from the U.S. Secret Service, New York Police Department, FBI, New York State court officers and the DA's office.
RELATED: Donald Trump turns himself in: The day in photos
Donald Trump mug shot
In addition to not being placed in handcuffs, Trump was also not subjected to a booking photo. 
The purpose of the mug shot is to allow law enforcement to have a photographic record of all arrested individual. The reason for handcuffing defendants is to prevent escape, prevent the person from injuring others, or to maintain a quiet and peaceable trial. Choosing to restrain a defendant is within the discretion of the trial court in most jurisdictions.
Trump was, however, fingerprinted. 
RELATED: Donald Trump spared mug shot, handcuffs after turning himself in on felony charges
What is Trump charged with?
Indictments in New York remain sealed until an arraignment, so the full list of charges only became publicly available Tuesday afternoon. 
Trump was charged with 34 felony counts of falsifying business records. 
Trump's indictment came after a grand jury probe investigated money paid to porn actor Stormy Daniels and ex-Playboy model Karen McDougal to keep the women from going public with claims that they had sex with him.
RELATED: Trump charged with falsifying records. What is that?
What's next for Trump?
At the arraignment, dates were set for the next hearing and deadlines for discovery, in which the district attorney's office must turn over all its information to Trump's lawyers, and motions, which include any requests to shift the venue or dismiss the case outright. That process usually takes months.
Trump's legal team hasn't commented on their next steps in the investigation, though it's common for defense attorneys to ask for a venue change or file a motion to dismiss the case as premature.
Trump is due in court again on Dec. 4, 2023. 
Meanwhile, Trump is facing several other legal investigations from Atlanta to Washington that are pressing forward.
This story was reported from Detroit.