Traffic stop in Prince George's County leaves man paralyzed from the waist down, girlfriend confirms
PRINCE GEORGE'S COUNTY, Md. (FOX 5 DC) - A use of force investigation is underway in Prince George's County following a routine traffic stop that left a driver paralyzed from the waist down Thursday evening.
Police say the driver, identified as 24-year-old Demonte Ward-Blake, was pulled over by an officer in the 4700 block of Wheeler Road at around 5 p.m. due to expired vehicle registration. 
DOWNLOAD: The FOX 5 DC News app for local breaking news and weather
When the officer approached the vehicle, police say the officer reportedly smelled marijuana.
A female passenger and a child who appeared to be around 6 years old was also in the vehicle at the time of the stop, which police describe as a four-door sedan. 
Police say Ward-Blake told the officer he was driving with a learner's permit, however, he was found to be driving with a suspended license. 
When the officer approached the car for a second time, police say Ward-Blake became irate and refused to place his hands on the steering wheel. 
Police say the first officer on the scene walked to his cruiser and called for backup in an effort to deescalate the situation.
When two other officers responded, police say they removed Ward-Blake from the car.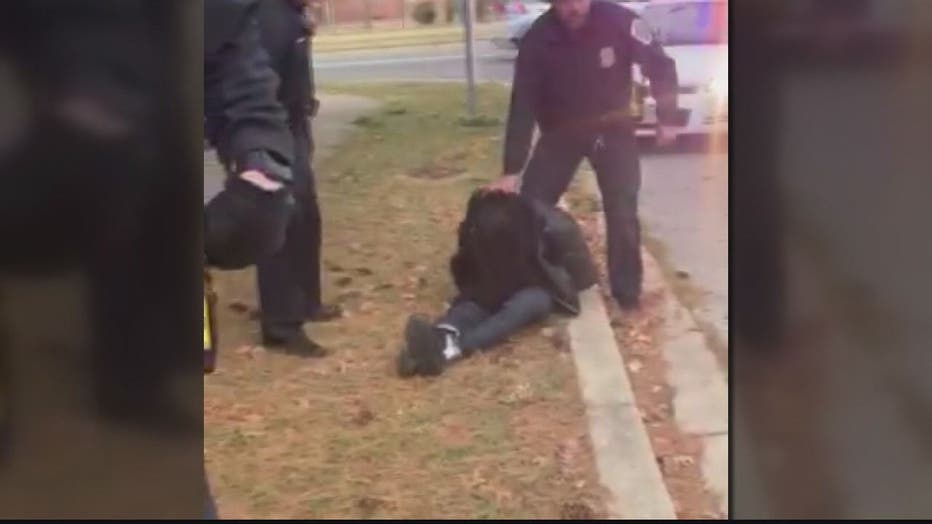 Police say Ward-Blake was handcuffed and being searched when he allegedly hit one of the officers with his elbow while trying to get away.
When the officers tried to take the driver down, police say that's when Ward-Blake apparently hit his head and neck on the road, causing a severe neck injury. 
Ward-Blake was transported to shock trauma at a hospital in Baltimore and in surgery all day Friday.
His girlfriend confirmed to FOX 5 Ward-Blake is now paralyzed from the waist down following the encounter.
The incident was captured on police dashcam briefly. Police say Ward-Blake was out of dashcam view when he was about to be placed in the cruiser. 
Police say a knife was found in the center console of the car during a search as well as marijuana. 
A warrant is out for the driver's arrest. He is currently facing a long list of charges, including resisting arrest, attempted escape and possession of marijuana. 
The officer has been placed on administrative duty at this time pending an investigation.