Ted Cruz suspends candidacy, Trump named presumptive candidate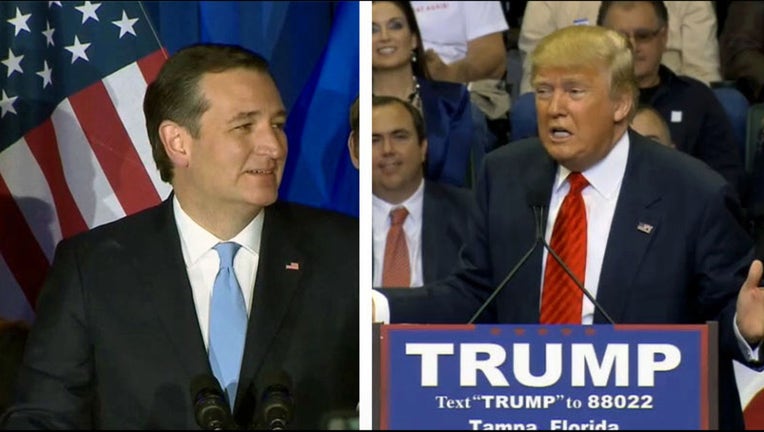 article
INDIANAPOLIS (AP) - After Texas Sen. Ted Cruz abruptly ended his presidential campaign Tuesday night, Republican National Committee Chairman Reince Priebus said Donald Trump was the presumptive GOP nominee.
Cruz suffered a devastating loss that left him with no viable path to the Republican nomination after falling to Donald Trump in Indiana's primary.
"I've said I would continue on as long as there was a viable path to victory; tonight I'm sorry to say it appears that path has been foreclosed," Cruz told a somber crowd in Indianapolis.
Cruz campaigned aggressively in Indiana, but could not overcome Trump. The billionaire businessman has stunned the Republican Party with his appeal to voters deeply frustrated with Washington and their own party's leaders.
Trump still must win about 200 more delegates to clinch the nomination. But his victory in Indiana -- where he picked up at least 45 of the state's 57 delegates -- made it all but impossible for Cruz to block him from doing so.
Before Tuesday's results, Cruz had vowed to stay in the race through the final primaries in June, clinging to the possibility that Trump would fall short of the 1,237 delegates he needs and the race would go to a contested convention.
Trump now faces pressure to unite a Republican Party that has been roiled by his candidacy. But whether he can accomplish that remains deeply uncertain.
Even before the Indiana results were finalized, some conservative leaders were planning a Wednesday meeting to assess the viability of launching a third party candidacy to compete with Trump in the fall.
One outside group trying to stop Trump suggested it would shift its attention to helping Republicans in other races. Rory Cooper, a senior adviser to the Never Trump super PAC, said the group will help protect "Republican incumbents and down-ballot candidates, by distinguishing their values and principles from that of Trump, and protecting them from a wave election."
Only about half of Indiana's Republican primary voters said they were excited or even optimistic about any of their remaining candidates becoming president, according to exit polls. Still, most said they probably would support whoever won for the GOP.
Clinton, too, needs to win over Sanders' enthusiastic supporters. The Vermont senator has cultivated a deeply loyal following in particular among young people, a group Democrats count on in the general election.
Sanders has conceded his strategy hinges on persuading superdelegates to back him over the former secretary of state. Superdelegates are Democratic Party insiders who can support the candidate of their choice, regardless of how their states vote. And they favor Clinton by a nearly 18-1 margin.
Exit polls showed about 7 in 10 Indiana Democrats said they'd be excited or at least optimistic about either a Clinton or Sanders presidency. Most said they would support either in November.
The exit polls were conducted by Edison Research for The Associated Press and television networks.
A fall showdown between Clinton and Trump would pit one of Democrats' most experienced political figures against a first-time candidate who is deeply divisive within his own party. Cruz and other Republicans have argued that Trump would be roundly defeated in the general election, denying their party the White House for a third straight term.
Trump has now won seven straight primary contests and has 80 percent of the delegates needed to secure the GOP nomination. With his victory in Indiana, Trump now has at least 1,041 delegates. Cruz has 565 and Ohio Gov. John Kasich has 152.
FOX 13 News contributed to this Associated Press report.