Surprise celebration for Virginia boy with autism after no one shows up for birthday party
A Virginia mom was heartbroken when for the third year, none of her son's friends showed up for his birthday party.
Alycha Travers, whose son Brian has autism, said they invited a couple of his friends to Chuck E. Cheese Saturday to celebrate his 9th birthday.
"Throughout the party, he kind of randomly asked where his friends were and if they were coming," said Travers. "And of course they didn't show and it's a little heartbreaking."
Travers said it hurt her that she was unable to protect her son from that pain.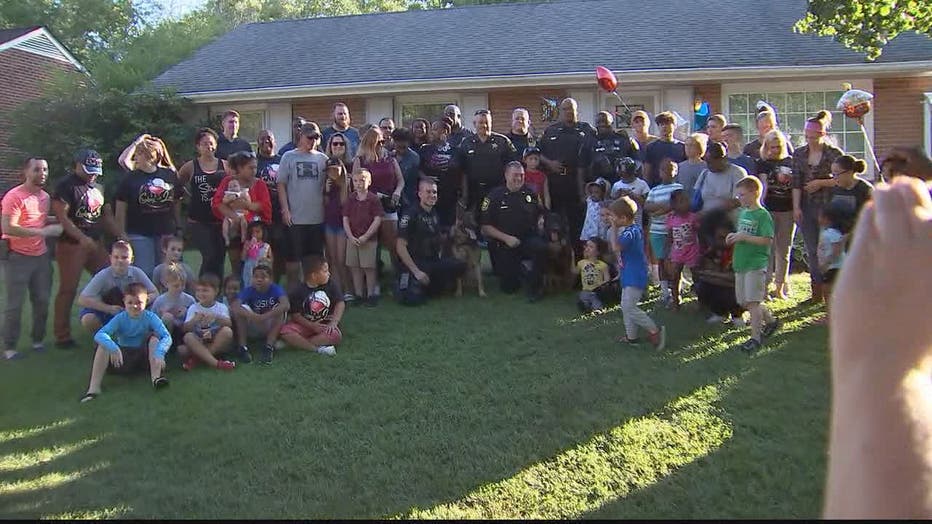 She posted about what happened on Facebook and soon got a call about a party that was being planned for her son. She said she never expected what she saw on Sunday.
Stafford Co. Lt. Deuntay Diggs saw on Facebook what happened to Brian and immediately started planning.
"When I saw that, that touched me and I was like, 'We have to do something for him,'" said Diggs.
Diggs is known as the "dancing deputy," after his dance moves prompted a few viral videos and appearances on Fox 5. He contacted his friends, in law enforcement and beyond, for a surprise party for Brian in Fredericksburg Sunday evening.
Officials with Fredericksburg police, Fredericksburg fire, Spotsylvania and Stafford county sheriff's offices and Pentagon police were there for the celebration.
"So many people in the community have given gifts," said Diggs. "So it's a chance for us to love on him and show him that he matters to us as a community."
At first, Brian was a little unsure what to make of the crowd singing happy birthday to him, but he made a beeline to open the gifts people brought for him.
Travers said she was thrilled and overwhelmed.
"Just a lot of emotions into one that all of these people would come together for my son," she said. "Over a little rant on Facebook where I was just mad nobody showed and then an entire community came together."
She hopes this will be a reminder that everyone deserves a chance, even if they're a little different.
"I just think everybody should be kind to each other and give everybody a chance," said Travers.