Shooting at Addison Road-Seat Pleasant Metro Station: 2 Injured, suspect in custody
CAPITOL HEIGHTS, Md. - The search is on for a second suspect connected to the shooting that injured two people at the Addison Road-Seat Pleasant Metro Station Wednesday afternoon. 
After investigating the incident further, Metro Transit Police believe that around 2:45 p.m., two men exchanged gunfire near the bus bay — and the victims who were hit were innocent bystanders commuting. 
Officers arrested one of the men who allegedly fired shots shortly after they arrived at the crime scene. The other suspect is on the run. 
On Thursday, the Metro Transit Police Department put out a wanted poster asking the public to help them find DeAngelo Dreco Walker. 
The 25-year-old was last seen near McLain Avenue in Glenarden, Maryland. Walker, according to police, is armed and dangerous.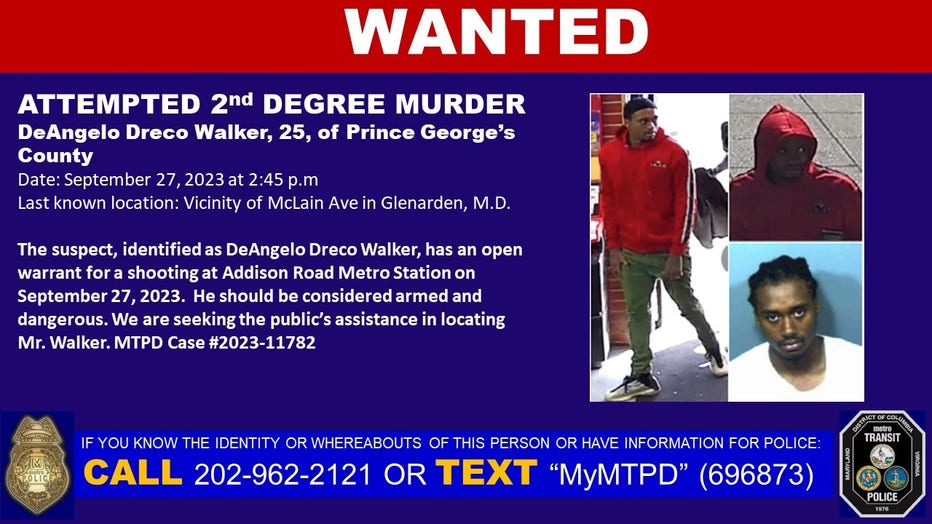 The Metro Transit Police Department released a wanted poster asking for the public to help 
Officers from the Seat Pleasant Police Department are continuing their investigation into what took place near the buses, and why. 
The shooting was reported to Metro officials around 3 p.m.
A spokesperson for the Washington Metropolitan Area Transit Authority told FOX 5 that the two victims – a man and a boy – have been taken to a hospital, and are believed to be in a "non-life-threatening" condition. 
There was no impact to train service, however, the F14 bus experienced some delays.  
This is a developing story. Check back with FOX 5 for updates.