Season of Wishes: Eli, 4, receives his dream tree house thanks to Make-A-Wish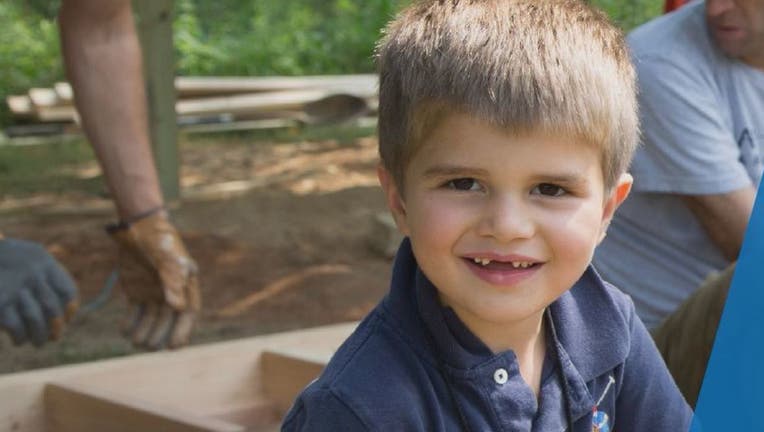 article
NOKESVILLE, Va. - We want to introduce you to a handsome 4-year-old boy named Eli. He is from Nokesville, Va. and was diagnosed with lymphoid leukemia. He absolutely loves the outdoors - gardening, tractors, swinging and jungle gyms - you name it. This little boy loves being outside and loves spending time with his brother and sister.
When Eli learned he was going to receive a wish from Make-A-Wish Mid-Atlantic, he knew exactly what he wanted - his very own tree house. Thanks to Make-A-Wish, Eli's wish came true and he received his tree house, he even had his very own official ribbon cutting ceremony where he was able to cut the ribbon. Eli and his siblings now have a memory and tree house that they can share and play outdoors in all day long.
FOX 5 DC Cares is our station's campaign to highlight the work of charitable organizations and non-profits in our community. We hope by partnering with these groups, we can help them get their message out and reach their goals.
We are teaming up with Make-A-Wish Mid-Atlantic for their Season of Wishes campaign. Over the next several weeks, we will be sharing the wonderful work Make-A-Wish does in our area and how you can be part of the magic.
HOW YOU CAN HELP: SEASON OF WISHES
Make-A-Wish Mid-Atlantic needs your help to make more wishes come true! FOX 5 has partnered with them for this year's Season of Wishes, and there are several ways you can help:
DONATE MONEY: Of course, donations are needed to keep the wishes coming. Click here for a link to make a donation to Make-A-Wish Mid-Atlantic's Season of Wishes campaign.
DONATE AIRLINE MILES: Wish kids and their families often need transportation to make their wishes come true, and if you've got airline miles to spare, you can help. Click here for more info on how to help!
Note: All donations to Make-A-Wish Mid-Atlantic stay local!
More information:
Follow Make-A-Wish Mid-Atlantic on social media:
Facebook: Make-A-Wish Mid-Atlantic
Twitter: @WishMidAtlantic
Instagram: @makeawishmidatlantic