Russia-Ukraine war: Russia may try to split country, Ukraine intel suggests
Ukraine's military intelligence chief says that Russia could try to break Ukraine in two.
Kyrylo Budanov said in remarks released by the Defense Ministry on Sunday that Russian President Vladimir Putin has realized "he can't swallow the entire country" and would likely try to split the country under "the Korean scenario." That's a reference to the decades-old division between North and South Korea.
Budanov said that "the occupiers will try to pull the occupied territories into a single quasi-state structure and pit it against independent Ukraine." He pointed to Russian attempts to set up parallel government structures in occupied cities and to bar people from using the Ukrainian currency, the hryvnia.
Budanov predicted that Ukrainian resistance will grow into a "total" guerrilla warfare, derailing Russia's attempts.
RELATED: Biden calls for Putin's removal: 'For God's sake, this man cannot remain in power'
Here are some other key things to know about the Russia-Ukraine conflict:
Pope Francis steps up pleas
Pope Francis has stepped up his pleas for negotiations to end the fighting in Ukraine.
Francis told the public in St. Peter's Square on Sunday that "this cruel and senseless war" continues after more than a month, representing "a defeat for all."
He lamented that parents are burying their children, and "the powerful decide and the poor die." Once again, he didn't cite Russia by name as the aggressor.
Referring to reports that about one-half of all the children in Ukraine have been displaced by the conflict, Francis said that "war doesn't just devastate the present but also the future of society."
The pontiff reiterated his condemnation of war as barbarous and sacrilegious. He said that "humanity must understand that the moment has come to abolish war, to cancel war from the history of man before it cancels man from history."
RELATED: 300 dead in Russian airstrike on theater in Mariupol, officials say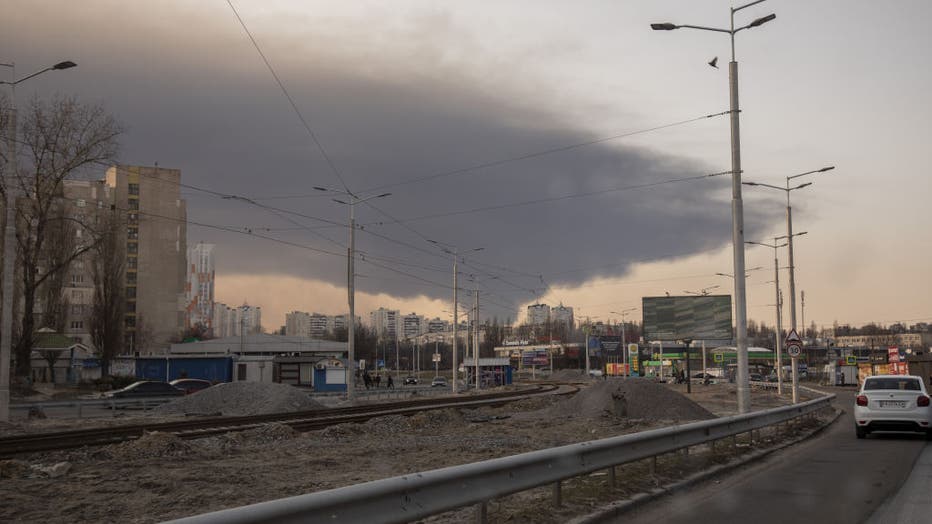 Smoke rises from damaged civil settlements after Russian attacks in Kyiv, Ukraine on March 25, 2022. (Photo by Narciso Contreras/Anadolu Agency via Getty Images)
Bombings in Kyiv
A manager at a UNESCO world heritage site in Kyiv says bombings in the capital are being felt in the landmark building and could threaten its foundations.
"We and the landmark feel the vibrations," said Vadim Kyrylenko, an engineer who now is the most senior on-site manager at the St. Sophia Cathedral. "It's a minimal threat but we feel it. If there would be a strike nearby as I say it would be a point of no return for our landmark because it is very fragile and vulnerable."
The site shut its doors to visitors as soon as the war in Ukraine started last month. Kyrylenko said that the only people left on site apart from him are a cook, a carpenter and engineers who are keeping the main functions running.
The Orthodox shrine dates back nearly 1,000 years to the dawn of Christianity in the region. It is considered the heart of Ukrainian spiritual and national identity. The grand structure survived despite being in the crosshairs of numerous invaders and armies.
RELATED: US to accept up to 100,000 Ukrainian refugees, expand Russia sanctions
Russia strikes with long-range missiles
The Russian military says it has struck Ukrainian military facilities with long-range missiles.
Russian Defense Ministry spokesman Maj. Gen. Igor Konashenkov said in statement on Sunday that the air-launched cruise missiles hit a fuel depot and a defense plant in Lviv near the border with Poland a day earlier.
Konashenkov said another strike with sea-launched missiles destroyed a depot with air defense missiles in Plesetske, just west of the Ukrainian capital of Kyiv.
RELATED: Biden, Western allies warn Russia on chemical weapons after emergency summits
Latest Zelenskyy address
Ukrainian President Volodymyr Zelenskyy has again urged the West to provide Ukraine with warplanes and air defense missiles.
Speaking in a video address early Sunday, Zelenskyy said that "our partners have all that, and it's just collecting dust. And in fact it's necessary not just for Ukraine's freedom, but for the freedom of Europe."
Zelenskyy warned that the Baltic states, Poland and Slovakia could eventually face a Russian attack "just because they will have kept in their hangars just 1% of all NATO warplanes and 1% of all NATO tanks. Just 1%! We aren't asking for more and we have been waiting for that for 31 days!"
He said that "our partners must step up their aid to Ukraine."
The president said that "Ukraine can't shoot down Russian missiles with shotguns and machine guns that have accounted for the bulk of supplies. And we can't unblock Mariupol without the necessary number of tanks, other armor, and warplanes. All defenders of Ukraine know about it."
He added that the United States and "all European politicians" also know that.