Rangers seek pair accused of 'harassing' bison calf in Grand Teton National Park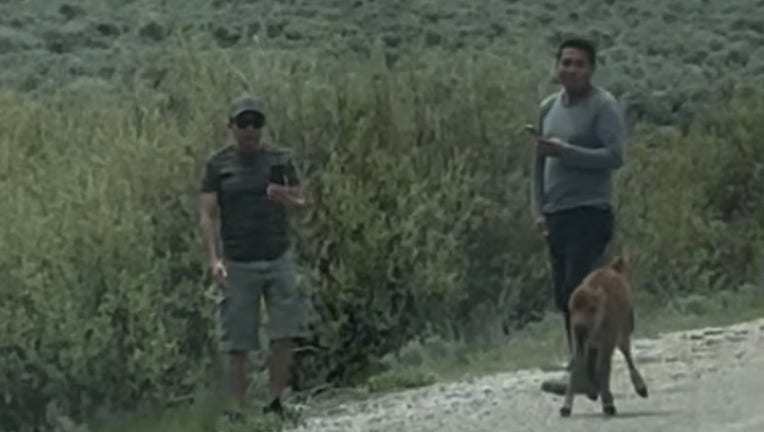 article
MOORE, Wy. - National Park Service rangers have opened an investigation into two individuals who are accused of "harassing" a bison calf in Grand Teton National Park on Sunday afternoon.
According to the NPS, investigators are seeking any information regarding two men who were seen approaching and touching the calf about 1 p.m. Sunday at the southern end of Elk Ranch Flats. Information can be reported by calling the park's tip line at 307-739-3367. 
Intentionally interfering with park wildlife is considered harassment and is punishable by law, according to park officials.
In the case of calves and other offspring, interactions with humans can cause the wildlife to be rejected by their mothers and their pack, officials said. This rejection can put the offspring in danger and present a hazard to humans, so they are often euthanized as a result.
Any cases of harassment of wildlife in Grand Teton National Park can be reported to the Teton Interagency Dispatch Center at 307-739-3301.
Grand Teton, Yellowstone park rangers exasperated over tourists' too-close encounters with wildlife
A spate of recent encounters between humans and animals in America's national parks put the safety of those involved at risk – with one leading to deadly consequences.
Many of those encounters occurred in Yellowstone National Park, where animals such as bison, bears and other wildlife freely roam the grounds and often come within mere feet of tourists and their vehicles as the wildlife cross the roads.
No other location in the world has the amount of wildlife and the amount of visitation all in the same place, according to Yellowstone superintendent Cam Sholly.
"You go to Africa and see a lot of animals, no people. You go to Alaska and see a lot of animals, no people. You come here, you see a lot of animals, and you see a lot of people," Sholly said in an interview with FOX Weather correspondent Robert Ray.
This close proximity between man and beast has led to a number of potentially dangerous situations, in which tourists have been seen approaching wildlife to snap a few pictures.
For photographer Bruce Becker, a more frustrating situation is one involving professional photographers who come too close to animals for the sake of a good shot.
"They're out there getting too close to get the shot -- no shot is worth an animal's life," Becker said.
Other tourists have come even closer to wildlife. Over Memorial Day weekend, park visitors placed a baby elk into their car and brought the calf to the West Yellowstone, Montana, Police Department.
One week prior, another park visitor helped a baby bison out of a waterway. This encounter led the pack to reject the calf, leading park officials to euthanize the animal so it would no longer be a hazard to itself and humans. Officials also charged the park visitor with a $500 fine and a series of other fees.
HAWAII MAN FINED FOLLOWING DEATH OF BISON CALF AT YELLOWSTONE NATIONAL PARK
"We just ask that people, if they come across the baby animal, leave it where it is, give it space, don't disturb it, and definitely don't touch it," said Justin Schwabedisse, park official at Grand Teton National Park. "If we as humans touch that animal, the mother may come back and abandon that animal. So, just leave the animal in its place."
The National Park Service cautions park visitors from approaching wildlife. Bison, in particular, have injured more people in Yellowstone than any other animal.
Park rangers recommend visitors stay at least a football field, or about 100 yards, away from wildlife to ensure a safe park experience.
Read more of this story from FOX Weather.