Rainbow fentanyl: Ohio AG warns of 'death disguised as candy'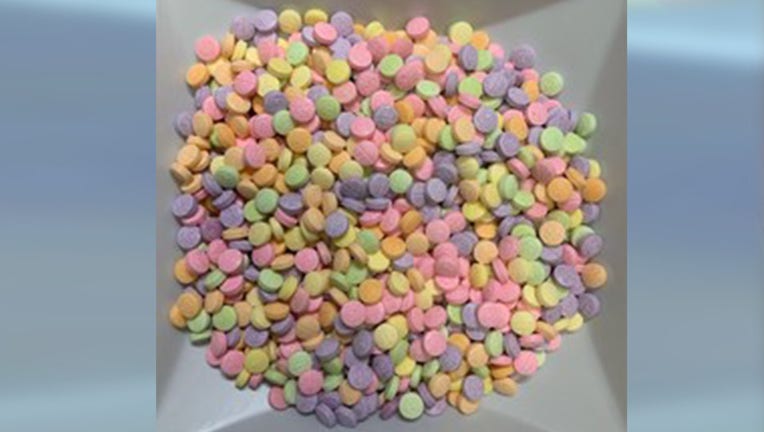 article
The Ohio Attorney General issued a warning after a certain type of fentanyl was seized in the state.
More than a thousand brightly-colored pills, dubbed in the media as "rainbow fentanyl," were seized in a Columbus-area drug-trafficking investigation. 
What is rainbow fentanyl?
The U.S. Drug Enforcement Administration first issued a warning about brightly-colored fentanyl last summer, which had become known as "rainbow fentanyl."
DEA's administrator Anne Milgram said at the time that rainbow fentanyl is fentanyl pills and powder that come in a variety of bright colors, shapes and sizes. In August of 2022, the DEA said it had been seized already in 18 states, and authorities found it in multiple forms, including pills, powder, and blocks that resembled sidewalk chalk. 
The DEA shared images of the different forms, as they had been confiscated by local law enforcement agencies in Oregon. 
Rainbow fentanyl in plastic bag. (Multnomah County Sheriff/DEA)
The DEA also said at the time that the look of the drug "is a deliberate effort by drug traffickers to drive addiction amongst kids and young adults."
By October, the DEA said rainbow fentanyl had already been found in eight more states.
RELATED: Over 379 million doses of fentanyl seized by DEA in 2022
"Do not be fooled by appearances – rainbow fentanyl is death disguised as candy," Ohio Attorney General Dave Yost said earlier this month after the drugs were seized in the state's Franklin County. 
"The bottom line is this: If you're taking a pill that wasn't prescribed by your doctor, you can't be certain of what you are consuming."
Fentanyl is a synthetic opioid that is 50 times more potent than heroin and 100 times more potent than morphine, according to the DEA.
Just two milligrams of fentanyl, which is equal to 10-15 grains of table salt, is considered a lethal dose.  
Without laboratory testing, there is no way to know how much fentanyl is concentrated in a pill or powder. 
This story was reported from Detroit.