Prince Harry to attend King Charles' coronation without Meghan Markle, palace confirms
LONDON - Prince Harry will attend the Coronation service of his father, King Charles III, at Westminster Abbey on May 6, Buckingham Palace said Wednesday, setting aside months of speculation about his presence.
Harry's wife Meghan, the Duchess of Sussex, will remain in California with the couple's two children, Prince Archie and Princess Lilibet, the palace said.
The palace confirmation came after weeks of reports noting that Charles' office has been in touch with Harry about the event. Harry's attendance comes despite the rift within the House of Windsor prompted by Harry's decision to reveal family secrets in his bestselling book, "Spare."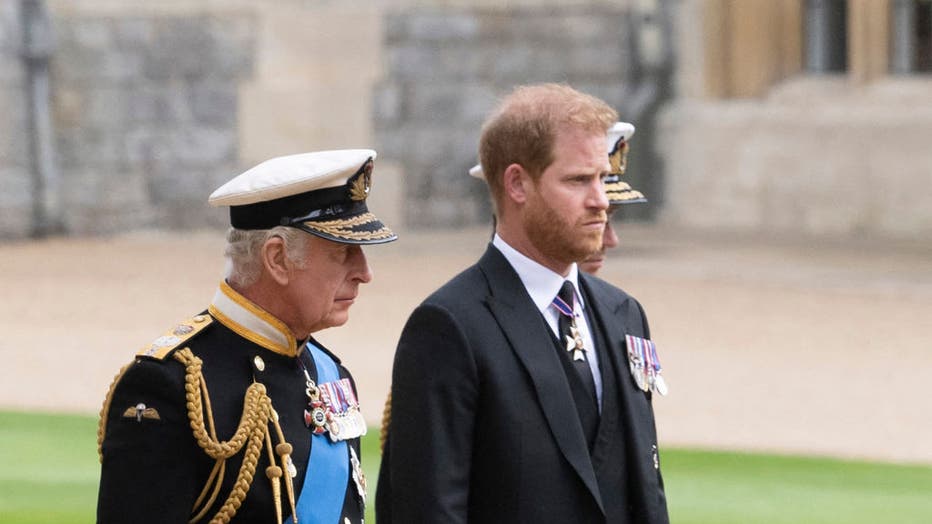 Britains King Charles III (L) walks with his son Britains Prince Harry, Duke of Sussex as they arrive at St Georges Chapel inside Windsor Castle on September 19, 2022, ahead of the Committal Service for Britains Queen Elizabeth II. - Mondays committa
The revelations, including details of private conversations with his father — and his brother, Prince William — fanned tensions between Harry and his family that became public when he and his wife moved to North America in 2020.
READ MORE: King Charles III's coronation: 3 crowns, 2 carriages and a shorter route
The book also included allegations that members of the royal family regularly feed the press unflattering information about other members of the House of Windsor in exchange for positive coverage of themselves.