Parent accused of beating youth soccer coach connected to 2012 double shooting in Virginia
MANASSAS, Va. - A parent charged with beating a youth soccer coach served time in prison for shooting two people at a Manassas gas station, according to online records.
Blerand Hoxha, 45, has been arrested and charged with malicious wounding. Prince William County police said the incident occurred just before 2 p.m. Saturday, Aug. 26. at Hellwig Park. Hoxha is accused of beating Vince Villanueva with a metal water bottle before running away.
Villanueva, a youth soccer coach, said it's not clear why Hoxha went after him. However, he remembers the team was losing badly.
Online records show Hoxha was arrested in 2012 after a shooting outside the Sheetz on Centreville Road in Manassas Park. In that incident on Dec. 22, 2012, two victims were shot and survived. Court records show Hoxha later pleaded guilty and was sentenced to 10 years in prison, with six years suspended.
The two victims were 22 years old and 46 years old at the time. Joshua Brown, now 32, said he was one of the victims.
"We were arguing over a gas pump," Brown said. "A mild argument. It was over and done. I got out of my truck to pump my gas. I pumped my gas. Five minutes goes by, I go to leave. He waves me back. As I go to back up, he runs up on my truck and put eight rounds through my window."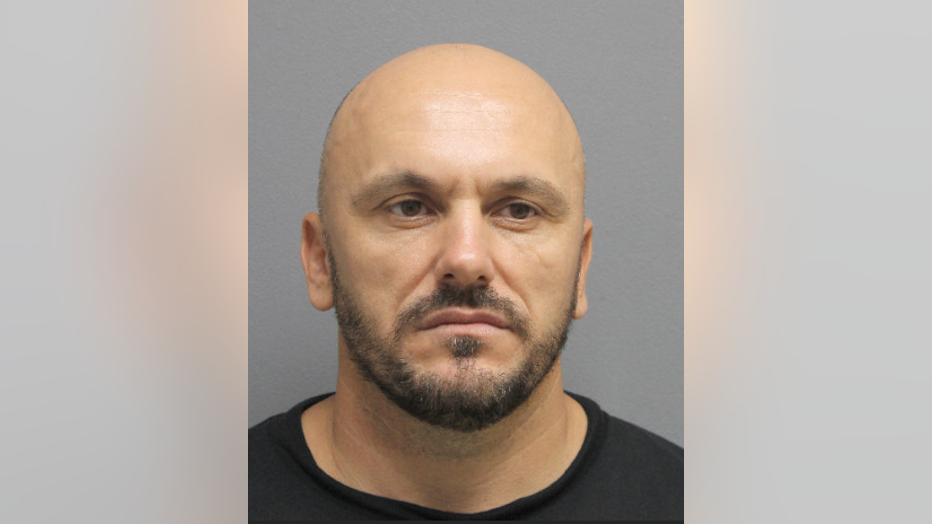 Blerand Hoxha, 45, of Manassas, Va. Photo via Prince William County Police Department
Brown said the other man who was shot is his friend, who he was giving a ride to that December afternoon.
"I was waiting for my friend to pay. While I'm waiting, Blerand Hoxha pulls up behind me, came up to my window, and starts beating on the window, you know…telling me to move, he needs to get gas. He's been waiting, blah, blah, blah," Brown recalled. "I pretty much told him, he's got to wait like everybody else. It got heated back and forth, curse words and whatnot. Pretty much, when my buddy walked up to the truck, he saw him and when he saw a second person, he moved his vehicle three pumps down. I got out, pumped my gas. It was over and done."
Brown said he was shot in the stomach and forearm.
"Dude's off his rocker. I told the judge the day we had court," he said. "I told the judge this dude's going to do it to somebody else if you let him out. To be honest with you, I had no idea the guy was even out of prison. Initially, it shocked me, just that he was out of prison. But man, it just took me back to that day in court, I told that judge, 'Man…it's going to happen again. Somebody that does that over a gas pump? With their children with them? He's going to do it again.' Sure enough, does it again."
FOX 5 reached out to the commonwealth's attorney for Prince William County and the Cities of Manassas and Manassas Park regarding the release of Hoxha for the 2012 incident.
In an email, Prince William County's Commonwealth's Attorney Amy Ashworth wrote: "My office is not involved in the release of offenders from the Virginia Department of Corrections. With regard to whether or not victims or witnesses were notified, I can tell you that while information we give specific victims is confidential, victims are always given information by my office on how to register to be notified of prisoner status through the Department of Corrections and If they keep their information updated, release notification would be provided from the Department of Corrections."
FOX 5 has reached out to the Virginia Department of Corrections for the exact date of Hoxha's release, but we have not heard back yet.