Oklahoma boy, 7, hurt after heroically saving younger brother who fell from cliff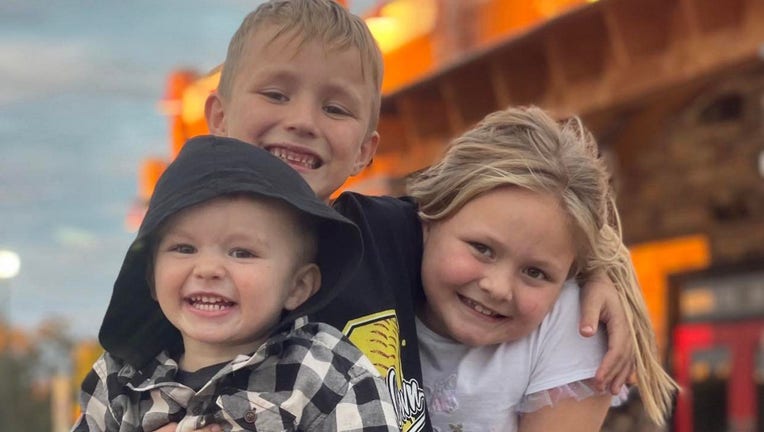 article
ADA, Okla. - An Oklahoma boy is being called a hero after saving his toddler brother who fell off a cliff several weeks ago.
Amy Hooser said both of her sons, 7-year-old Dakota and 3-year-old Riley, were injured but they are recovering.
Hooser said back in February, her children and their grandmother went for a hike at Chickasaw Nation Recreational Area.
RELATED: Family donates organs of boy killed in freak accident playing basketball
She said Riley slipped and fell off a cliff and Dakota dove after him. Both brothers tumbled nearly 100 feet into the water below.
Pictures of Dakota and Riley.  (Amy Hooser )
"Once Dakota made it to the bottom, he jumped into the water and pulled Riley out of the water because he was fully under the water," Hooser explained, adding that the water was freezing cold.
Miraculously, the injured older brother somehow managed to pull his younger brother to safety and they both waited for first responders.
RELATED: Watch: Paralyzed deputy regains movement, walks daughter down the aisle
Hooser said the brothers were sent to different hospitals before they ended up at Oklahoma Children's Hospital in Oklahoma City.
Dakota ended up getting several stitches on his forehead and knee but was released after two days. Riley, however, was intubated before undergoing surgery. Doctors said the toddler broke the front part of his skull and plates had to be put into place to secure the bone.
"His dura mater was shredded, and he was leaking spinal fluid…small fracture on his wrist and two broken ribs," Hooser added.  "He suffered frontal lobe damage as well."
Both brothers are now back at home.
"Dakota has started back to school and activities such as  jiu-jitsu and Muay Thai," Hooser said. "Riley is doing well, but has another surgery scheduled in May.
RELATED: 'I'm honored': Air Force pilot among the first to fly supersonic jet while pregnant
"Although Riley suffered serious injuries, his future looks very bright and with lots of time and relearning of things, he will be back to his normal funny, witty self!" she added.
The family has set up a GoFundMe page to help with medical expenses.
This story was reported from Los Angeles.