Obama to urge Trump to let some immigrants stay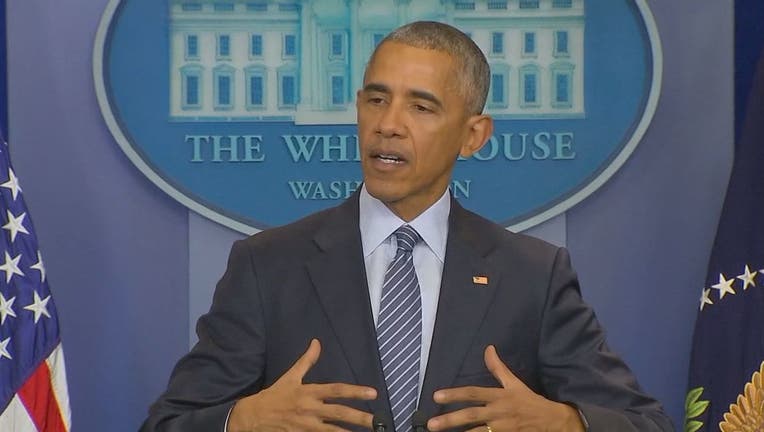 article
WASHINGTON (AP) -- The latest on President Barack Obama's news conference ahead of his last overseas trip as president (all times EST):
5:00 p.m.
President Barack Obama says he will encourage his successor to allow immigrants who came to the country as children to remain in the U.S.
Those immigrants, known as DREAMers, were granted legal status under a 2012 executive order. Obama says that the majority of Americans would not want the young people to "start hiding again."
He's speaking at a White House news conference Monday ahead of his final overseas trip as president.
Obama admitted he was unlikely to achieve his goal of closing the Guantanamo Bay prison, blaming the failure on Congress. He also took a bit of a victory lap, praising his administration for leaving office without a "significant scandal."
Obama says he urged Donald Trump to follow his example and "listen to the lawyers."
___
4:55 p.m.
President Barack Obama says finding a way to alleviate the suffering in Syria is something he thinks about every day, calling it a "messy situation."
In a news conference Monday, Obama said his administration has made "every effort to try to bring about a political resolution," negotiating with the various parties involved, including the Russians, Iranians and Arab Gulf states.
He compared it to efforts to bring about a resolution to the conflict in Libya, saying that in Syria, it's "a much more messy situation with proxies coming from every direction."
He said, "I recognize that that has not worked," and said his government continues to "try to find some formula that would allow us to see that suffering end."
___
4:40 p.m.
President Barack Obama says Donald Trump understands that a candidate being reckless with his words can be less consequential than a president saying the same thing.
Speaking at a White House news conference Monday, Obama noted that markets move and foreign governments take note of a president's rhetoric. He said national security "requires a level of precision" so deadly mistakes aren't made.
Obama added of his blunt-spoken successor that, "I think what will happen with the president-elect is that there are going to be certain elements of his temperament that will not serve him well unless he recognizes them and corrects them."
He said Trump "recognizes that this is different -- and so do the American people."
___
4:30 p.m.
With just weeks left in office, President Barack Obama is making the argument that immigration is good for the American economy.
In a White House news conference ahead of his final overseas trip as president, Obama addressed a question about whether Americans voted for Donald Trump because they are seeking a "course correction."
Obama acknowledged that many Americans have grown skeptical about the "complex argument" in support of immigration, when they see factories closing at home and jobs going offshore. But he said "immigration is good for our economy" if it is "orderly and lawful."
Trump campaigned on a promise to limit immigration into the United States and bring offshore jobs back home.
Obama said it continues to be his "strong belief" that achieving a strong global economy does not mean "shutting people out."
___
4:25 p.m.
President Barack Obama says he thinks Donald Trump will seek to "send some signals of unity" to people alienated by his ferocious campaign.
In a White House news conference Monday, Obama said he advised Trump "to reach out to minority groups or women or others that were concerned about the tenor of the campaign" and "that's something that he will want to do." But Obama added that Trump is trying to balance commitments he made to "supporters that helped to get him here."
On the campaign trail, Trump described Mexicans as rapists and criminals. He vowed to build a wall along the U.S.'s southern border and make Mexico pay for it. He appeared to mock a reporter with a physical disability and threatened to sue several women who accused him of assaulting them. Trump also disparaged the Muslim American parents of an Army captain killed in Iraq, and battled a former Miss America who is Latino about having gained weight.
___
4:20 p.m.
President Barack Obama is dodging a question about concerns that minorities and others have about President-elect Donald Trump's decision to name Steve Bannon -- a man celebrated by the white nationalist movement -- his chief strategist and senior adviser.
In a White House press briefing Monday, Obama says it's not appropriate for him to comment on every Trump appointment. But he says he told Trump in their meeting last week that it's important to try to send some signals of unity early on.
He says both sides of the political divide should give Trump some time to set up his team and Americans can judge him in a couple years.
Obama also says he told Trump that campaigning is different than governing and sometimes good sound bites don't equate to good policy.
___
4:05 p.m.
President Barack Obama says he urged his successor to immediately turn his focus to finding qualified people to staff his White House.
In a White House press briefing Monday ahead of his last foreign trip as president, Obama offered some details about the meeting he had last week with Donald Trump.
He said he offered Trump honest advice in a lengthy conversation and highlighted the importance of finding trusted aides.
Obama stressed the need to give Trump the "rope and space" for a "reset."
The president also reflected on his own arrival in the White House during the midst of the economic crisis. He says Trump will have more "time and space" to make "judicious decisions."
___
4:00 p.m.
President Barack Obama has a message to Democrats: Compete everywhere and show up everywhere.
In a White House news conference Monday ahead of his last foreign trip as president, Obama reflected on Democrat Hillary Clinton's loss to President-elect Donald Trump in last week's election.
He also reflected on his own campaign for president eight years ago, recalling all of the time he spent in Iowa to win that state's lead-off caucuses. He said he won the state because he spent time going everywhere, meeting everyone.
He stresses that Democrats "have to compete at a grass roots level."
Clinton spent much of her time and money campaigning in swing and Republican-leaning states in the late stages of the 2016 campaign, losing several states that had consistently voted Democratic in the past several presidential elections.
___
3:50 p.m.
President Barack Obama says he can reassure allies of the United States that his successor supports NATO.
Obama made the remark during a news conference just before embarking on his final overseas trip as president. He says on the weeklong tour of Greece, Germany and Peru, he'll relay Donald Trump's "commitment to NATO." As a candidate for president, Trump complained that other members of the treaty organization did not contribute enough for the protections it affords.
Obama said the reassurance is "one of the most important functions" he can serve during the trip.
___
3:15 p.m.
President Barack Obama is about to hold his first news conference since Republican Donald Trump won election to succeed him.
The session with reporters on Monday was expected to focus on questions about the election, its consequences for U.S. policy and Obama's own legacy.
Obama will then depart on his last overseas trip as president. The weeklong tour was planned when it seemed certain Hillary Clinton would win the contest and was designed to reassure the world that the U.S. had regained its footing after a toxic campaign.
Obama will instead likely try to use the trip to calm world leaders about what comes next as Trump prepares to take over as president.

Copyright 2016 The Associated Press. All rights reserved. This material may not be published, broadcast, rewritten or redistributed.