New Montgomery County order forbids alcohol in bars after 10, allows more businesses to reopen
GAITHERSBURG, Md. (FOX 5 DC) - Montgomery County is opening up to more businesses in phases 2, but it's also effectively shutting down bars at 10 p.m.
The Montgomery County Council unanimously approved the county executive's plan to update his executive order which allows more types of businesses to reopen during the COVID-19 pandemic.
However, bars and restaurants will be forbidden from serving alcohol after 10 p.m.
The amendment regarding alcohol reflects a common theme during the reopening process – a link between bars and the virus' spread.
READ MORE: Montgomery County phase 2 reopening underway
Contact tracing data "indicates that people congregating in establishments where alcohol is being served later in the evening have higher instances of physical contact and limited social distancing," according to officials.
Baltimore City no longer allows indoor dining and Anne Arundel County restaurants that serve alcohol are required to close at 10:00 p.m., officials say. 
The order went into effect on Wednesday, August 5, at noon.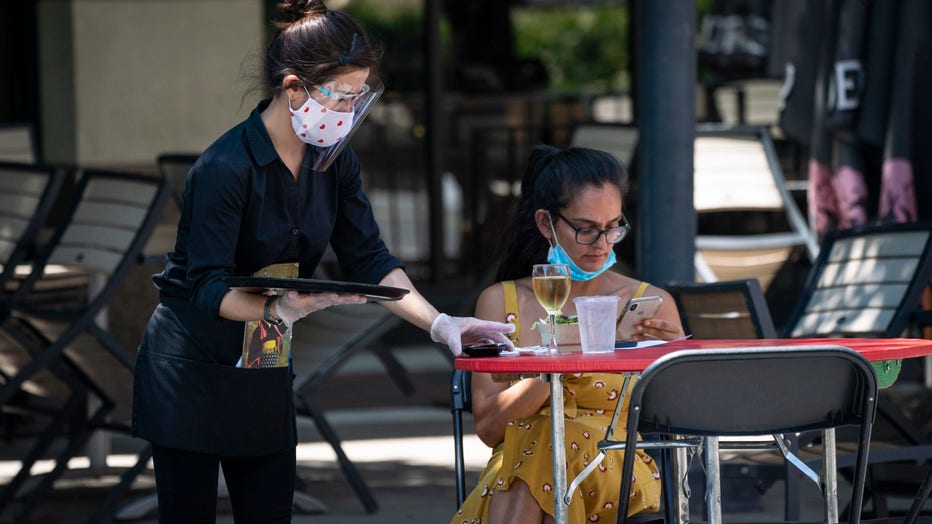 BETHESDA, MD - JUNE 12: A waiter at Raku, an Asian restaurant in Bethesda, wears a protective face mask as serve customers outdoors amid the coronavirus pandemic on June 12, 2020 in Bethesda, Maryland. (Photo by Sarah Silbiger/Getty Images)
FOX 5's Ayesha Khan talked with the owner of Brews and Barrels in the Kentlands on Wednesday. He says the new order is a bit too restrictive and believes that if the county can maybe change the hour— it could really make a difference in helping the restaurant stay afloat.
"I think this is something they can reconsider if they would that maybe extend the hour to a little longer, rather than cutting the hours because that's really going to hurt us again, it's not helping in any way and I think it's going to get worse. Like, if somebody who is sitting here from 9:30 to 10... they would I think like to sit until 11 when we only open for the weekends. I'm not saying weekdays helps, but on a weekend until 11 does help us," said Neel Kamal.
Even though you can't hang out and drink past 10 p.m. at your local bar or restaurant —you are still allowed to pick up alcohol to go after 10.
DOWNLOAD: The FOX 5 DC News app for local breaking news
Officials say the highlights of the executive order are as follows: 
Face coverings section was changed so the text is consistent with the most recent executive order issued by Maryland Governor Larry Hogan to require face coverings in outdoor public areas. Montgomery County's local health officer had previously issued a directive with similar provisions.
Businesses allowed to reopen will include those providing services for tanning, tattooing, waxing, threading, electrolysis, cryotherapy, facial and massages. They will be allowed to operate by appointment only.
Ice skating rinks will remain closed to the public. However, they may operate as a "fitness center" for the purpose of individual or group training.
Clarified guidelines for cigar bars, hookah bars and vape shops to state they "may open solely to sell retail goods. Smoking on site is strictly prohibited."
- Food service establishments may not serve alcohol after 10 p.m.
- Clarified guidelines under which "fitness centers" can operate. Fitness centers include dance studios, health clubs, health spas, gyms, training facilities and other indoor physical activities.
- Clarified that food courts in malls may only serve food for carryout.
- Malls must remove tables, chairs and benches to discourage congregating.
- Religious facilities can hold outdoor services with an increased limit to 150 participants.
- Clarified guidelines regarding sports activities, categorized by level of risk as detailed in the "Maryland Sports Commission Return to Play Report," with the following exceptions:
- Soccer and flag football are considered to be high-risk sports (prohibited in Montgomery County).
- Solo kayaking/canoeing are considered to be low risk (allowed in Montgomery).
- Tandem kayaking/canoeing are designated as low risk provided participants are from the same household (allowed in Montgomery).