National Pizza Day: Here's where to score cheesy deals and freebies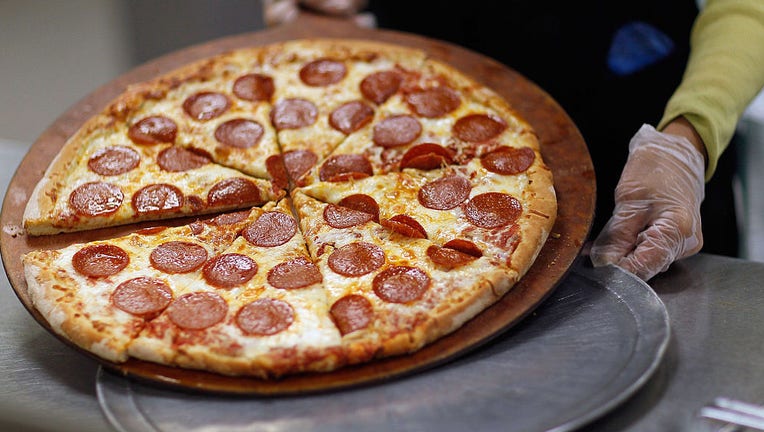 article
February 9 is National Pizza Day, a time to order and enjoy one of the most beloved meals in the United States.
In fact, Americans eat an average of 46 slices of pizza per year and an estimated 17% of all U.S. restaurants are pizzerias, according to Slice Life, an app that allows people to find and support local pizzerias. 
RELATED: NYC named top city for pizza
And with the Super Bowl coming up, pizza and football appear to go hand-in-hand. In 2022, more people ordered pizza on football game days than during any other major league sporting event, a recent report from Slice says. 
Basketball and baseball games were almost tied for second.
RELATED: Super Bowl's Most Valuable Snack: Here is the most popular game day food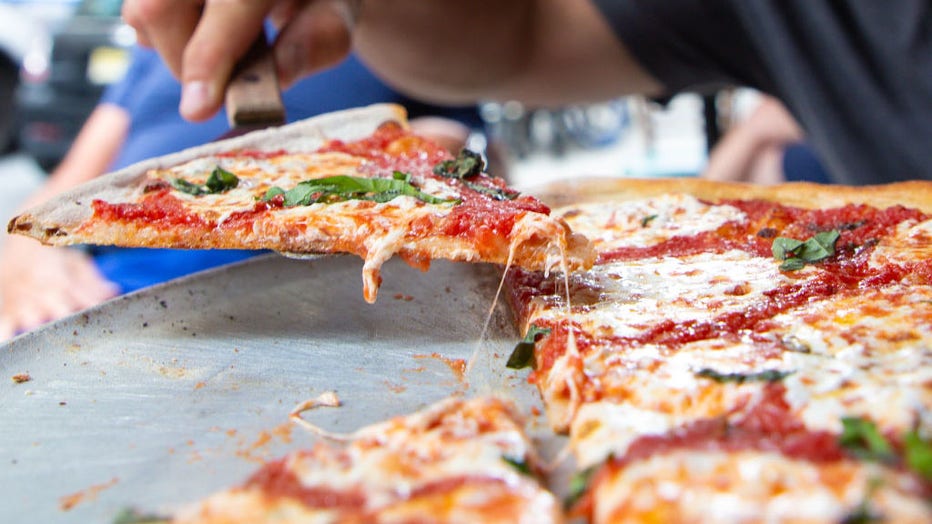 FILE - A Margherita pie is seen served at Lombardi's Pizza on July 7, 2020, in New York, New York. (Photo by Arturo Holmes/Getty Images)
Whether one prefers thin crust or deep dish, square cut or triangle cut — pizza always hits the spot. To celebrate National Pizza Day, here are some deals to enjoy the cheesy dish: 
California Pizza Kitchen
California Pizza Kitchen is offering a Valentine's Day "Sweet Deal for Two" deal between Feb. 9 and Feb. 14, which gives customers a choice of an appetizer, two entrees, and a dessert for $40 for both dine-in and takeout. It's also offering a heart-shaped crispy thin-crust pizza.
Cali'flour Foods
The cauliflower-based food brand is offering 20% off products on its site, including pizza crusts and flatbreads, when customers use the code CFPIZZADAY2023 at checkout.
Domino's
Domino's locations are offering a mix-and-match deal with any two menu items for $6.99 each. Bone-in Wings, Bread Bowl Pasta, and Handmade Pan Pizza cost extra.
Jet's Pizza
On Fe. 9, Jet's Pizza is offering 20% off all menu-priced pizzas to customers who order online, using code PIZZA23. The offer is available for both pick-up and delivery.
Marco's Pizza
Marco's Pizza is offering a medium one-topping pizza for $6.99 each when customers use the code MED699 at checkout for a limited time. 
Papa Johns
The pizza chain recently unveiled its Crispy Parm Pizza, which features cheese on top of the pizza — and also a crispy cheesy bottom — in honor of National Pizza Day. The new dish with one-topping is being offered for $12.99.
Pizza Hut
Just in time for National Pizza Day, Pizza Hut has brought back its Big New Yorker Pizza — a 16-inch New York-inspired pizza that has 6 extra-large, foldable slices, and pepperoni for $13.99. There's an additional charge for extra toppings and extra cheese.
Sam's Club
On February 9, Sam's Club is offering $1 off its handmade Member's Mark 16" pizza at club cafés across the U.S. 
RELATED: Top Super Bowl food in every state: Dips, chips, tots and more
This story was reported from Cincinnati.