MTA makes case for more funding amid low ridership across subways, buses
It's a tale almost as old as the Metropolitan Transportation Authority: The agency is cash-strapped and needs money fast. 
Transit officials are projecting a $2.8-billion budget deficit by next year. 
"It's a hole too big to fill on our own," New York City Transit President Rich Davey testified in a city council budget hearing Thursday. 
Ridership is still down by more than one-third across subways and buses. But Davey says an increased NYPD presence has helped them crack down on fare evaders, and they are already seeing a difference revenue-wise. 
"The unarmed guard program that we have, has, we believe, led to an additional 2.5 million paying fares, so almost $5 million," Davey said. "If you look at the bottom line, it's actually been a revenue raiser for us."
But MTA officials are looking for a long-term solution to their budget woes. 
While they are still looking at increasing fares by 5.5%, New York Gov. Kathy Hochul is also proposing a new revenue stream. 
Her proposal would take money from an increased payroll mobility tax, a portion from future casino revenues, a one time cash infusion from the state and an additional $500 million annually from the city. 
That last part Mayor Eric Adams is pushing back against, but advocates said this new funding could increase service so trains run at least every six minutes. 
"It is not uncommon to sometimes take 40 minutes to catch the bus," Riders Alliance deputy director Caitlin Pearce said. "40 minutes. It's not right. It's not how we're going to rebuild ridership and it's going to make it so that the only people that ride the bus are the people that have to."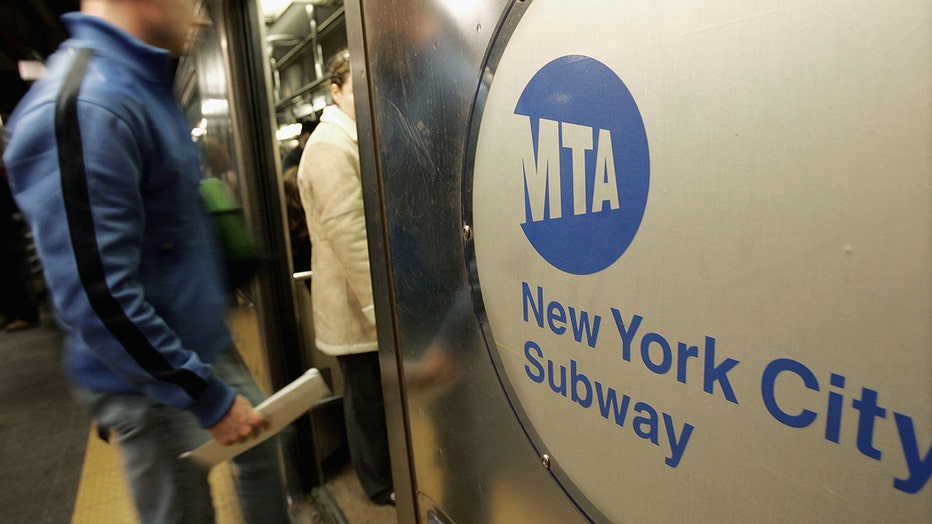 People enter a subway car at Times Square October 26, 2004 in New York City. The New York City subway system opened 100 years ago on October 27 when the IRT line went from City Hall to upper Manhattan. In 1904, 150,000 people paid 5 cents each to rid
Congestion pricing, which would charge drivers entering Manhattan below 60th Street around $23, was supposed to help fund the MTA. 
Yet, It's been delayed, and now transit officials say they don't expect revenue from congestion pricing until the middle of 2024. 
"I don't think it's being optimistic," Davey said. "I think the federal government is probably putting us through the paces a little bit as a learning opportunity for other cities in the US, but it hasn't slowed our capital plan down."
In her state of the city address, City Council Speaker Adreinne Adams called for an expansion of the fair fares program, which offers half-priced rides for those under the federal poverty level. Right now though, fair fare riders can't use OMNY to tap into the subway, but transit officials say that should be fixed within the next few months.