Monthly mortgage payments reach record highs in US
Would-be homebuyers are willing to take on sharply higher mortgage payments, even as home prices have begun to pull back this year.
The median monthly payment listed on applications for home purchase loans jumped 14.1% in May from a year earlier to an all-time high $2,165, according to the Mortgage Bankers Association. The May figure also represents a 2.5% increase from April.
"Homebuyer affordability eroded further in May as prospective buyers continue to grapple with high interest rates and low housing inventory," Edward Seiler, the MBA's associate vice president of housing economics, said in a release last week.
READ MORE: Homeownership is the new hot wedding gift
The size of the mortgage and the interest rate on the loan influence how large the monthly payment on a 30-year fixed-rate mortgage will be. Those two housing market variables have ballooned in recent years.
Home price growth accelerated during the pandemic, fueled by ultra-low mortgage rates and bidding wars as competition for relatively few properties on the market intensified. Even after the market cooled last summer as the Federal Reserve raised interest rates in its bid to slow economic growth and tame inflation, home price appreciation remained resilient until this February, when the median U.S. home price slipped 0.2% from a year earlier -- its first annual decline in 13 years, according to the National Association of Realtors.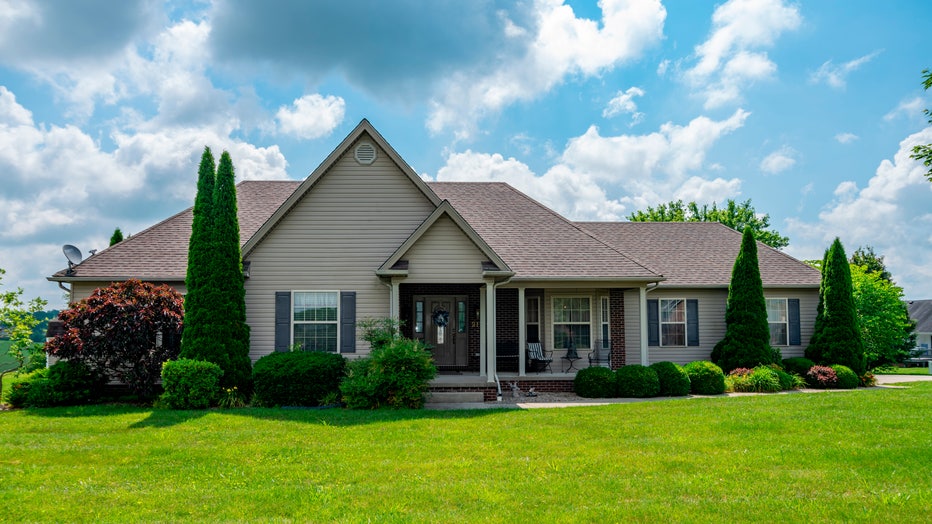 Middle class home in Midwest America. (Photo by: Jim Lane/Education Images/Universal Images Group via Getty Images)
Home prices have kept falling since, most recently sliding 3.1% in May from a year earlier to a median $396,100, according to the NAR.
Still, the national median home price remains nearly 40% higher than it was three years ago. Meanwhile, the average rate on a 30-year home loan climbed to a new high for the year this week at 6.81%, mortgage buyer Freddie Mac said Thursday. That's more than double what it was two years ago.
READ MORE: Home listings plummeted to record low in May: Redfin
The combination, along with a stubbornly low level of homes for sale, is driving mortgage payments higher, pushing the limits of what many homebuyers can afford.
Consider that two years ago the median national monthly payment on home loan applications was $1,320.48, or 63.4% less than what it was last month.
A recent forecast by Realtor.com calls for the average rate on a 30-year mortgage to drop to 6% by the end of the year. Lower rates could motivate some homeowners to sell, adding more sorely needed inventory to the market. However, lower rates could also spur more buyers to come off the sidelines, which would heighten competition and push up prices.