Miami top cop's life saved by wife during attempted suicide: lawyer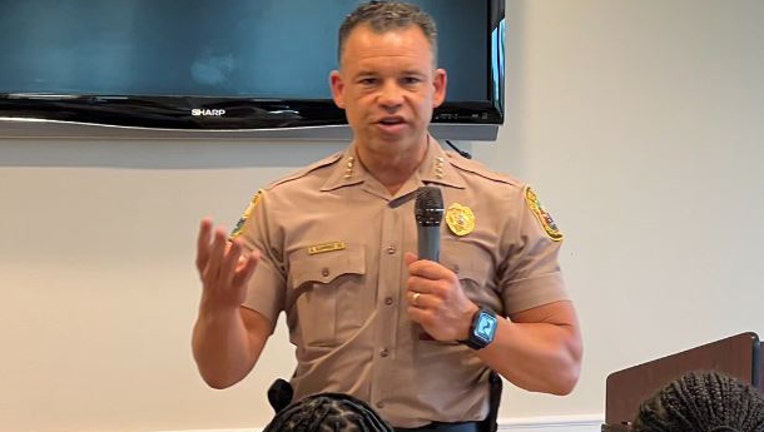 article
Miami-Dade Police Director Alfredo "Freddy" Ramirez's wife saved his life during a suicide attempt last month when she seized his arm, their lawyer said Monday in a statement.
The couple was driving home July 23 after they had a spat at the JW Marriott in Tampa, where they were staying for a sheriff's conference, and police briefly placed Ramirez in handcuffs.
Hours later, Ramirez, 52, allegedly shot himself in the head on Interstate 75 in front of his wife of 30 years, Jody Ramirez.
"After the seriously troubling and confusing events that had befallen them, during the drive home, with both still bewildered and distraught, Jody was able to grab her husband's arm so that the resulting injury was serious but not fatal," attorney Kendall Coffey told Fox News Digital in a statement. "She saved Freddy's life."
MIAMI'S TOP COP CUFFED DURING SPAT WITH WIFE, SHOOTS SELF IN HEAD HOURS LATER
In a harrowing 6 ½-minute call to 911, Jody Ramirez can be heard screaming "Oh my God, help me!" 
Ramirez remains the director of the department but is out on medical leave. He was seriously injured and is recovering at a Tampa area hospital, according to a spokesman for the Miami-Dade Police Department. 
Last week authorities released body camera footage and a police report that shed light on the initial dispute. 
A witness allegedly saw the couple arguing outside about 6:30 p.m., and Ramirez threatened to "end it now" and put a gun in his mouth, according to a statement made by a hotel employee on the bodycam video.
Coffey said Ramirez at no point took out his gun before checking out of the hotel that night, and there was never "even a hint of physical aggression" between him and his wife.
By the time police arrived, the witness was gone, and the couple, who share four children, had returned to their 12th-floor hotel room.
FLORIDA MAN ARRESTED FOR MURDER OF WIFE WHOSE REMAINS WERE FOUND IN 3 SUITCASES
Tampa police banged on their door. According to the incident report, the police chief didn't comply with repeated instructions to put his hands up and was placed in handcuffs.
"Both Jody and Freddy were shocked by the sudden arrival of numerous police officers," their lawyer's statement says. "It was even more shocking that Freddy was put in handcuffs."
Freddy Ramirez told responding officers that he wasn't a threat to himself or anyone else. 
Officers questioned his wife separately, and she said the two had been fighting. "I know every button to push, and I'm pushing them today because I normally don't drink. He got me an old-fashioned. It's his fault," she said. 
She told police that she was not concerned about her husband harming her or himself – although, she added, "He has plenty of demons from the job."
The 27-year police veteran was appointed head of the largest law enforcement agency in the southeastern U.S. by the Miami-Dade mayor.
Ramirez announced his intention to run as a Democrat in the primary for the newly created role of Miami-Dade sheriff. It's unclear if he'll remain in the race.