Melissa Joan Hart claims she was almost 'sued and fired' from 'Sabrina the Teenage Witch' for sexy photos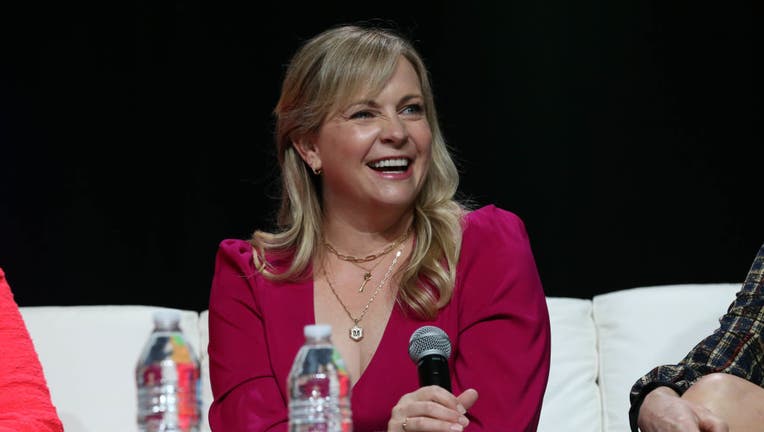 article
Melissa Joan Hart was seen as America's sweetheart in the '90s, as she rose to fame with her roles on "Clarissa Explains It All" and "Sabrina the Teenage Witch."
However, after the former teen idol agreed to pose half-naked for a racy photo shoot, Hart said she was almost fired from her acting gigs. 
The now 47-year-old claimed she was accused of breaching her contract after she agreed to pose in only her underwear for a risqué magazine cover. On an episode of "Pod Meets World," hosted by cast members of "Boy Meets World," Hart said that, at the time, it was the "worst day of my life."
On the podcast, Hart first explained why she looked like she was crying in a photo during a red carpet appearance with Britney Spears in the '90s.
"If you look at my eyes, I'd been crying all evening," Hart began.
"I was put in a limo, and I was taken away… I had just broken up with my boyfriend while we were in the movie… I'm crying and I'm upset," she explained.
Hart was getting ready to go to an after-party for the premiere of her movie "Drive Me Crazy," until she got a call with the news that she'd been dropped from "Scary Movie."
MELISSA JOAN HART SHARES HOW SHE INCORPORATES FAITH INTO CHRISTMAS FAMILY TRADITIONS
"While I'm at the party, my lawyer shows up and goes, 'You did a photo shoot for Maxim magazine?'" Hart explained. "I'm like, 'Yes, I did.' They're like, 'Well, you're being sued and fired from your show, so don't talk to the press, don't do anything.'"
Hart said her mother, outraged, called and asked, "What did you do?"
"I was like, 'I don't know, whatever my publicist told me to do at the photo shoot.' I did a photo shoot for Maxim! It's Maxim, of course you're going to be in your underwear."
On the Maxim cover, along with a half-naked Hart, was the headline that read, "Sabrina, your favorite witch without a stitch."
The "Sabrina the Teenage Witch" star at the time was accused of violating her contract, which stated that she "would never play the character naked."
CLICK HERE TO SIGN UP FOR THE ENTERTAINMENT NEWSLETTER
She further explained that she had to write an apology letter and was forgiven by the Archie Comics company after she was almost fired. 
Hart starred in seven seasons of "Sabrina the Teenage Witch" from 1996 to 2003. She famously portrayed Sabrina on the ABC sitcom based on the Archie Comics character.
CLICK HERE TO GET THE FOX NEWS APP
The "Holiday in Handcuffs" star shares three sons with husband Mark Wilkerson: Tucker McFadden, Braydon Hart and Mason Walter.
Read more of this story from FOX News.