Maryland Terps women's basketball into Sweet 16 after 77-64 win over Arizona
COLLEGE PARK, Md. - Faith Masonius scored more than usual at a time when Maryland was struggling.
She also gave a star teammate a pep talk that was apparently pretty effective.
"I was just missing layups, and even Faith was like, 'Come on Diamond, you've got to make that,'" said Diamond Miller, the Terrapins' second-team All-American. "It was just like, 'I do got to make that.'"
Miller made all six of her field goal attempts in the third, scoring 13 of her 24 points that quarter to help second-seeded Maryland to a 77-64 victory over seventh-seeded Arizona in the second around of the women's NCAA Tournament on Sunday night.
The Terrapins (27-6) advance to the Sweet 16 for a third straight year and the 11th time under coach Brenda Frese. Maryland trailed by a point after two quarters but ran past the Wildcats (22-10) in the second half.
Shyanne Sellers scored 15 points and Masonius gave the Terps a lift with 12.
Frese was coaching against her alma mater. She played at Arizona and graduated in 1993.
The Wildcats gave Maryland a tough battle for 20 minutes but couldn't keep up offensively. Arizona was up 33-32 at the break but went almost half the third quarter without scoring. After being held to four points in the first half, Miller had five on one trip down the court — a layup while being fouled, followed by a 3-pointer after Arizona was unable to rebound her missed free throw. That put Maryland ahead 39-33.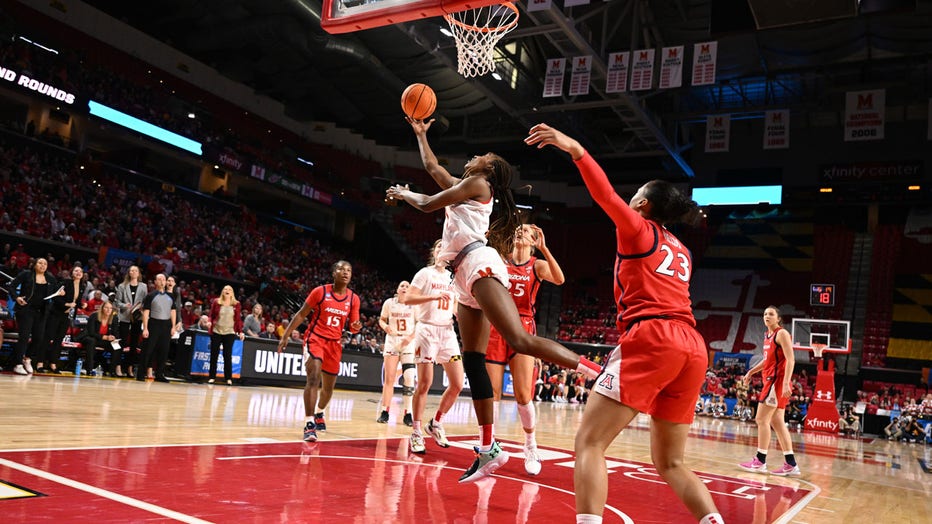 Diamond Miller #1 of the Maryland Terrapins shoots during the second half of the second round of the 2023 NCAA Womens Basketball Tournament held at the Xfinity Center on March 19, 2023 in College Park, Maryland. (Photo by Greg Fiume/NCAA Photos via G
"Looked like she was probably challenged at halftime and she came out and just was on fire," Arizona coach Adia Barnes said. "Really hard for us to guard. I think that we kind of allowed her to get out in transition and had a lot of isolation moments. We know she loves to go left and she started going right and scored. She was hard to stop."
By the time the quarter was over it was 61-42. The Terrapins shot 11 of 14 from the field in the third.
Maryland advances to face third-seeded Notre Dame in the regional semifinals Saturday. The Terps beat the Irish 74-72 at Notre Dame on Dec. 1 on a buzzer-beater by Miller.
Cate Reese led Arizona with 19 points.
"I think we got a little maybe too comfortable, I don't know," Reese said. "We just in that moment starting out in the third quarter, we just didn't want it more and they took it to us and we just kind of fell back on our heels I feel like."
BIG PICTURE
Arizona: The Wildcats exited in the second round for a second straight season after reaching the national title game in 2021.
Maryland: The 6-foot-1 Masonius gave Maryland an encouraging performance, finishing two points shy of her season high. Her ability around the basket could be important for a team without a great deal of size.
"Faith just emptied the tank and you saw that with the defensive effort she had to put on Reese, the toughness that displayed and then all of the sudden, at times we're running her in the press break to bring the ball up to run our offense," Frese said. "You saw she was exhausted. Like that's what it looks like when you empty the tank and leave it all out there and why she is the winner that she is."
BRIGHT SPOTS
Arizona had one fewer turnover (18) than Maryland, and the Wildcats finished with a 22-18 edge in fast break points. Not an easy task against the Terps' pressure.
FOUL TROUBLE
Sellers was limited to 11:34 in the first half, having picked up two fouls.
"I was really itching to get back on the floor," Sellers said. "Every time B walked past, I'm going, 'I won't foul.'"
UP NEXT
Miller scored 31 points in that December game against Notre Dame. Olivia Miles scored 14 points for the Irish, but she's now out because of a knee injury.
© 2023 The Associated Press. All rights reserved. This material may not be published, broadcast, rewritten or redistributed.