Maryland governor announces student loan debt, tuition relief plan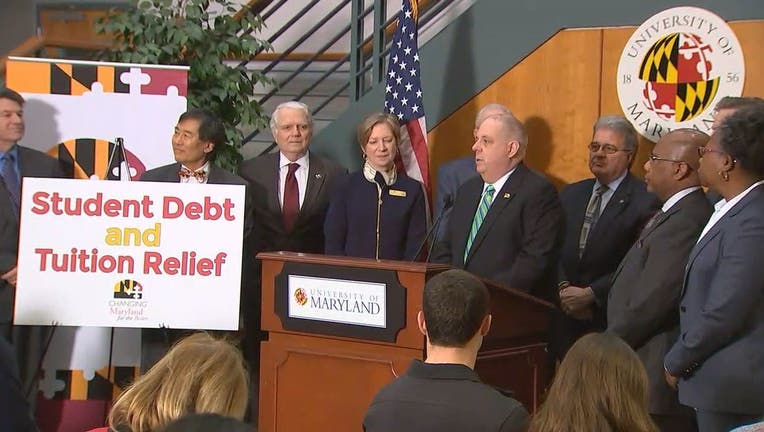 article
ANNAPOLIS, Md. - Maryland Governor Larry Hogan says wants to help residents who are struggling with student loan debt and the high cost of college tuition, and he's pledging millions of dollars in relief to get it done.
At a news conference Tuesday, Hogan announced he is proposing legislation that would make student debt interest payments tax-deductible for all state residents who earn less than $200,000 a year (or $250,000 per couple). He is also proposing funding to cap tuition growth at all colleges and universities at a maximum of 2 percent, as well as making targeted investments in priority projects at higher education institutions.
The Hogan administration says under the proposal, the vast majority of Maryland residents with student loans will be able to deduct 100 percent of the interest paid on those loans from their tax return. Starting in 2018, residents who make less than $200,000, or couple making less than a combined $250,000, will not pay any Maryland income tax on their student loan interest payments. Hogan says this would save residents who are struggling to pay off their college loans a total of about $20 million each year.
The plan, Hogan says, also would make public colleges and universities more affordable. The state's universities requested to raise tuition by as much as 5 percent in 2017, but Hogan says the state would instead partner with these institutions to invest an additional $17.5 million. That, the administration says, would allow 14 colleges and universities in Maryland to cap tuition growth at 2 percent.
"Having a college education is more important now than ever before, but the harsh reality many face today is that earning a college degree often goes hand-in-hand with accumulating crippling college debt," said Governor Hogan. "We believe that our new Student Debt and Tuition Relief Initiatives will provide much-needed relief from student loan debt, and will help us continue to make college in Maryland more affordable."
As part of the legislation, Hogan announced an investment of over $380 million for higher education projects, including:
- $89 million for construction of the new Biomedical Sciences Education facility at the University System of Maryland, Universities at Shady Grove Education Center;

- $40 million to continue construction of the Interdisciplinary Life Sciences Building at the University of Maryland, Baltimore County;

- $26 million to start construction for a new science facility at Towson University;

- $9 million to begin construction of Morgan State University's Student Services building;

- $25 million for continued construction of the James Clark Bioengineering Building at the University of Maryland, College Park.
Additionally, Maryland's community colleges will receive $56 million to fully fund all of their requested projects for the year, with an additional $8 million for projects at Goucher College, McDaniel College, and St. John's College.