Marine veteran injured in combat gifted with car in Prince George's County to help get wife to hospital for cancer treatment
CAPITOL HEIGHTS, Md. - Dwayne Frost's motto is "service is what I do." It's something he puts into action every day as the volunteer chaplain for the Prince George's County Fire Department.
Frost took over as chaplain and started the Chaplain Corps in the county nearly five years ago, though, that's not where his heart to serve began.
He served our country as a member of the U.S. Marine Corps and was stationed in Iraq. During his service, he suffered a leg injury after being shot at while laying communications cables.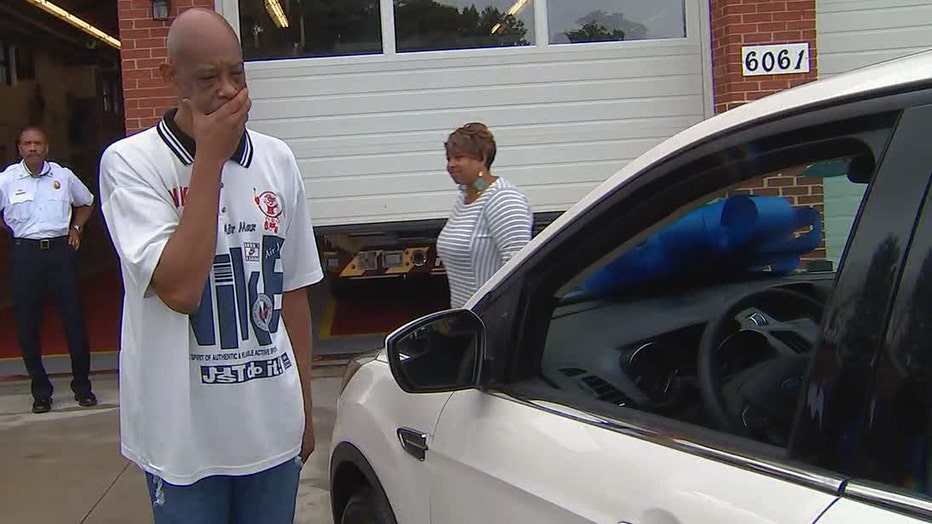 Frost was awarded the Purple Heart and eventually had to have his leg amputated.
During that same tour, he was a part of an operation responsible for capturing the seventh most wanted enemy on the government's 50 most wanted list. With all of that time devoted to serving his country, Frost didn't want to let go of his spirit of giving and desire to help.
So helping the county's first responders and their families is in his DNA. Frost and his wife, who is also a member of the corps, provide peer and grief support to their members. Many of them say they wouldn't have been able to navigate their challenges and setbacks without their help.
That's why when they heard Frosts' car was totaled in a car accident a few months ago it really hit home.
It was the couple's only car and the loss not only left them unable to meet their daily needs, but it left Frost without a way to get his wife back and forth to doctor's appointment as she battles cancer.
To help the Frosts continue to Pay It Forward, FOX 5 teamed up with Easterns Automotive Group to surprise the couple with a car. Frost was overwhelmed with emotion.
If you know someone who should be featured on Pay It Forward, you can nominate them here. In your email, be sure to include who they are and why they deserve to be recognized.