Woman arrested for allegedly poisoning man's drink with insect killer
DELEON SPRINGS, Fla. - A Florida woman was arrested this week after allegedly spiking a man's drink with cockroach spray, according to the Volusia Sheriff's Office. 
Veronica Cline was arrested and charged with poisoning food or drink early Friday morning. 
The 29-year-old woman met the man at a bar and asked him to continue drinking with her at home, the man told deputies. After two drinks, he said he felt sick. Cline allegedly told him she added Raid spray into his last two drinks, deputies said.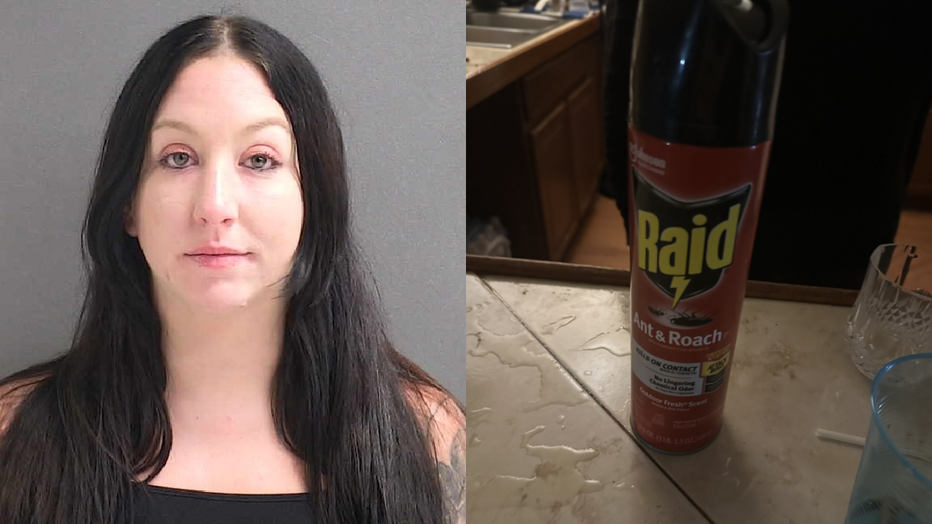 Photo: Volusia Sheriffs Office
He threw up for about half an hour before he was able to call for help. Deputies responded to the house on Wheeler Street in DeLeon Springs around 4:30 a.m. Friday and met with the man, who became sick again while providing his statement. He was taken to a hospital for treatment. 
MORE CRIME NEWS: 
Cline wasn't at the house when deputies arrived, but a K-9 unit was able to track her down behind a bush, according to bodycam footage shared by the sheriff's office. 
She was taken into custody at the Volusia Branch Jail where she is being held without bond.