Loudoun County sheriff's office releases sketches of Sterling bike path gunpoint robbery suspects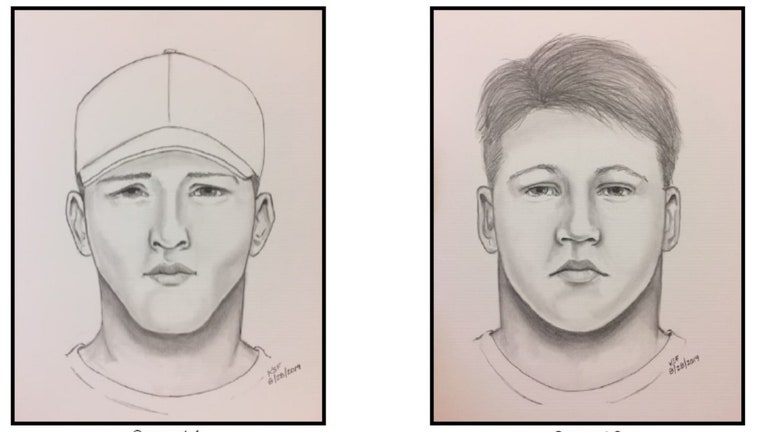 STERLING, Va. - The Loudoun County sheriff's office has released sketches of two men suspected of robbing a woman at gunpoint while she was bicycling along a trail in Sterling last week.
The suspects are reportedly both Hispanic. 
One was described as 19-years-old with a medium complexion and a shaved head. He was described to police as 5-foot-5 with a thin build. During the incident, he was reportedly wearing a dark-colored jean jacket, a white shirt, and a white hat.
The second suspect was described as 19-years-old with a dark complexion. Police were told he is 5-foot-7 with a heavy build. They were also told that he was wearing blue jeans and a black shirt with red horizontal stripes.
Investigators say the incident unfolded around 1 p.m. Saturday, Aug. 24.
The victim, a woman in her 20's, was riding her bicycle here along the Washington and Old Dominion trail near Williamsburg Road in Sterling. 
At one point the woman veered off the paved path onto the gravel horse path that runs alongside the trail to avoid some walkers.
Deputies say minutes later, as she road along the gravel horse path, another man on a bike came up next to her, turned in front of her, and positioned his bike to block her path. 
Lt. Colonel Mark Poland with the Loudoun County Sheriff says the man then pulled out a handgun.
The victim suffered some minor scrapes and bruises. If you have any information you are urged to contact the Loudoun County Sheriff's Department.