Knife-wielding fare evader tased, arrested at Fort Totten Metro Station: police
WASHINGTON - Metro Transit police officers keeping an eye on commuters at the Fort Totten station Wednesday faced pushback as they tried to enforce the fare. 
A video circulating the internet shows two transit officers in what appears to be a standoff with a woman inside the station. 
A Metro spokesperson told FOX 5 that around 11:30 a.m., members from the Metro Transit Police Department and the Metropolitan Police Department stopped a woman who was seen entering the station without paying the fare. 
When officers asked the woman to go back and pay or leave, the spokesperson said the woman pulled out a knife and tried to attack them. 
The video FOX 5 obtained only shows 20 seconds of the interaction.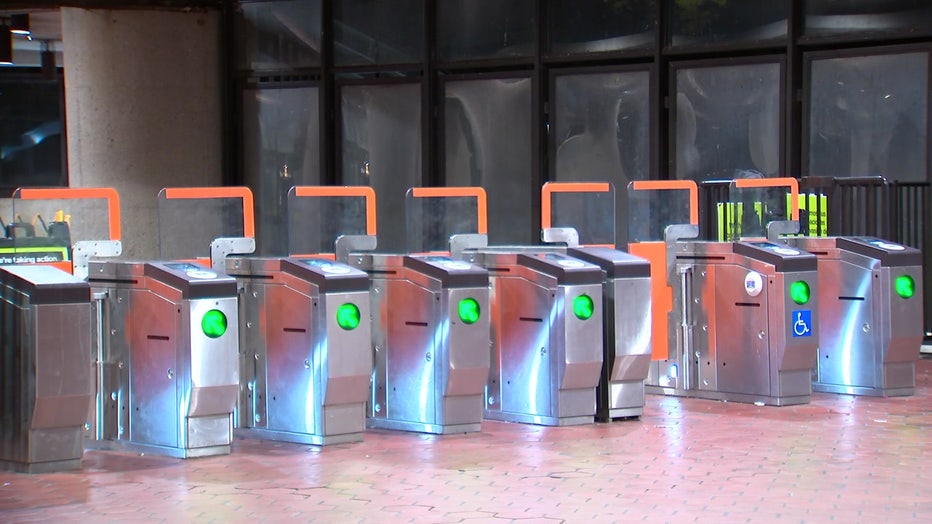 Suspected Metro fare evaders caught on camera getting through newly improved gates at Fort Totten
What wasn't captured in the visual is the moment a Metro spokesperson said that officers deployed a taser and OC spray on the woman – allowing a Metropolitan police officer time to take her to the ground, disarm her, and make the arrest. 
The woman was taken to the hospital where she was checked out, but no injuries have been reported. 
On Tuesday, the transit agency revealed its new higher and stronger faregates designed to make it harder for people to get on trains without paying their way. 
The morning they were introduced, FOX 5 captured several suspected fare evaders on camera.
Many of them were given warnings to go back and pay their fare once officers arrived, and one person was arrested after refusing to comply and go back and pay.