Kentucky firefighter donates kidney to co-worker's son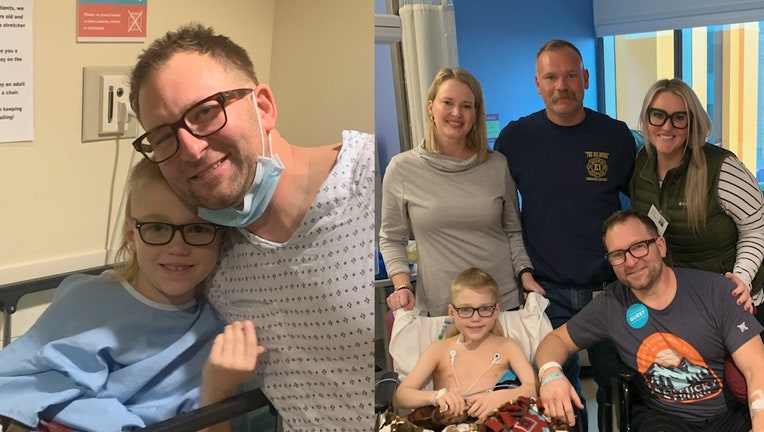 article
LEXINGTON, Ky. - A Kentucky firefighter went beyond the call of duty to save a life, not by running into a burning building but by donating one of his organs.
The Lexington Fire Department said Tim Belcher donated one of his kidneys to his co-worker's 7-year-old son named John. John's father is Lieutenant Joe Sexton.
Belcher recently underwent surgery at a Cincinnati Hospital for the transplant.
According to the fire department, John got very sick nearly two years ago from Hemolytic Uremic Syndrome. According to the Mayo Clinic, the condition occurs when the small blood vessels in the kidneys become damaged and inflamed. It's usually caused by an e. Coli infection.
RELATED: Hero who saved 24 lives in blizzard by breaking into school leaves apology note: 'I had to do it'
"It's really devastating 'cause here's a young kid that's just starting out, has his whole life ahead of him," Lt. Sexton told WLEX. "And then it's kind of like, 'Hmmm...not no more.'"
John was placed on a donor registry as his family searched for a donor.
Belcher, without telling John or his family, tested as a potential donor and was discovered to be a match.
"What is so very special is that the donor for John is one of our own, FF Tim Belcher," Sexton wrote in an e-mail update to the fire department. "I am speechless, humbled, and forever thankful for the selfless act that Tim is willing to do for my son. I have no words to express my gratitude to Tim and his family."
Both Belcher and John are recovering after a successful surgery.
RELATED: Teacher transforms students' drawings of monsters into plush toys
"It's truly an honor to be able to help out," Belcher also told WLEX. "That's what we're here for: to help each other. So it's a huge honor — a godsend."
"The Lexington Fire Department is a family," the department wrote on its Facebook page. "We celebrate each other during our happiest moments and lean on each other during the most challenging times."
This story was reported from Los Angeles.