Kennedy Center delays opening pop-up indefinitely
WASHINGTON (FOX 5 DC) - The Kennedy Center says it will not be opening up its "HEIST" pop-up this weekend in order for its staff to determine whether the event can be accommodated according to the District's COVID-19 reopening guidelines.
Download the FOX 5 DC News App for Local Breaking News and Weather
They say the center's return to hosting live performances "required months of rigorous planning," and any outdoor events it hosts demand the same level of "scrutiny and precautionary planning."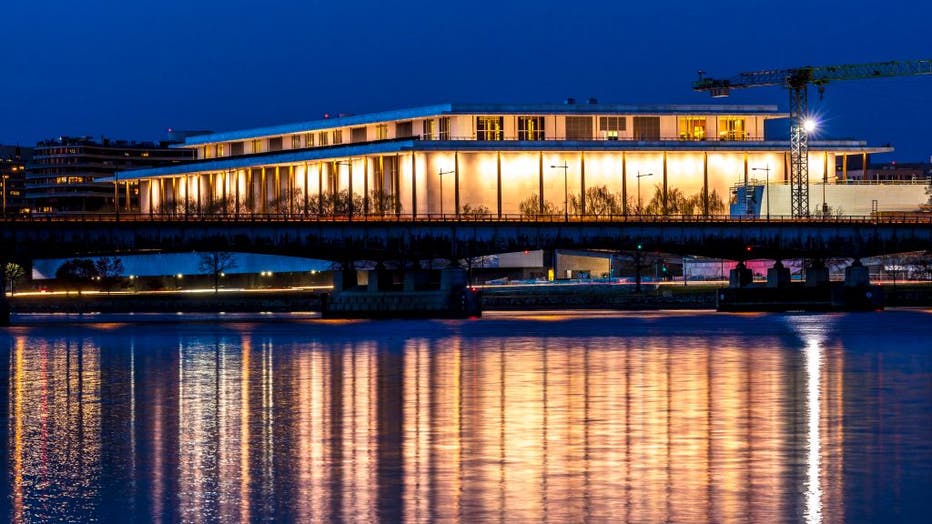 Kennedy Center Performing Arts with reflection on Potomac River, Washington D.C. (Photo by: Visions of America/Universal Images Group via Getty Images)
On its Instagram account, HEIST's managers lauded selling out the rooftop event in 15 minutes.
READ MORE: DC enters phase 2 of reopening
According to Mayor Muriel Bowser, the center was concerned about having that many people at its facility.
The Kennedy Center stressed that the Heist option is not connected with D.C.'s indoor live entertainment pilot initiative.
READ MORE: DC launching 'pilot' for return to live entertainment at 6 venues
The center is one of six venues that will be permitted to host live indoor performances on a limited basi as the District takes more furtive steps in the reopening process.
Read the statement from Versus principal Vinoda Basnayake regarding the Heist x Kennedy Center pop-up lounge below: 
"As downtown business have been hit especially hard by the pandemic, the City has encouraged all operators to reimagine outdoor spaces and we have been following the city's suggestion of opening an outdoor streatery or sidewalk café. We were able to register and open outdoor cafés with our venues Morris American Bar and Casta's Rum Bar. Heist, an underground lounge, presented a real challenge. We were able to bring back a majority of our service staff at Morris and Casta's due to our outdoor openings and we wanted to be able to do the same for our staff at Heist. We applied for an outdoor streatery permit from the city but were informed that our sidewalk was not wide enough to support this. Instead of being discouraged, we started looking around the city for an outdoor space to rent in an attempt to create a pop-up Heist. While many of these attempts were futile, we were humbled when the Kennedy Center agreed to meet with us. After several months of planning and negotiation we contracted to rent their outdoor rooftop terrace for our Heist pop-up. 
We applied for and received all the necessary permits, even hired a third party Covid-19 compliance officer, and got underway to open an outdoor venue pop-up at the Kennedy Center that was in full compliance with all of the city's guidelines for outdoor reopening. Our goal was to set the gold standard for a responsible nightlife reopening. We were able to rehire nearly all of our pre-COVID team and the response was humbling and overwhelming. Our grand opening sold out in minutes and it was a really great day for a staff that had been out of work for months. Unfortunately for us, we announced our reopening days after the city released a new pilot program for live entertainment which included the Kennedy Center. This understandably caused a great deal of confusion. If we had known that the two announcements, including the Kennedy Center's separate participation in that program would come almost simultaneously, we would have taken much better care to explain the differences, and why Heist is not operating as a part of, or with any exemption from, the pilot program.
Due to this confusion, and the overlapping announcements, we agreed with the Kennedy Center that in an overabundance of caution we would delay our opening to ensure public awareness of all our safety protocols and our compliance with all city ordinances and programs. The Kennedy Center and the city have been incredible partners in our attempt to bring back responsible nightlife programming, and if we are going to delay our opening in order to further ensure safety, that is a small sacrifice we are happy to make. 
Some on social media, and in other places, have questioned whether Heist was able to secure this venue due to my personal connections. That could not be further than the truth, and I knew the scrutiny would be even greater for my businesses given my role on the
Commision on Nightlife and Culture. I want to make it very clear that any individual or business had the same opportunity to reach out to the Kennedy Center and propose such a concept, and we hope that many more do so in the future. There are a number of venues operating in the District at this time with an outdoor capacity of well over 100 people, and we simply wanted to find another safe and socially- distanced way to add to those opportunities while embarking on an exciting partnership.
This city needs responsible nightlife options and the overwhelming demand for our safe, distanced, and outdoor alternative our quick sellout proved that. We will continue to work with the city and our partners in the hospitality industry to come up with creative ways to bring our staff back to work and provide D.C. with responsible entertainment. We have been overwhelmed and humbled by the support of our customers and guests over the past several months.  We strongly believe in this concept and will be announcing our reopening date soon."