Investigator: Wal-Mart manager helped suspect disguised as armored truck driver steal $75,000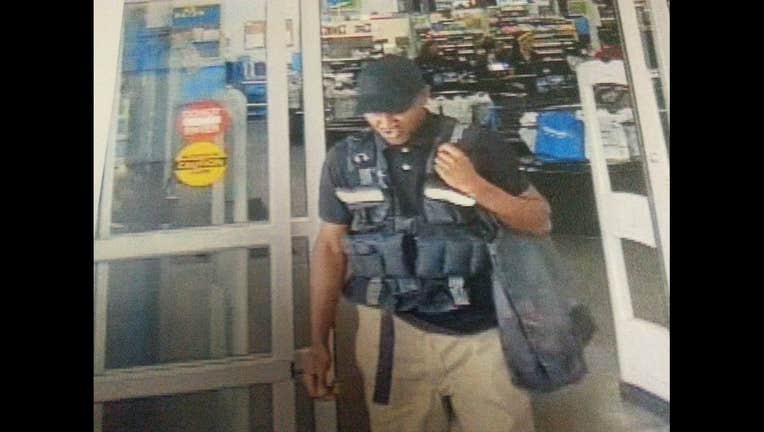 article
By ALLEN REED
Associated Press
An Oklahoma Wal-Mart store manager and his stepdaughter played key roles in allowing a man disguised as an armored truck driver to walk into the store and stroll out with about $78,000, police said Thursday.
Store manager Rico Robertson, 43, and his stepdaughter Mariah Bustamonte, 21, helped coordinate the Fourth of July theft, Oklahoma State Bureau of Investigation agent Derek White said in court documents. They were arrested late Tuesday on suspicion of felony grand larceny and were being held at the Creek County jail Thursday on $75,000 cash-only bonds. The man who walked out with the money hasn't been identified and is still at large.
Authorities said the unidentified man entered the Bristow Wal-Mart, located in the rural community about 35 miles southwest of Tulsa, dressed like a Loomis armored transport employee. They said he went to the cash office, signed for the money and walked out of the store. Employees called police when the real Loomis employee arrived about 45 minutes later.
Bustamonte told investigators she drove the getaway vehicle -- which she borrowed from her roommate because of its tinted windows -- and was paid $900 for her role. She said Robertson and her mother introduced her to the driver, who she believed to be a cousin from California. Bristow Police Detective Kevin Webster said authorities don't know if he is really related to the pair or where he might have gone.
"We're working it," Webster said. "It's definitely one of the stranger cases I've worked in my law enforcement career."
Robertson's wife, Bustamonte's mother, told police that the clothes of the man who posed as an armored truck driver were burned using their backyard charcoal grill. She said the suspect was dropped off at a bus station in Tulsa, Oklahoma. Webster said the only amount recovered was the $900 from Bustamonte.
Webster said neither Robertson's wife nor Bustamonte's roommate had been arrested and declined to say if authorities were pursing any additional charges.
Creek County District Attorney Max Cook said he planned to formally file charges on Thursday against Robertson and Bustamonte.
Aaron Mullins, spokesman for Bentonville, Arkansas-based Wal-Mart, said Robertson has been suspended without pay while the criminal investigation and an internal review by Wal-Mart are conducted. He said he wasn't aware of similar incidents at other stores and declined to comment on whether the retailer planned to alter its policy on cash deposits.
Online jail records didn't list attorneys for either suspect to comment on the charges.
___
Follow Allen Reed on Twitter at https://twitter.com/Allen_Reed
Copyright 2015 The Associated Press. All rights reserved. This material may not be published, broadcast, rewritten or redistributed.