Howard University men's swimming & diving team wins 2023 Northeast Conference Championship
Howard University men's swimming and diving team has won the 2023 Northeast Conference Championship, scoring 928 points over the five-day span.
Senior Miles Simon was named NEC Outstanding Swimmer after breaking numerous records. The Atlanta native also claimed gold in several events, including Saturday's 200 Back, producing a 1:46.35 time.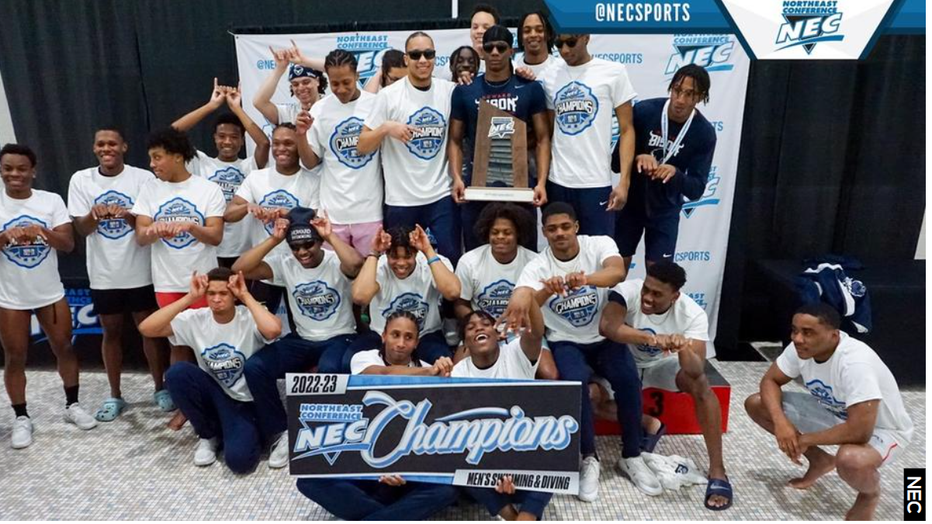 Sophomore Tristan Stevens and newcomer Darien Williams also competed, earning fourth (1:49.95) and sixth (1:52.78), respectively.
READ MORE: First Howard University Bison Bobblehead released for Black History Month
Simon, fellow classmates Mark-Anthony Beckles and Arion Solomon and junior Spencer Miles closed out the week with a victory in the 400 Free Relay, tying the facility record (2:57.66).
Individually, Beckles won the 100 Free with a new meet record (44.33). Solomon also took part, clocking at 45.28 (fifth place).
Juniors Niles Rankin and Langston Weddington, sophomore Darin Johnson and third-year Bison Mark-Anthony Thompson competed in the 200 Breast where they finished second (2:02.91), fifth (2:03.83), sixth (2:03.94) and seventh (2:04.75), respectively.
Senior Luke-Kennedy Thompson claimed second place in the 1650 Free (16:03.56) while freshman Ty Tiche also took part and finished sixth (17:05.00).
On the board, sophomore Jordan Walker, NEC Outstanding Diver, placed first in the 3-meter dive with a score of 277.10 (meet record). Four-year Bison Joel Wilkinson earned fifth overall in the same event with 161.05 points.
READ MORE: Howard University gets $90 million government research contract
For the second straight year, the coaching staff received NEC Coaching Staff of the Year, led by Howard Director of Swimming & Diving Nicholas Askew. This year's staff consisted of assistant coach Salim King, volunteer coach Miriam Lynch, Ph.D, diving coach Courtenay Miller, yoga specialist Jasmine Payne and manager Iman Ferguson.
Miller also was named NEC Men's Diving Coach of the Year.
On March 9, several Bison will travel to Elkhart, Ind., for the CSCAA National Invitational Championships.